"Thanks for your website. I passed my National Massage boards with high marks and
your website helped me learn where to focus my studying...... A solid investment to anyone studying for their boards."
Julie
Portland, Oregon.

Massage Exam, License and Certification Information by State

Pass Your Massage Therapy Exam On The First Attempt!
If you are taking the MBLEx, NCETMB, or NCETM You Will Be Prepared After Using Our Online Massage Practice Tests.
3853 massage questions online with answers, rationales, instant grading, and a detailed exam tracking system that lets you evaluate and review any exam at anytime!


Whether you are taking the MBLEx, NCETM, NCETMB, or any other massage test, we have the practice examinations, massage questions and study guide that WILL help you prepare and pass your national massage examination with flying colors.

Our massage question database was written by Nationally Certified Massage Therapists and Nationally Certified Healthcare Professionals with over 50 years of combined experience. Our online program allows you to instantly create your own practice massage therapy tests in the same multiple choice format as the MBLEx, NCETM, and NCETMB.


Our massage tests are an essential study tool for those who are taking their exams within the next few months. It's quick and easy. Just login, and choose from the following categories: Body Systems, Anatomy & Physiology, Kinesiology, Pathology, Therapeutic Massage Assessment, Therapeutic Massage Application, Professional Standards-Ethics-Business and Legal Practices, (for NCETMB) Complementary Alternative Medicine (CAM), and the combination Random test. Choose the number of questions from 10-30, hit a button and your online exam is created, ready to be taken and instantly graded. It's that easy.

Testing for massage therapy exams is stressful regardless of what anyone says. Build your confidence and peace of mind with our proven system of practice testing that gives you instant exams and grading. Detailed cumulative scoring and test tracking allow you to watch your progress the entire way as you better your weak areas and fine tune the things where you are already strong.

Massage News


The MBLEx is the sole licensing exam for the Massage Profession, this will facilitate portability and standardization for Massage Therapists.

| | |
| --- | --- |
| Massage Exam Question Breakdown | |
| Anatomy, Physiology & Kinesiology | 1106 |
| Pathology | 494 |
| Body Systems | 228 |
| Assessment | 448 |
| Application | 500 |
| Professional Standards | 523 |
| Complementary Alternative Medicine | 504 |
| CPR | 50 |
| Total Questions: | 3853 |
| New Massage Questions Added Every Month! | |

Copyright 2006 - 2018 All Rights Reserved, Massage Exam - National Exams.
Follow Us!
---

1-800-316-8275 Ext. 3
8-4 Pacific Time, Mon - Fri
---


Masaje-Examen.com
---
---
Click below to view how
the website works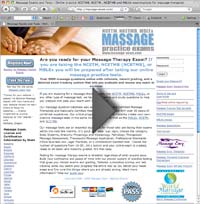 ---
FAQ-Read before registering
---
About Us
---
---
MBLEx Details
---
NCBTMB Details
---
Glossary of Massage Terms
---
Group Discounts
---
Massage Associations
---
Testimonials
---
---
Massage Therapist Insurance Comparison
---
---
Massage Exam Affiliate Program
---



Below are our Partners:
EMT & Paramedic Practice Exams