2023 MBLEx Study Guide & Review PDF Loaded with Tips and Advice That Will Help You Pass the MBLEx Test!
Download our Review Guide and Print or View on Any Device.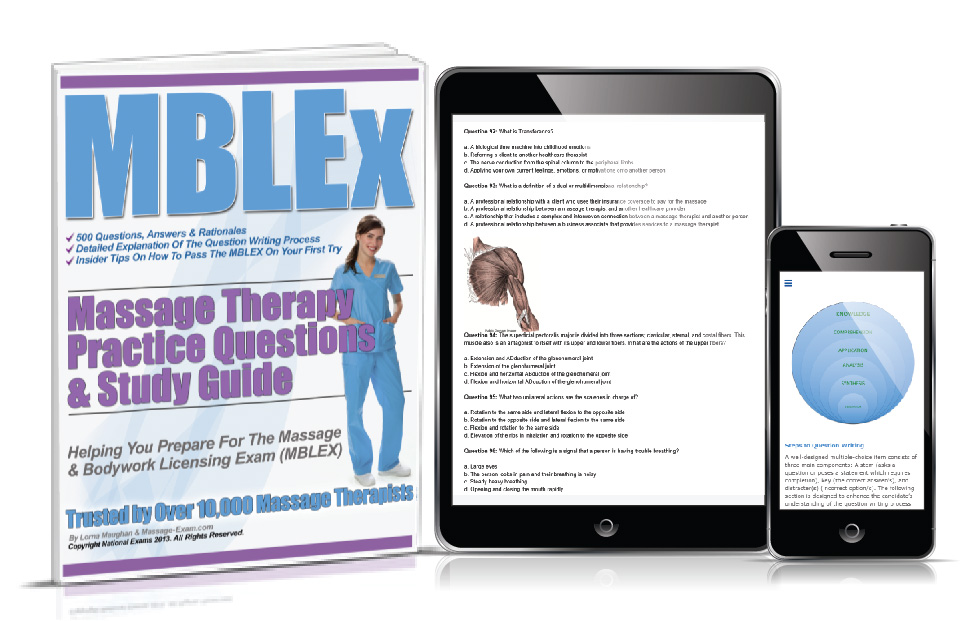 MBLEx Exam Prep in an Ebook
Our online MBLEX practice exams are widely popular and have been utilized by over 19,000 massage therapy students to prepare for the MBLEx examination. Many of these students requested that we publish a printed review guide that they can use when they don't have a connection to the internet and here it is!
The MBLEx study guide has detailed information about how MBLEx questions are constructed, how to choose the best possible answer and what to expect when you go in to take the real examination.
In the back section of the MBLEx study guide you will find all the answers and rationales that explain why the correct answers are correct. Take the MBLEx ebook and review guide with you printed or on your phone or tablet. It's great when you are without an internet connection and helps you get one step closer to passing the national licensure examination.
---



Immediate access to 500 massage therapy multiple choice questions
Having the MBLEx study guide in hand allows you to take practice questions whenever and wherever you want without a connection to the internet. Massage-Exam.com offers the largest number of massage questions in a printable PDF format.

Questions written by MBLEx licensed massage therapists and based on MBLEx Curriculum
All study guide questions were written and validated by licensed massage therapists who have passed the MBLEx. Questions, answers, and rationales are accurate and are aligned with the categories and subject matter put forth by the FSMTB.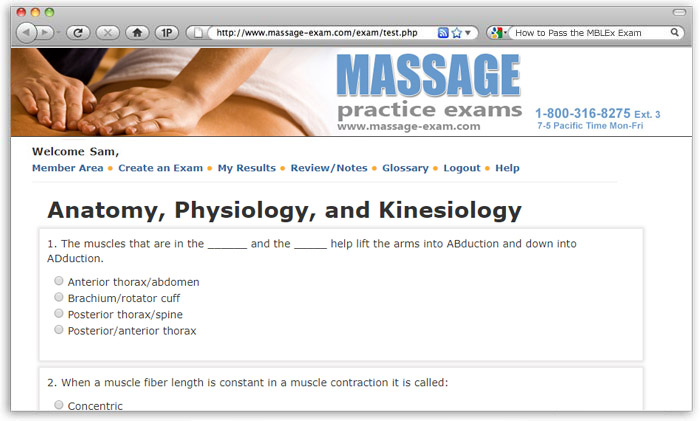 Live Chat Support, Phone Support, Email Support and an Online Helpdesk
We have an experienced staff who have assisted thousands of massage therapists to pass the MBLEx examination. If you need help understanding the FSMTB or massage therapy licensure process just choose one of the several ways to contact us below. We are here to help.
Live chat and phone support are available during normal business hours. Email support and the online helpdesk is available 24 hours a day and is often answered after hours.

1-800-316-8275
Ext. 3
8-4 Pacific Time, mon-fri

helpdesk@massage-exam.com

Submit a Helpdesk Ticket


MBLEx Experienced Support Staff
Massage-Exam.com is in the business of assisting massage therapy students to pass the MBLEx and gain certification and licensure. We have been helping students pass certification/licensure examinations for over 10 years. In this time we have compiled a lot of details about the MBLEx exam that are not easily found on the internet.
None of the information we have is a secret. We just know where to find it. Massage-Exam.com support is available to answer any MBLEx or licensure related questions you may have. Good luck on your examination!