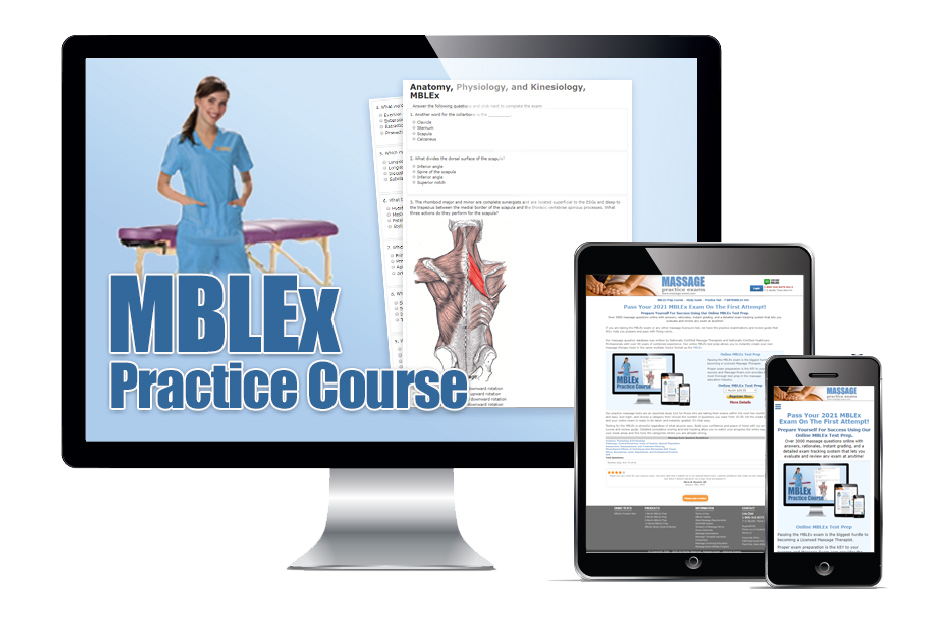 Online MBLEx Test Prep
Passing the MBLEx exam is the biggest hurdle to becoming a Licensed Massage Therapist.
Proper exam preparation is the KEY to your success and Massage-Exam.com provides the most thorough test prep in the massage education industry with over 3000 question, answers, and rationales.
Alabama Board of Massage Therapy - State board of licensure website.
Massage License Renewal Form - If you need to renew your massage license in Alabama here is your form in PDF. 16 hrs/2 years
Application Request Form - Fill this out to get the process started.
Alabama Massage Schools - A list of massage schools in Alabama- List of Approved schools
The Alabama Board of Massage Therapy requires that all applicants pay a $25.00 license application request form fee. Licensed Massage Therapists in Alabama must complete an approved massage course with a minimum of 650 hours. Additionally, all Massage Therapist applicants must be certified by the National Certification Exam for Therapeutic Massage and Bodywork (BCTMB), and Personal Liability (1,000,000 coverage) is required. The MBLEx (Massage & Bodywork Licensing Examination) is governed by the Federation of State Massage Therapy Boards FSMTB). The federation will send proof of passing the MBLEx to the address listed below when AL is listed as the state of licensure during the application process.
The NCBTMB certification that is required by AL Massage Board has been changed to the BCTMB, which is the NCBTMB's Advance Certification. This BCTMB can only be obtained 6 months after you are licensed and have checked off a list of requirements as well as another exam. Hopefully the requirement list from the AL Board is being revised.
| | |
| --- | --- |
| Web Information | |
| Education Requirements | |
| Title | Massage Therapist MT |
| Type of Credential | License |
| State Law Test | |
| State Practical or Written Exam | Written Exam |
| National Exam Requirement | |
| CEU's | |
| Initial Cost of License | $25.00 Application and $160.00 for Practical |
| Require City License | Check Local City & County Business Regulations |
| Renewal Fee | $100/2 years |
| Liability ins | |
| Credentialed Massage Practitioners | 1,400 |
Alabama Board of Massage Therapy (ABMT)
2777 Zelda Rd.
Montgomery, AL 36106
334.420.7233 or 866.873.4664
334-263-6115 (fax)
massagetherapy@alstateboard.com
---
Massage Schools in Alabama
488 Palisades Boulevard

Birmingham, AL 35209

Birmingham
877.213.7589

5601 Veterans Pkwy.

Columbus, GA 31904

Columbus
762.207.1600

Gadsden State Community College

1001 George Wallace Drive

Gadsden, AL 35903

Gadsden
256.549.6916

Wallace State Community College

801 Main Street NW

Hanceville, AL 35077

Hanceville
256.352.8425

Red Mountain Institute, Inc.
828 Columbiana Road

Homewood AL 35209

Homewood
205.933.0702

2021 Drake Ave. SW

Huntsville, AL 35801

Huntsville
256.533.7387

2970 Cottage Hill Road #175

Mobile, AL 36606

Mobile
251.473.2220

Montgomery School of Bodywork & Massage

5729 Carmichael Parkway

Montgomery, AL 36117

Email: info@onesimpletouch.com

Montgomery
334.270.9340
Southern Union State Community College
1701 LaFayette Parkway
Opelika AL 36801
Opelika
256.395.2211

Aromatherapy Institute


Theodore AL 36590

Theodore
251.653.9900
Alabama Continuing Education
16 CE Credits Biennially

Hours

Requirements & Limitations

List of Choices

Renew on State Approval Anniversary Date
Direct Contact (Live) Alabama Board Approved

4

Required for Renewal

Live

4 Contact hours in the following
Professional Ethics, Boundaries, or Communication

2

Minimum Allowed

Ethics Bench

Participating in a Personal Growth Class

4

Minimum Allowed

Self-Care Guru

Publishing an Article relating to the Massage Therapy field

4

1 Article Allowed - 1 Article = 4 hours

Research Community

Speaking (Lecture) on subject of Massage Therapy

4

Minimum Allowed

Advanced Instruction Forum

Teacher Training

Not Listed

Instructor Headquarters

Teaching a qualifying Class, Course, Seminar, or Workshop

4

Minimum Allowed

Live

Active Service on AL Massage Related Board, Task Force, Panelist, Committee, or Attending Meetings

4

50 uninterrupted minutes= 1 CE

Keep Record of Hours & Duties

Remaining 12 hours may be contact or noncontact hours
Massage & Bodywork
Not Limited
CE Catalog

Movement Therapy, Stress Management & Yoga

Not Limited

Self-Care Guru

Business & Insurance Practices

Not Limited

Business Mastery

Adult CPR/ Advanced First Aid Instructor-Led

Not Limited

Basic Training

Kinesiology, Anatomy, & Physiology of Human Body

Not Limited

Advanced Instruction Forum

Specialized Training

Not Limited

Special Population Techniques

Allied Health Care including Psychology & Medicine
Not Limited
Advanced Instruction Forum
*CE Providers Must be Board Approved - 50 Uninterrupted Minutes Equal 1 CE Hour
Excess Hours taken are NOT carried over to the next renewal period
No CE requirements for First Renewal
Keep Records of CE Hours

5 Years- Audit Selected at Random Annually
Alabama Board of Massage Therapy (ABMT)
2777 Zelda Rd.
Montgomery, AL 36106
334.420.7233 or 866.873.4664
334-263-6115 (fax)
massagetherapy@alstateboard.com
*Board Approved
Alabama Massage Therapy Board
National Certification Board for Therapeutic Massage and Bodywork (NCBTMB)