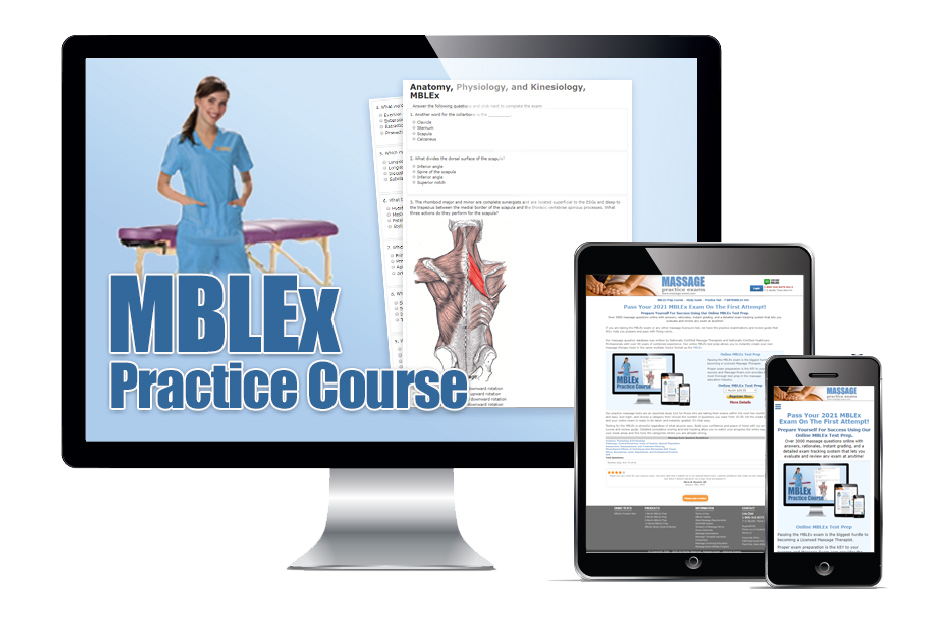 Online MBLEx Test Prep
Passing the MBLEx exam is the biggest hurdle to becoming a Licensed Massage Therapist.
Proper exam preparation is the KEY to your success and Massage-Exam.com provides the most thorough test prep in the massage education industry with over 3000 question, answers, and rationales.
Oregon Board of Massage Therapy- find all the information about rules and regulations that govern Massage Therapists in the state of Oregon. FAQs
Application - This link goes directly to the massage license application in PDF format.
Licensing Checklist
625 hours minimum of Approved Educational requirements
Board Approved written Exam- MBLEx & CESI
Jurisprudence (Law) Exam- Open book Rules, Laws, & Policies
Background check
CPR Certification
Oregon Massage Schools - A list of massage schools in Oregon. View the Model Curriculum to understand what is expected of you as a student.
Oregon requires a written MBLEx exam given by FSMTB or Federation of State Massage Therapy Boards. The State Practical Exam was discontinued Jan 2016.
Massage-Exam.com will help you prepare and review for the MBLEx. Once you subscribe, you will have night and day access to over 3500 questions in Pathology, body systems, massage assessment, massage application, kinesiology, business standards, anatomy and physiology. You can track your progress and review answers to questions along with a rationale that explains the information in the questions and answers. Utilize our site to help familiarize yourself with structure and detailed, outlined content of your massage exams.
Renewal form or Online Renewal - 25 CE's/ 2 years
Oregon Board of Massage Therapists Newsletter
Oregon Board of Massage Therapists
728 Hawthorne Ave., NE
Salem, OR 97301
Phone: 503-365-8657
Fax: 503-385-4465
Email: OBMT.Exam@state.or.us
---
Massage Schools in Oregon
Model Curriculum

280 East Hersey St. #A-8

Ashland, OR 97520

Ashland
541.482.5134

Central Oregon Community College

2600 NW College Way

Bend, OR 97701

Email: smanriquez@cocc.edu

Bend
541.318.3757

Sage School of Massage & Healing Arts

369 NE Revere Ave.

Bend, OR 97701

Bend
541.419.5659

3345 REdwood Hwy

Grants Pass, OR

Grants Pass
541.956.7284

525 NE Oregon St. #350

Portland, OR 97232

Portland
503.297.3800

9500 SW Barbur Blvd. #100

Portland, OR 97219

Portland
503.244.1815
The Wellspring School for Healing Arts
2440 MLK Jr. Blvd., #202
Portland, OR 97212
Email: info@thewellspring.org

Portland
503.688.1482

2900 NE 132nd Ave

Portland, OR 97230

Portland
503.256.3180

2111 Front St. NE Bldg #3

Salem, OR 97301

Salem
503.585.8912

Chemeketa Salem Campus

Building 8- Office 113Z

Salem

Salem
503.798.4741

9600 SW Oak St. 4th Floor

Tigard, OR 97223

Tigard
503.892.8100
Oregon Continuing Education
25 CE Credits Biennially

Hours

Requirements & Limitations

List of Choices

Renew on 1st Day of Birth Month every other year from State Approval Anniversary
Direct Contact (Live) Oregon Board Approved - Can be Interactive Distance Learning Course

15

Required for Renewal

Live

Remaining 10 hours may be contact or noncontact hours
Professional Ethics, Boundaries, or Communication

4

Required for Renewal

Ethics Bench

Body Mechanics & Self-Care

Not Limited

Self-Care Guru

Massage & Bodywork Business Practices

Not Limited

Business Mastery

Adult CPR/ First Aid Instructor-Led

Required for Renewal Direct Contact (Live) or Online

Basic Training

Kinesiology, Anatomy, & Physiology of Human Body

Not Limited

Advanced Instruction Forum

Cultural Competency & Specialized Training

Not Limited

Special Population Techniques

Pathology of the Human Body

Not Limited

Advanced Instruction Forum

Self-Study: Books, DVD's, Research Materials, Related Publications, & Publishing an Article

Not Limited

Research Community

Somatic Education

Not Limited

Advanced Instruction Forum

Teacher Training

Not listed as an accepted CE

Instructor Headquarters

Lecture or Teaching a CE Class

Limit of 1 per renewal

Live

Active Service on OR Massage Related Board, Task Force, Committee, or Attending Meetings

1 hour of CE for each Meeting/Day

Keep Record of Hours & Duties

*CE

Subject Matter

Must be Board Approved
Excess Contact Hours taken may carry over to the next renewal period only
No CE requirements for First Renewal
Keep Records of CE Hours

5 Years- Audit Selected at Random Annually- Must List CE's on Renewal Form
Oregon Board of Massage Therapists
728 Hawthorne Ave., NE
Salem, OR 97301
Phone: 503-365-8657
Fax: 503-385-4465
Email: OBMT.Exam@state.or.us
*Board Approved Subject Matter
Massage & Bodywork Techniques
Use of Thermal Modalities, Topical Preparations, Mechanical Assistive- devices/appliances
Stretching & Gymnastics that lengthen & Shorten Soft Tissues
Posture & Movement Assessment
Massage & Bodywork Business Practices
Anatomy & Physiology of the Human Body
Kinesiology of the Human Body
Pathology of the Human Body
Professional Ethics, Boundaries, or Communication
Cultural Competency
Somatic Education
CPR/ First Aid