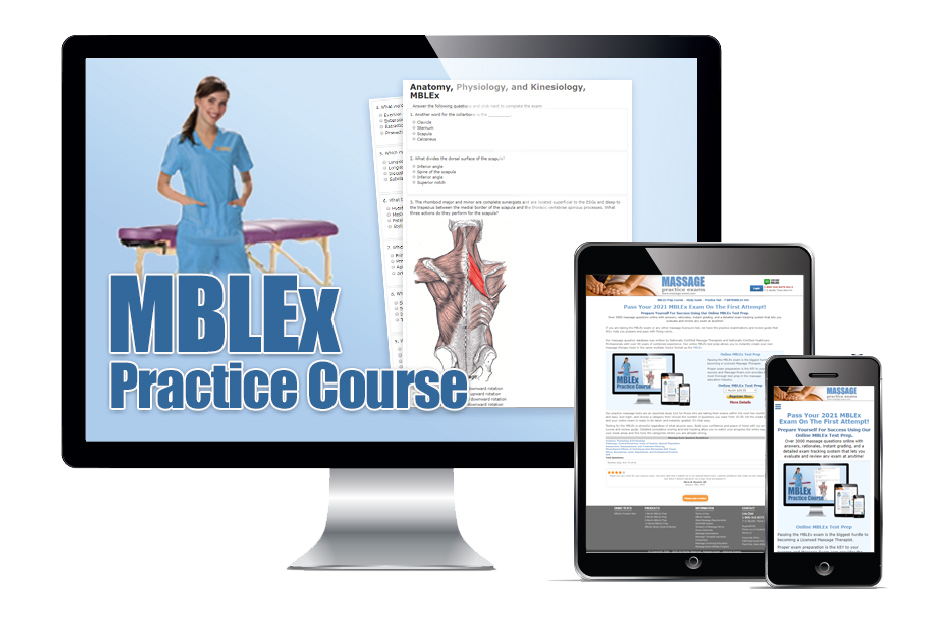 Online MBLEx Test Prep
Passing the MBLEx exam is the biggest hurdle to becoming a Licensed Massage Therapist.
Proper exam preparation is the KEY to your success and Massage-Exam.com provides the most thorough test prep in the massage education industry with over 3000 question, answers, and rationales.
Pennsylvania State Board of Massage Therapy- Information online for Pennsylvania. FAQs
Existing practitioners need to submit an application and application fee, by January 2, 2012 and all documentation requirements. Check Rules and Regulations for the list. (20.24 & 20.25) Announcements
Application and forms- Available to download, print, and fill out online to send in. Renew Online
Pennsylvania Massage Schools - A list of massage schools in Pennsylvania
All practicing Massage Therapists must apply with the Board. The Pennsylvania State Board accepts the MBLEx licensure examination.
Renewal cycle- January 31st of every-odd year- Any graduate in 2014 can request a waiver of Continuing Education Credits for renewal in 2016 CE List - 24 CE/2 years
Massage-Exam.com is a great resource for end-of-term massage school exams and preperation for the required state exams. With over 3500 questions to utilize for reviewing massage assessment, massage application, pathology, body systems, kinesiology, business ethics, and anatomy and physiology. Each graded question reveals a rationale that gives explanations or added information to help you remember details on the subject. Utilize our site for all your massage exam needs and receive all the benefits of our massage curriculum questions.
| | |
| --- | --- |
| Web Information | |
| Education Requirements | 600 Hrs |
| Title | LMT |
| Type of Credential | Licensed Massage Therapist |
| State Law Test | |
| State Practical or Written Exam | |
| National Exam Requirement | |
| CEU's | |
| Initial Cost of License | Application $65/ Letter of Good Standing $15 |
| Require City License | Check Local City & County Business Regulations |
| Renewal Fee | $75/2 years |
| Liability ins | |
| Credentialed Practitioners | |
State Board of Massage Therapy
PO Box 2649
Harrisburg, PA 17105-2649
Phone: 717.783.7155
Fax: 717.787.7769
Email: RA-MassageTherapy@.pa.gov
---
Massage Schools in Pennsylvania
13593 Monterey Lane

Blue Ridge Summit, PA 17214

Blue Ridge Summit
717.794.5778

Massage Academy of the Poconos

BK Plaza Route 209 #1

Brodheadsville, PA 18322

Brodheadsville
570.801.7290

Lehigh Valley College- Closed

2809 East Saucon Valley Rd.

Center Valley, PA 18034

Center Valley
610.791.5100

Institute for Therapeutic Massage & Bodywork

136 Commons Court

Chaddsford, PA 19137

Email: info@ITMBchaddsford.com

Chaddsford
610.358.5800

International School of Shiatsu

10 South Clinton St.

Doylestown, PA 18901

Doylstown
215.340.9181

Great Lakes Institute of Technology

5100 Peach St.

Erie, PA 16509

Email: info@glit.edu

Erie
814.864.6666

211 South Gulph Rd.

King of Prussia, PA 19406

King of Prussia
484.690.1415

The National Academy of Massage Therapy & Healing Sciences

1744 Sumneytown Pike

Kulpsville, PA 19443

Email: info@nationalmassage.com

Kulpsville
215.412.4121

366 Beaver Valley Mall

Monaca, PA 15061

Email: info@dci.edu

Monaca
724.728.0260

1111 McKee Rd.

Oakdale, PA 15071

Email: james@pti.edu

Oakdale
800.784.9675

813 West View Park Dr.

Pittsburgh, PA 15229

Pittsburgh
412.931.8553

Pittsburgh School of Massage Therapy

3600 Laketon Rd.

Pittsburgh, PA 15235

Pittsburgh
800.860.1114

Pittsburgh School of Pain Management

1312 East Carson St.

Pittsburgh, PA 15203

Pittsburgh
412.481.2553

3269 West Libery Ave.

Pittsburgh, PA 15216

Pittsburgh
412.561.3381

The Valley Spiritual Center & School of Healing Arts

RR#2 Box 901

Port Trevorton, PA 17864

Email: TVSCHealingArts@aol.com

Port Trevorton
570.374.2222

Academy of Massage Therapy & Bodywork

141 East High Street

Pottstown, PA 19464

Pottstown
610.705.4401

Pennsylvania Institute of Massage Therapy

93 South West End Blvd. #103

Quakertown, PA 18951

Quakertown
215.538.5339

European Medical School of Massage, LLC

2913 Windmill Road #12

Sinking Spring, PA 19608

Email: contact@emsom.com

Sinking Spring
610.670.6100

Central Pennsylvania School of Massage

1315 South Allen St. #104

State College, PA 16801

Email: info@schoolofmassage.com

State College
888.649.3337

Massage Academy of the Poconos

753 Phillips St.

Stroudsburg, PA 18360

Stroudsburg
570.421.5014

11 East Penn St.

Uniontown, PA 15401

Uniontown
724.439.4900

East-West School of Massage Therapy

504 Park Rd. North

Wyomissing, PA 19610

Wyomissing
610.375.7520

170 Red Rock Rd.

York, PA 17406

York
717.268.1881
Pennsylvania Continuing Education
24 CE Credits Biennially

Hours

Requirements & Limitations

List of Choices

Renew on January 31st every Odd year
Direct Contact (Live) Pennsylvania Board Approved

16

Required for Renewal

Live

Remaining 8 hours may be contact or noncontact hours
Professional Ethics, Boundaries, or Communication

4

Required for Renewal

Ethics Bench

Body Mechanics & Self-Care

Not Limited

Self-Care Guru

Business Practices

Not Limited

Business Mastery

Adult CPR/ First Aid Instructor-Led

-

Required for Renewal

Direct Contact (Live) Not part of CE hours

Basic Training

Kinesiology, Anatomy, & Physiology of Human Body

Not Limited

Advanced Instruction Forum

Cultural Competency & Specialized Training

Not Limited

Special Population Techniques

Pathology of the Human Body

Not Limited

Advanced Instruction Forum

Self-Study: Books, DVD's, Research Materials, Related Publications, & Publishing an Article

Not Limited

Research Community

Somatic Education

Not Limited

Advanced Instruction Forum

Teacher Training

Not Limited

Instructor Headquarters

Lecture or Teaching a CE Class

Not Limited

Live

Active Service on PA Massage Related Board, Task Force, Committee, or Attending Meetings

1 hour of CE for each hour

Keep Record of Hours & Duties

*CE Subject Matter Must be Massage Therapy Related & Providers must be Board Approved
Excess Hours taken do NOT carry over to the next renewal period
All 24 CE requirements Required for First Renewal
Keep Records of CE Hours

5 Years- Audit Selected at Random Annually
State Board of Massage Therapy
PO Box 2649
Harrisburg, PA 17105-2649
Phone: 717.783.7155
Fax: 717.787.7769
Email: RA-MassageTherapy@.pa.gov
*Board Approved Providers