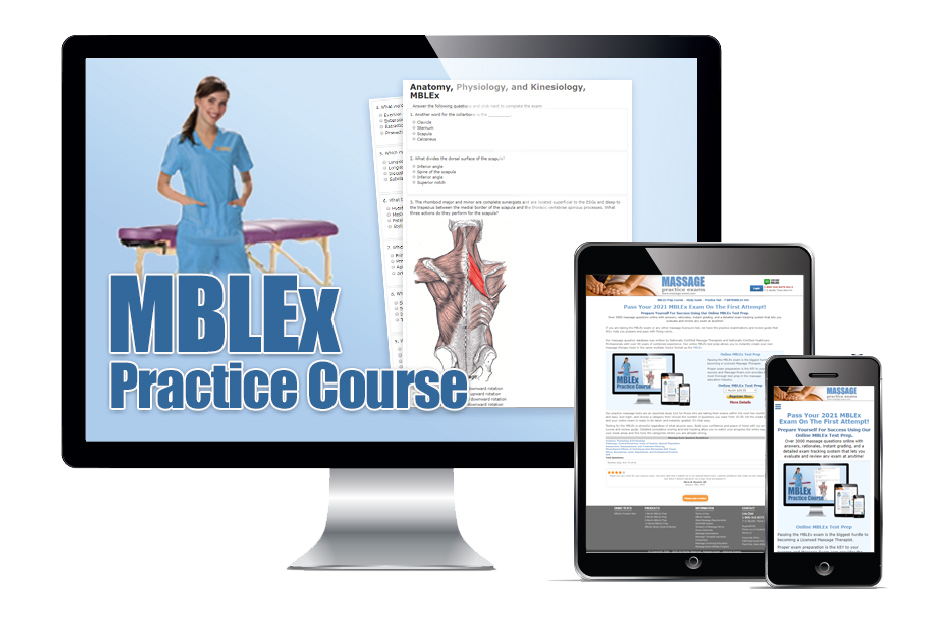 Online MBLEx Test Prep
Passing the MBLEx exam is the biggest hurdle to becoming a Licensed Massage Therapist.
Proper exam preparation is the KEY to your success and Massage-Exam.com provides the most thorough test prep in the massage education industry with over 3000 question, answers, and rationales.
Rhode Island Department of Health – regulates the Licensing of Massage Therapists.
Application- for Licensure to practice Massage in Rhode Island. Rules & Regulations
Each applicant must apply with the Rhode Island Bureau of Criminal Identification having the bureau send results directly to the Massage Board.
License Renewal Information- Renew Online -12 CE's / years
Rhode Island Massage Schools - A list of massage schools in Rhode Island
*** The Rules & Regulations for Massage Therapy in Rhode Island currently states " Have successfully completed the National Certification Examination for Therapeutic Massage and Body Work or the National Certification Examination for Therapeutic Massage of the National Certification Board for Therapeutic Massage and Bodywork; or other examination as approved by the Department." ***
A minimum of 500 hours in an approved curriculum with a passing score of 630 on the MBLEx (Massage & Bodywork Licensing Examination) is required to apply for a license to practice Massage in the State of Rhode Island. Massage-Exam.Com has over 3500 questions to study in massage assessment, massage application, pathology, body systems, kinesiology, business ethics, and anatomy and physiology. You can take as many tests as you need in order to familiarize yourself with the structure and content of your end of school exams and the MBLEx. Take your time and look over our site, peruse our sample tests, and sign up today to maximize your knowledge and bolster your confidence for your exams.
Application Checklist-
- Application & Fee $65
- Pass MBLEx Licening Exam- Score Sent from the FSMTB to RI Massage Board
- Offical copy of School Transcripts- From School to RI Massage Board
- Criminal Background Check: Rhode Island Bureau of Criminal Identification
- Photo (passport Size) & Birth Certificate
- 3 Character reference letters
- CPR/First Aid Certification
Office of Health Professional Regulation
Massage Therapist Licensing
3 Capitol Hill, Room #104
Providence, RI 02908
Phone: 401-222-2828
Fax: 401-222-1272
---
Massage Schools in Rhode Island
Rhode Island Continuing Education
12 CE Credits Biennially

Hours

Requirements & Limitations

List of Choices

Renew on June 30th of State Approval Anniversary
All 12 hours may be contact or noncontact hours
Professional Ethics, Boundaries, or Communication

2

Required for Renewal

Ethics Bench

Body Mechanics & Self-Care

Not Limited

Self-Care Guru

Business Practices

Not Limited

Business Mastery

Adult CPR/ First Aid Instructor-Led

Direct Contact (Live) or Online

Basic Training

Kinesiology, Anatomy, & Physiology of Human Body

Not Limited

Advanced Instruction Forum

Cultural Competency & Specialized Training

Not Limited

Special Population Techniques

Pathology of the Human Body

Not Limited

Advanced Instruction Forum

Self-Study: Books, DVD's, Research Materials, Related Publications, & Publishing an Article

Not Limited

Research Community

Somatic Education

Not Limited

Advanced Instruction Forum

Teacher Training

Not Limited

Instructor Headquarters

Lecture or Teaching a CE Class

Not Limited

Live

Active Service on RI Massage Related Board, Task Force, Committee, or Attending Meetings

1 hour of CE for each hour- At Board's Discretion

Keep Record of Hours & Duties

*CE Providers Must be Board Approved
Excess Hours taken do NOT carry over to the next renewal period
All 12 CE requirements for First Renewal
Keep Records of CE Hours

5 Years- Audit Selected at Random Annually- Must List on Attest form for Renewal
Office of Health Professional Regulation
Massage Therapist Licensing
3 Capitol Hill, Room #104
Providence, RI 02908
Phone: 401-222-2828
Fax: 401-222-1272
*Board Approved Providers