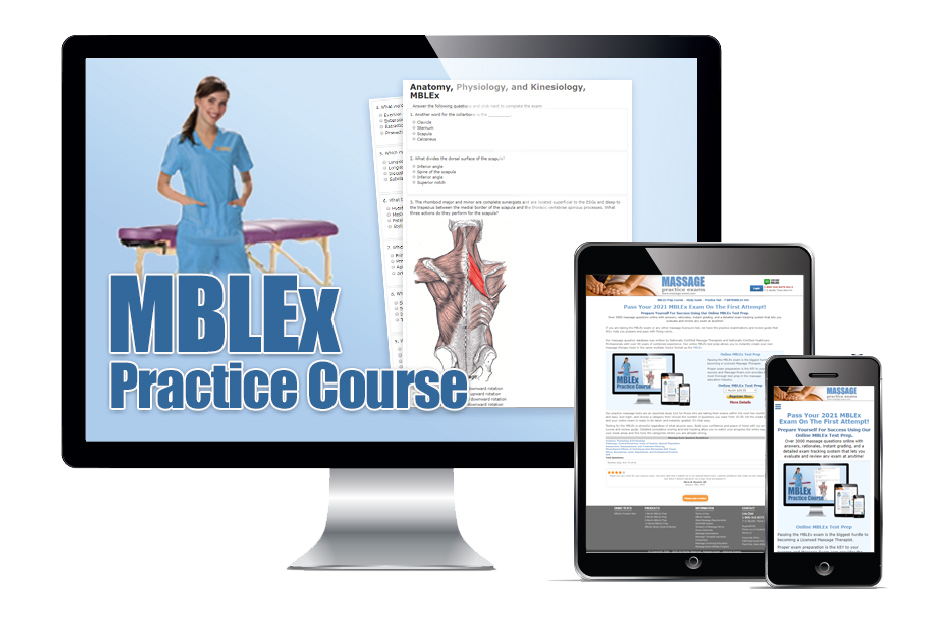 Online MBLEx Test Prep
Passing the MBLEx exam is the biggest hurdle to becoming a Licensed Massage Therapist.
Proper exam preparation is the KEY to your success and Massage-Exam.com provides the most thorough test prep in the massage education industry with over 3000 question, answers, and rationales.
Massage News
NCBTMB and FSMTB have reached an Agreement. NCBTMB will no longer accept applications to utilize their Licensing exams effective November 1, 2014 for completion February 1, 2015. The MBLEx will be the sole licensing exam for the Massage Profession, this will facilitate portability and standardization for Massage Therapists.
Board of Massage Therapists- Licensure is required in Alaska effective July 1, 2015. Also effective July 1, 2017, licensure is required for all practicing massage therapists in the State of Alaska. FAQ's
Transition Application- Any who meet the requirements of the transitional provisions will have the educational and exam requirements waived. Must apply before July 1st, 2017. Code of Ethics and Standards of Practice.
New or Initial Application- Must have all the educational and exam requirements and documentation to apply for a Massage License. Effective July 1st, 2015. Code of Ethics and Standards of Practice.
Massage Therapists may be licensed by Examination or by Credentials. All Massage Therapists must Transition from unlicensed to licensed before July 1, 2017.
License Renewal Information- Renew PDF -16 CE Credits/ 2 years
Alaska Massage Schools - A list of massage schools in Alaska
Study and prepare for the MBLEx with Massage-Exam.com. With over 3500 questions to study from, you will have the confidence to excel in your upcoming exams. We cover massage application, massage assessment, body systems, pathology, business ethics, kinesiology, anatomy, and physiology. In addition, each graded question is accompanied by a rationale, confirming the information for the multiple choice answers. Our program also utilizes percentages and stores the results of the tests you have taken. This means you have the ability to track your progress and recognize the areas where you need to study more. Create a study plan for success and don't hesitate to ask for our help in doing so.
Board of Massage Therapists
State Office Building, 333 Willoughby Ave,. 9th Floor
P.O. Box 110806
Juneau, AK 99811-0806
Phone: 907.465.2550
Fax: 907.465.2974
Questions about Alaska Licensure
Email: License@alaska.gov
---
Alaska Career College

1415 East Tudor Road

Anchorage, AK 99507

Anchorage
907.563.7575

2636 Spenard Rd.

Anchorage, AK 99503

Anchorage
907.279.0135

Kindred Spirits School of Massage

3175 College Rd.

Fairbanks, AK 99709

Email: myoosteo@yahoo.com

Fairbanks
907.479.6707
Alaska Continuing Education
Hours

Requirements & Limitations

List of Choices

Renew on September 30th every Odd year- Finger Print Background check required every renewal
16 CE hours may be contact or noncontact hours
Professional Ethics, Boundaries, or Communication

Not Limited

Ethics Bench

Body Mechanics & Self-Care

Not Limited

Self-Care Guru

Business Practices

Not Limited

Business Mastery

Adult CPR/ First Aid Instructor-Led

2

Required for Renewal Direct Contact (Live) or Online

Basic Training

Safety Education- Bloodborne Pathogens & Universal Precautions - May take once every 6 years
4

2 years preceding new application for license

Basic Training

Kinesiology, Anatomy, & Physiology of Human Body

Not Limited

Advanced Instruction Forum

Cultural Competency & Specialized Training

Not Limited

Special Population Techniques

Pathology of the Human Body

Not Limited

Advanced Instruction Forum

Self-Study: Books, DVD's, Research Materials, Related Publications, & Publishing an Article

Not Limited

Research Community

Somatic Education

Not Limited

Advanced Instruction Forum

Teacher Training

Not Limited

Instructor Headquarters

Lecture or Teaching a CE Class

Not Limited

Live

Active Service on AK Massage Related Board, Task Force, Committee, or Attending Meetings

1 hour of CE for each Meeting/Day/Hour

Keep Record of Hours & Duties

*Board Approved Credentialing Organizations
Keep Records of CE Hours

4 Years- Audit Selected at Random Annually
Board of Massage Therapists
State Office Building, 333 Willoughby Ave,. 9th Floor
P.O. Box 110806
Juneau, AK 99811-08066
Phone: 907.465.2550
Fax: 907.465.2974
*Board Approved Credentialing Organizations