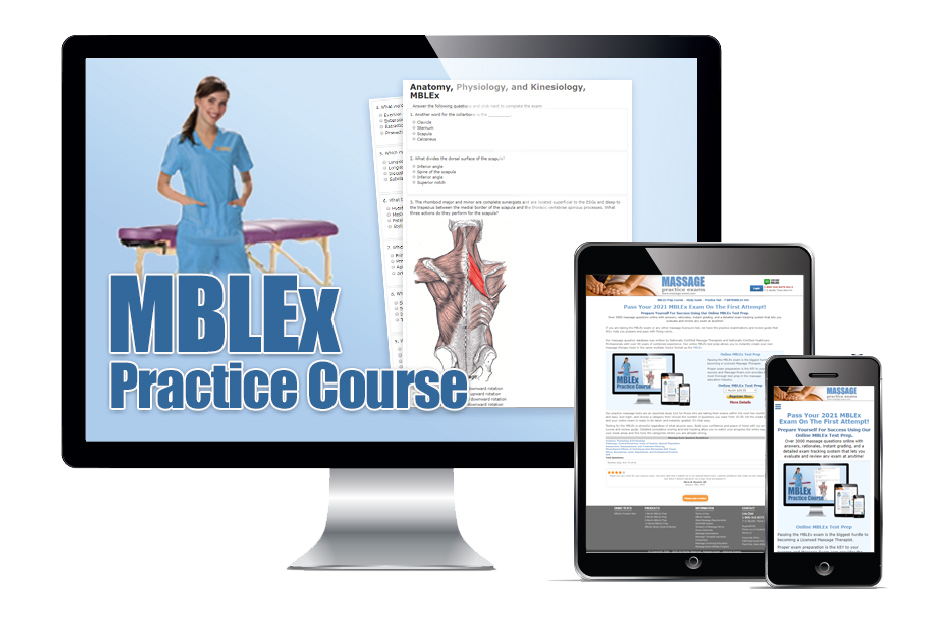 Online MBLEx Test Prep
Passing the MBLEx exam is the biggest hurdle to becoming a Licensed Massage Therapist.
Proper exam preparation is the KEY to your success and Massage-Exam.com provides the most thorough test prep in the massage education industry with over 3000 question, answers, and rationales.
State Board of Massage Therapy for Arizona - Main board website with links to all forms, approved massage schools, rules, and laws etc.
Arizona State Board of Massage Therapy Application for Licensure - This goes directly to the massage license application in PDF format.
License Renewal Information- Renew PDF -24 CE Credits/ 2years
Arizona Massage Schools - A list of Approved massage schools for Arizona
The Arizona Board of Massage Therapy requires a massage therapist to be licensed. To obtain a license, a massage therapist must pass the MBLEx. There will be 100 massage questions on this exam ranging from legal and ethical issues to anatomy and massage application questions. Exams are administered by Pearson VUE testing centers through a computer testing system that delivers one multiple-choice massage question at a time.
As of January 1, 2008, 700 clock hours of massage education are required. Check the Arizona state application instruction form.
In order to review for the MBLEx we recommend using our database of over 3500 massage questions that cover all topics of the MBLEx. Grade and track your massage practice test scores online. Every answered massage question is accompanied by a rationale that explains the information in the questions and answers.
| | |
| --- | --- |
| Web Information | |
| List of schools | |
| Education Requirements | 700 Hrs |
| Title | Massage Therapist MT |
| Type of Credential | License |
| State Law Test | |
| State Practical or Written Exam | Written Exam |
| National Exam Requirement | |
| CEU's | |
| Initial Cost of License | $217 (+ $25 for Wall Certificate) money order or cashier check only + Fingerprint card charge |
| Require City License | Check Local City & County Business Regulations |
| Renewal Fee | |
| Liability ins | |
| Credentialed Practitioners | 9,113 |
Arizona Board of Massage Therapy
1400 West Washington, #300
Phoenix, AZ 85007
Phone: 602-542-8604
Fax: 602-542-8804
info@massageboard.az.gov
---
Massage Schools in Arizona
Chandler-Gilbert Community College

2626 East Pecos Rd.

Chandler, AZ 85225

Chandler

480.732.7000

Arizona School of Integrative Studies

701 South Broadway

Clarkdale, AZ 86324

Clarkdale

866.334.3348

4425 West Olive Ave. #300

Glendale, AZ 85302

Glendale

602.222.9300

Charles of Italy Beauty College

1987 McCulloch Blvd., #205

Lake Havasu City, AZ 86403

Email: info@charlesofitaly.edu

Lake Havasu City

928.453.6666

Arizona School of Integrative Studies

217 North Cortez Street

Prescott, AZ 86301

Email: prescott@asismassage.com

Prescott

888.517.2747

8010 E. McDowell Rd. #214

Scottsdale, AZ 85257

Scottsdale

480.945.9461

8719 East San Alberto Dr.

Scottsdale, AZ 85258

Email: info@jsjinc.com

Scottsdale

480.998.9331

75 Bell Rock Plaza

Sedona, AZ 86351

Email: info@sedonaschool.com

Sedona

928.284.3693

Arizona School of Massage Therapy

1409 West Southern Ave. #6

Tempe, AZ 85282

Tempe

Southwest Institute of Healing Arts

1100 East Apache Blvd.

Tempe, AZ 85281

Tempe

480.994.9244

2020 South Ave. #8E

Yuma, AZ 85365

Yuma

928.317.6000
Arizona Continuing Education
24 CE Credits Biennially

Hours

Requirements & Limitations

List of Choices

Renew on Birth Date every other year
Direct Contact (Live) Arizona Board Approved

12

Not Limited

Live

Remaining 12 hours may be contact or noncontact hours
Professional Ethics, Boundaries, or Communication

Not Limited

Ethics Bench

Body Mechanics & Self-Care

Not Limited

Self-Care Guru

Business Practices

Not Limited

Business Mastery

Adult CPR (4 CE's)/ First Aid (4 CE's) Instructor-Led

8

Minimum Allowed Direct Contact (Live) or Online

Basic Training

Kinesiology, Anatomy, & Physiology of Human Body

Not Limited

Advanced Instruction Forum

Cultural Competency & Specialized Training

Not Limited

Special Population Techniques

Pathology of the Human Body

Not Limited

Advanced Instruction Forum

Self-Study: Books, DVD's, Research Materials, Related Publications, & Publishing an Article

Not Limited

Research Community

Somatic Education

Not Limited

Advanced Instruction Forum

Teacher Training

Not Limited

Instructor Headquarters

Lecture or Teaching a CE Class

10

Minimum Allowed -1 CE for 8 hours of instruction

Live

Active Service on AZ Massage Related Board, Task Force, Committee, or Attending Meetings

3

Minimum Allowed Must have Board's Chair or Executive Directors Signature - 1 CE for 1 hour attended

Keep Record of Hours & Duties

*CE Subject Matter Must be Massage Therapy Related and Board Approved
Excess Hours taken will NOT carry over to the next renewal period
Keep Records of CE Hours

5 Years- Audit Selected at Random Annually
Arizona Board of Massage Therapy
1400 West Washington, #300
Phoenix, AZ 85007
Phone: 602-542-8604
Fax: 602-542-8804
info@massageboard.az.gov