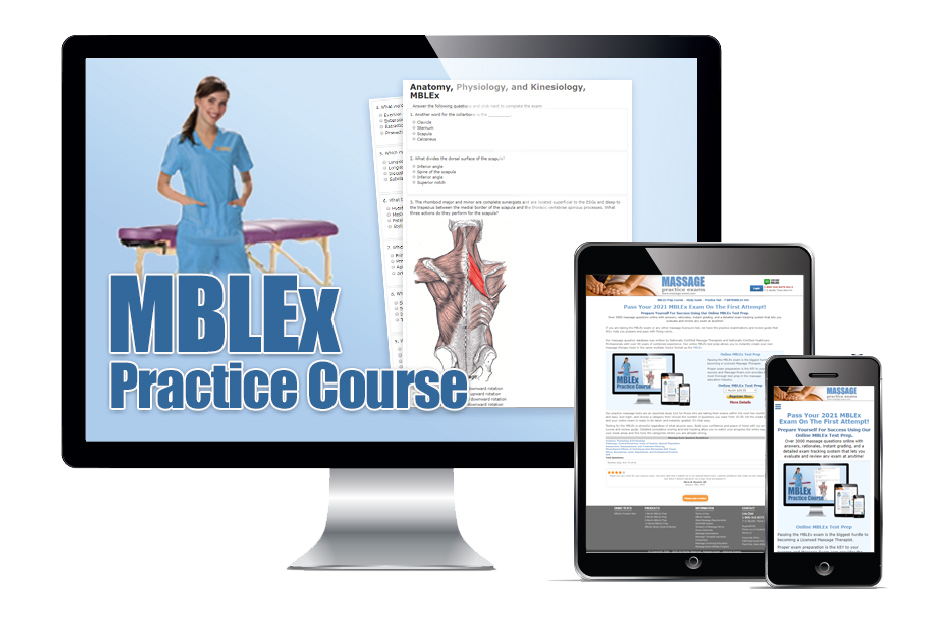 Online MBLEx Test Prep
Passing the MBLEx exam is the biggest hurdle to becoming a Licensed Massage Therapist.
Proper exam preparation is the KEY to your success and Massage-Exam.com provides the most thorough test prep in the massage education industry with over 3000 question, answers, and rationales.
Department of Regulatory Agencies (DORA) Division of Professions and Occupations- State Office of Massage Therapist Registration.
Application - Checklist & Renewal Online with the Division of Professions and Occupations. No state CE hrs required, must renew every 2 years.
Newsletters- from your State Regulatory Massage Board
Colorado Massage Schools - A list of massage schools in Colorado- Schools need to be approved by the Board or accredited.
Colorado State Massage Registration account, you can update your contact information, obtain information about your license, and finish the renewal of your license all ONLINE.
Colorado State Massage Laws, Rules, and Policies
The Colorado State Office of Massage Therapists requires that all therapists pass the written MBLEx. Utilize our online resource to review your massage curriculum. You can take as many practice tests as you like, any time day or night, on your schedule.
Professional Liability Insurance must be purchased and maintained in order to be licensed.
Finger Print and Background checks are required to be submitted to the CBI or Colorado Bureau of Investigation. Instructions for submitting finger print and background checks are also on the application. The fingerprint/ background check can take up to 12 weeks, get applications in as soon as possible. The cost is $39.50 and is not included in the application fee.
Massage Therapy Certificate Holders in Colorado ATTENTION: YOU ARE RESPONSIBLE FOR KNOWING THE REGULATIONS RELATED TO YOUR PROFESSION. PLEASE READ ALL OF THIS INFORMATION.
Registration Review Process:
Step 1: Diploma or Degree from Approved Massage School
Step 2: Pass approved Exam MBLEx
Step 3: Apply with state and submit a Criminal History Record check
Step 4: Obtain Professional Liability Insurance
Step 5: Comply with Laws, Rules, & Regulations
Division of Professions and Occupations
Office of Massage Therapy Licensure
1560 Broadway #1350
Denver, CO 80202
Phone: 303.894.7800
Fax: 303.894.7693
Email: DORA_MassageTherapists@state.co.us
---
Massage Schools in Colorado
Aurora
888.869.4325
Boulder
303.443.9847
Boulder
800.447.0150
Boulder
303.525.5213
Boulder
303.449.5903

Colorado

Springs

719.310.9297

Colorado

Springs

888.634.7347

6805 Corporate Drive #100
Colorado Springs, CO 80919

Colorado Springs
866.749.2608
Crestone
719.256.4036

4007 Automation Way

Fort Collins, CO 80525

Fort Collins
800.444.8244

Institute of Business and Medical Careers IBMC

Fort Collins College

3842 S. Mason St.

Fort Collins, CO 80525

Fort Collins
800.495.2669

2001 Lowe St.

Fort Collins, CO 80525

Fort Collins
866.250.6851

920 Barlow Rd.

Fort Morgan, CO 80701

Fort Morgan
970.542.3100

625 8th Avenue

Greeley, CO 80631

Email: info@natural-therapy.com

Greeley

888.211.9097

Institute of Business and Medical Careers IBMC

Greeley College

5400 W 11th St. #D

Greeley, CO 80634

Greeley
800.495.2669

Healing Touch for Animals

Highlands Ranch, CO 80163

Highlands Ranch
303.470.6572

Colorado School of Healing Arts

7655 W. Mississippi Ave.

Lakewood, CO 80226

Lakewood
800.233.7114

1 Lovers Lane

Manitou Springs, CO 80829

Email: innerhealth@earthlink.com

Manitou Springs
719.685.4805

Delta-Montrose Technical College

218 4th St.

Paonia, CO 81428

Paonia
970.527.4820

Pueblo Community College

Pueblo, CO 81004

Email: Lynne.Ross@pueblocc.edu

Pueblo
719.549.3200

Connecting Point School of Massage and Spa Therapies

104 Society Drive

Telluride, CO

Email: info@telluridemassage.com

Telluride
970.728.6424

Denver School of Massage Therapy

8991 Harlan St. #B

Westminster, CO 80031

Westminster
866.301.5621
Colorado Continuing Education
0 CE's required for active license -24 CE Credits (Rule 5)

Hours

Requirements & Limitations

List of Choices

Renew on December 31st every Even year

If license has expired over 2 and less than 5 years provide 24 CE's of contact or noncontact hours

ABMP- Biennially

16

Not Limited

CE Catalog

AMTA- Quadrennially

48

Not Limited

CE Catalog

NCBTMB- Biennially

24

Not Limited

CE Catalog

Increase Professional Knowledge and Skills to ensure effective and safe Massage Therapy Practices by taking advantage of the benefits Continuing Education offers
Check your Massage Association or City/County Professional/Business Laws to meet Continuing Education requirements
Direct Contact (Live) Colorado Board Approved

Not Limited

Live

Professional Ethics, Boundaries, or Communication

2

Minimum Allowed

Ethics Bench

Body Mechanics & Self-Care

Not Limited

Self-Care Guru

Business Practices

2

Minimum Allowed

Business Mastery

Adult CPR/ First Aid Instructor-Led

Direct Contact (Live) or Online

Basic Training

Kinesiology, Anatomy, & Physiology of Human Body

Not Limited

Advanced Instruction Forum

Cultural Competency & Specialized Training

Not Limited

Special Population Techniques

Pathology of the Human Body

Not Limited

Advanced Instruction Forum

Self-Study: Books, DVD's, Research Materials, Related Publications, & Publishing an Article

Not Limited

Research Community

Somatic Education

Not Limited

Advanced Instruction Forum

Teacher Training

Not Limited

Instructor Headquarters

Lecture or Teaching a CE Class

Not Limited

Live

Active Service on CO Massage Related Board, Task Force, or Committee, or Attending Meetings

1 hour of CE for each Meeting/Day

Keep Record of Hours & Duties

CE's must be within Massage Therapy Scope of Practice
Keep Records of CE Hours

5 Years
Division of Professions and Occupations
Office of Massage Therapy Licensure
1560 Broadway #1350
Denver, CO 80202
Phone: 303.894.7800
Fax: 303.894.7693