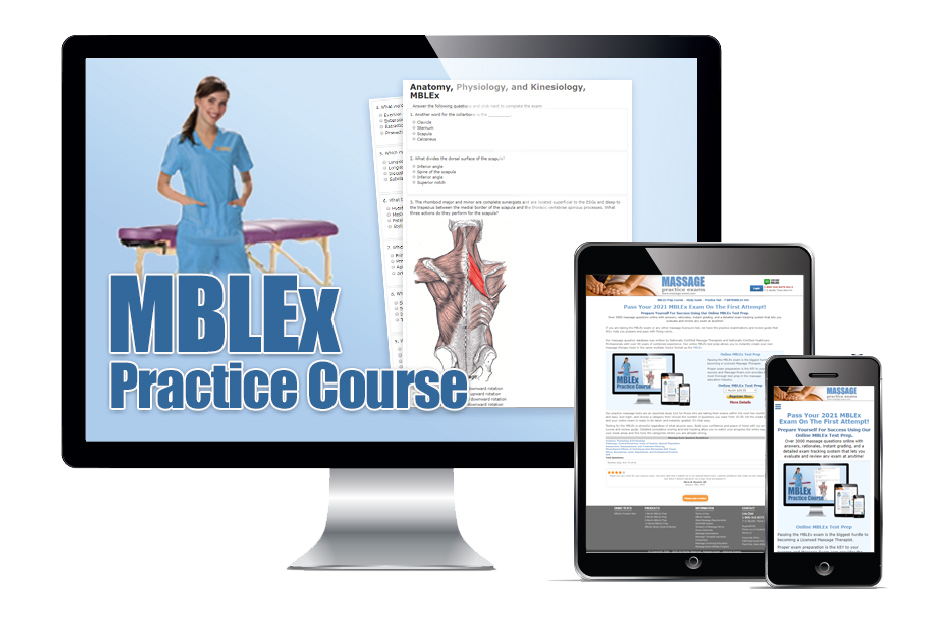 Online MBLEx Test Prep
Passing the MBLEx exam is the biggest hurdle to becoming a Licensed Massage Therapist.
Proper exam preparation is the KEY to your success and Massage-Exam.com provides the most thorough test prep in the massage education industry with over 3000 question, answers, and rationales.
Georgia Board of Massage Therapy - Information on licensing, reciprocity, laws, regulations, and FAQs.
Georgia Massage Therapy License Application Online - Or Download, print, and fill this application out to apply for a Georgia Massage Therapy License. Criminal Background Check is also required. Check the status of your application.
License Renewal Information - Renew Online - 24 CE's/ 2 years
Georgia Massage Schools - A list of massage schools in Georgia. Recognized Programs.
To practice massage therapy in the state of Georgia, you need a Georgia Massage Therapy License. This license can be obtained by filling out the necessary documents and completing the required schooling and testing requirements.
All applicants for a massage therapy license in Georgia must have completed an approved massage course or educational program of at least 500 hours of clinical massage training. The massage license applicant must also have taken and passed the MBLEx. Proof of completion (the original) must be sent directly to the Georgia Board of Massage Therapy to be processed with your state massage license application.
If you have not yet taken the MBLEx you will find the massage practice exams that we provide on our site very useful. You can access the massage exams online twenty-four hours a day and study from our database of over 3500 massage based questions. Gain the knowledge and confidence needed from our study materials to pass the MBLEx on the first attempt.
Read the Details about the MBLEx so you are informed.
Georgia Board of Massage Therapy
237 Coliseum Drive
Macon, GA 31217
Phone: 478.207.2440
Fax: 866.888.7124
---
Massage Schools in Georgia
Albany Therapeutic Massage Program

1534 Dawson Rd.

Albany, GA 31707

Albany
229.435.9008

2 Dunwoody Park

Atlanta, GA 30338

877.291.4485

International School of Skin and Nailcare

5600 Roswell Road NE

Prado Shopping Center

Atlanta, GA 30342

Atlanta
877.843.1005

5601 Veterans Prkwy

Columbus, GA 31904

Columbus
205.329.7913

1820 GA Hwy 20

Conyers, GA 30013

Conyers
770.922.7653

608 Ponder Place Drive

Evans, GA 30809

706.863.4799

770.297.8080

Touch for Healing: School of Reiki Massage

1645 Talking Rock Road

Jasper, GA 30143

Jasper
706.692.0255

770.381.7200

Georgia Northwest Technical College

1 Maurice Culberson Drive

Rome, GA 30161

Rome
706.291.6434

14045 Abercorn St. #1503

Savannah, GA 31419

Savannah
912.721.5600

415 Horizon Dr. Bldg #200 Ste #275

Suwanee, GA 30024

Suwanee
678.482.1100

Southern Regional Technical College

15689 US Highway 19 North

Thomasville, GA 31792

Thomasville
888.205.3449
Georgia Continuing Education
24 CE Credits Biennially

Hours

Requirements & Limitations

List of Choices

Renew on October 31st every Even year
All 24 hours must be recorded on CE Brokers Free Basic Limited Access Account
Direct Contact (Live) Georgia Board Approved

12

Required for Renewal

Live

Remaining 12 hours may be contact or noncontact hours
Professional Ethics, Boundaries, or Communication

Not Limited

Ethics Bench

Body Mechanics & Self-Care

Not Limited

Self-Care Guru

Business Practices

Not Limited

Business Mastery

Adult CPR/ First Aid Instructor-Led

Direct Contact (Live) or Online

Basic Training

Kinesiology, Anatomy, & Physiology of Human Body

Not Limited

Advanced Instruction Forum

Cultural Competency & Specialized Training

Not Limited

Special Population Techniques

Pathology of the Human Body

Not Limited

Advanced Instruction Forum

Self-Study: Books, DVD's, Research Materials, Related Publications, & Publishing an Article

Not Limited

Research Community

Somatic Education

Not Limited

Advanced Instruction Forum

Teacher Training

Not Limited

Instructor Headquarters

Lecture or Teaching a CE Class

Not Limited

Live

Active Service on GA Massage Related Board, Task Force, or Committee, or Attending Meetings

1 hour of CE for each Meeting/Day

Keep Record of Hours & Duties

*CE Providers Must be NCBTMB Approved
Excess Hours taken will NOT carry over to the next renewal period- Obtain CE's between biennial even years November 1st to October 31st (2016 to 2018)
No CE requirements for First Renewal
Keep Records of CE Hours

5 Years- Audit Selected at Random Annually- If Selected, Hard Copies of Certification must be sent into the GA Board

Must Maintain CE Documentation on CE Broker
Georgia Board of Massage Therapy
237 Coliseum Drive
Macon, GA 31217
Phone: 478.207.2440
Fax: 866.888.7124
* Board Approved Providers
National Certification Board for Therapeutic Massage and Bodywork (NCBTMB)
Course offered by Board Approved Massage School
Course approved Florida list on CEBroker.com