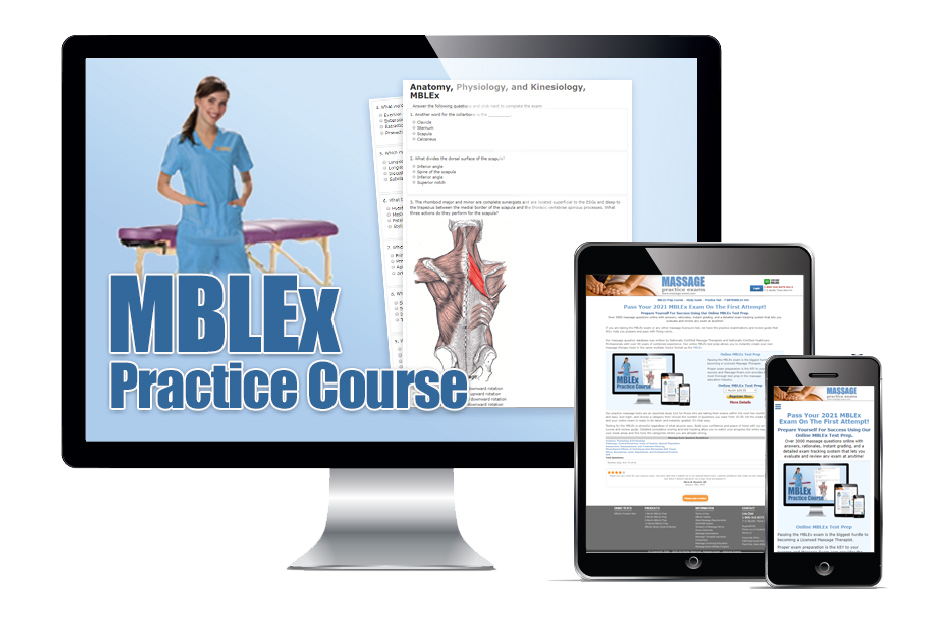 Online MBLEx Test Prep
Passing the MBLEx exam is the biggest hurdle to becoming a Licensed Massage Therapist.
Proper exam preparation is the KEY to your success and Massage-Exam.com provides the most thorough test prep in the massage education industry with over 3000 question, answers, and rationales.
Hawaii Board of Massage Therapy - Online starting point for information on becoming a massage therapist in Hawaii.
Massage Therapy License Application for Hawaii - PDF license application that you can download, print, and complete.
Hawaii Massage Therapist Apprentice Application - Only want to be a massage apprentice? Here is your application for a permit.
Hawaii Massage Schools - A list of massage schools in Hawaii
A massage therapist applying for licensure in Hawaii must first complete the above listed application for a massage license. You must have completed a state certified course that consists of no less than 570 hours of training.
Hawaii offers another level of massage accreditation called "Massage Apprentice." This is not a massage license, but rather a permit to practice massage therapy. In order to get a massage permit in Hawaii, you will need a minimum 150 hours of massage course work by one of the approved educational institutions.
Hawaii is unique in that there is not a National Massage Certification Exam (MBLEx) required for licensure. The state of Hawaii has its own exam that is administered after you have completed and submitted your license application. Dates for the Hawaii massage exam are already set and are administered on each of the islands. A calender of test dates can be found here.
The Hawaii State Exam is proctored at Prometric under the supervision of the Hawaii Board of Massage Therapy. There is a list of content on page 6 of the Information Booklet available through Prometric when application is complete. There are three main formats for the questions within the exam, Direct Questions, Incomplete Sentences, and All of the Following Except questions. All questions are multiple-choice, with four possible answers. These are the same three formats found within our MBLEx databank of questions to practice your knowledge of Basic Massage Therapy curriculum. Exam Dates and Locations.
License Renewal Information - Biennial Renewal - Renew Online - 0 CE's/ 2 years
New House Bill No. 2257 HD1 SD1- For Military Spouse Reciprocity
The Hawaii State Exam is broken down into four parts; Laws & Rules 10%, Anatomy & Physiology 50%, Massage Theory 15%, and Clinical Situations 25%.
Our site has these sections broken down further. The Anatomy and Physiology is in two sections; A&P, and Body Systems. The Massage Theory is within the Massage Application section. The Clinical Situations can be found in the Professional Standards, Complementary Alternative Medicine, Pathology and Massage Assessment sections.
Hawaii will not accept a reciprocity exam such as the MBLEx. If you wish to practice massage in HI, you must take the HI state Massage Exam.
The following PDF links contain the Hawaii Laws & Rules. There are three chapters from the Hawaii Administrative Rules & Statutes.
An excellent way to prepare yourself for the Hawaii massage exam is to use our massage study aid that is accessible from the internet 24 hours a day. Learn while you test yourself on massage theory, massage application, anatomy and physiology and all of the other topics that you will encounter on the Hawaii state license exam.
| | |
| --- | --- |
| Web Information | Hawaii Board of Massage |
| List of schools | Hawaii Massage Schools |
| Education Requirements | 570 Hrs |
| Title | Massage Apprentice Massage Therapist MT |
| Type of Credential | Massage Apprentice= Permit Massage Therapist MT= Massage License |
| State Law Test | Rules & Statutes |
| State Practical or Written Exam | HI State Written Exam |
| National Exam Requirement | None |
| CEU's | NA |
| Initial Cost of License | $50 License App Fee- Plus more for special requests |
| Require City License | Business Registration Division- 808.586.2727 |
| Renewal and Fee | License= $146/ 2 years- 0 CE's/ 2 years |
| Liability ins | Massage Therapy Insurance Comparison |
| Credentialed Practitioners | 939 |
Department of Commerce & Consumer Affairs
State Board of Massage
PO Box 3469
1010 Richards St.
Honolulu, HI 96801
Phone: 808-586-3000
massage@dcca.hawaii.gov
---
Massage Schools in Hawaii
Hawaii School of Professional Massage

Pearl Kai Shopping Center, Aiea

98-199 Kamehameha Hwy #B5

Alea, HI 96701

Alea
808.485.2808

211 Kino'ole Street

Hilo, HI 96720

Email: info@hilomassage.com

Hilo
808.935.1405

Interstate Building

1314 South Kin Street

Honolulu, HI 96814

Honolulu
808.596.7354

1750 Kalakaua Ave. #3004

Honolulu, HI 96826

Honolulu
808.955.4555

1111 Bishop Street #400

Honolulu, HI 96813

Honolulu
808.942.1000

3649 Nihipali Place

Honolulu, HI 96816

Email: rueyry@gmail.com

Honolulu
808.737.8859

Kailua Medical Arts Building

407 Uluniu Street #204

Kailua, HI 96734

Email: hhac@hawaii.rr.com

Kailua
877.881.8884

Waipouli Complex

4-971 D Kuhio Hwy

Kapa'a, Kaua'i, HI 96746

Kapa'a
808.821.1100

Island Spirit School of Massage

PO Box 650; 81-6587 Mamalahoa Hwy

Kealakekua, HI 96750

Kealakekua
808.825.9666

Pacific Center for Awareness & Bodywork

PO Box 1049

Kilauea, HI 96754

Kilauea
844.687.7222

3-1901 Kaumualii Hwy

Lihue, HI 96766

Email: arkauai@hawaii.edu

Lihue
808.245.8225

Maui School of Therapeutic Massage

PO Box 1891

Makawao, HI 96768

Makawao
808.572.2277

Aloha School of Massage Therapy

355 Hukilike Street #203 Kahului

Maui, HI 96732

Email: info@alohamassageschool.com

Maui
808.871.9966
Ho'omana Spa Maui
c/o Lomi Massage
1550 Pi'iholo Road
Maui, HI 96768
Maui
808.573.8256
Hawaii Continuing Education
0 CE Credits Biennially

Hours

Requirements & Limitations

List of Choices

Renew on June 30th every Even year
ABMP- Biennially

16

Not Limited

CE Catalog

AMTA- Quadrennially

48

Not Limited

CE Catalog

NCBTMB- Biennially

24

Limited

CE Catalog

Increase Professional Knowledge and Skills to ensure effective and safe Massage Therapy Practices by taking advantage of the benefits Continuing Education offers
Check your Massage Association or City/County Professional/Business Laws to meet Continuing Education requirements
Direct Contact (Live) Hawaii Board Approved

Not Limited

Live

Professional Ethics, Boundaries, or Communication

Not Limited

Ethics Bench

Body Mechanics & Self-Care

Not Limited

Self-Care Guru

Business Practices

Not Limited

Business Mastery

Adult CPR/ First Aid Instructor-Led

Direct Contact (Live) or Online

Basic Training

Kinesiology, Anatomy, & Physiology of Human Body

Not Limited

Advanced Instruction Forum

Cultural Competency & Specialized Training

Not Limited

Special Population Techniques

Pathology of the Human Body

Not Limited

Advanced Instruction Forum

Self-Study: Books, DVD's, Research Materials, Related Publications, & Publishing an Article

Not Limited

Research Community

Somatic Education

Not Limited

Advanced Instruction Forum

Teacher Training

Not Limited

Instructor Headquarters

Lecture or Teaching a CE Class

Not Limited

Live

Active Service on HI Massage Related Board, Task Force, or Committee, or Attending Meetings

1 hour of CE for each Meeting/Day

Keep Record of Hours & Duties

Biennial Renewal on June 30th of even years. If license is not renewed you must submit proof of CE's for Renewal to obtain a valid license
No CE requirements for Renewal- It is up to the Massage Therapist to govern obtained knowledge for safe and efficient practices
Keep Records of CE Hours

5 Years
Department of Commerce & Consumer Affairs
State Board of Massage
PO Box 3469
1010 Richards St.
Honolulu, HI 96801
Phone: 808-586-2694
massage@dcca.hawaii.gov