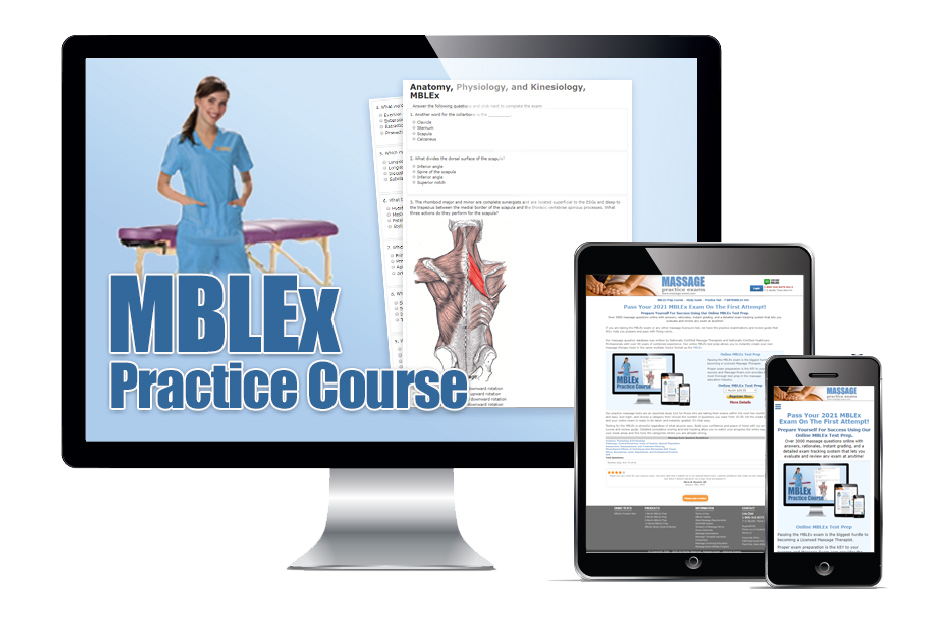 Online MBLEx Test Prep
Passing the MBLEx exam is the biggest hurdle to becoming a Licensed Massage Therapist.
Proper exam preparation is the KEY to your success and Massage-Exam.com provides the most thorough test prep in the massage education industry with over 3000 question, answers, and rationales.
Idaho Board of Massage Therapy - Board has been established by the Bureau of Occupational Licenses. House Bill #7 & House Bill #8
Application for Licensure- Application Instructions list of what is needed to obtain a license to practice massage in the State of Idaho. The Examination Application, Endorsement Application are now being accepted.
Licensing Freedom Act Executive order 2017-05- Proposed Laws & Rules
License Renewal Information- 6 CE Credits/ Year CE Approval Application
Idaho Massage Schools - A list of massage schools in Idaho - Postsecondary and Proprietary Schools (section 33 chapter 24) - Schools must register annually.
You must complete an approved massage study course of 500 hours and then take and pass the MBLEx.
Education Course Curriculum Standards:
-200 Hours in Massage & Bodywork Assessment, Application and Theory
-125 Hours in Body Systems= A&P Kinesiology
-40 Hours in Pathology
-25 Hours in Professional Business & Ethics
-110 Hours of Clinical Work
Proper test preparation is essential in passing the MBLEx. The tools we have created here on Massage-Exam were designed specifically for the purpose of mastering your massage curriculum basics. Study from a pool of over 3500 massage questions covering the exact same topics as the MBLEx. With our massage practice exams you not only get the correct answer for each question, you also get the rationale or reasoning behind the correct answer. This allows you to actually learn concepts you may not know or are having difficulty with. Have a question about massage therapy curriculum? Use our Massage Support Desk that comes with your massage exam subscription to ask a Licensed Massage Therapist your question.
| | |
| --- | --- |
| Web Information | www.ibol.idaho.gov |
| List of schools | |
| Education Requirements | 500 Hours |
| Title | LMT |
| Type of Credential | License |
| State Board Information | |
| State Law Test | Laws & Rules |
| State Practical or Written Exam | |
| National Exam Requirement | Started July 1st 2013 |
| CEU's | 6 Hrs/12 months |
| Initial Cost of License | $125 |
| Require City License | Check Local City & County Business Regulations |
| Renewal Fee | $75 |
| Liability ins | Massage Therapy Insurance Comparison |
Idaho State Board of Massage Therapy
Idaho Bureau of Occupational Licenses
700 West State Street, PO BOX 83720
Boise, ID 83720-0063
Phone: 208.334.3233
Fax: 208.334.3945
Email: mas@ibol.idaho.gov
---
Massage Schools in Idaho
Confirm school is registered in Idaho with the ID Board of Education
Propietary Schools Registered in Idaho

Bingham Memorial Hospital

98 Poplar Street

Blackfoot, ID 83221

Email: gking@binghammemorial.org

Blackfoot
208.785.3823

Three Oaks Academy

211 West State Street

Boise, ID 83702

Boise
208.342.3430

1625 North 4th Street #203

Coeur d'Alene, ID 83814

Coeur d'Alene
208.765.1075

Twin Falls Institut of Holistic Studies

3999 US 93

Filer, ID 83328

Filer

208.326.4870

International Institute of Massage Therapy

1110 South Blvd.

Idaho Falls, ID 83402

Idaho Falls
208.528.0319

Idaho School of Massage Therapy

3551 East Overland Rd.

Meridian, ID 83642

Email: ismtregistrar@cableone.net

Meridian
208.343.1847

Massage Training Center

2200 S. Midland Blvd.

Nampa, ID 83686

Nampa
208.461.2058

921 South 8th Ave. Stop 8380

Pocatello, ID 83209

Email: ctech@isu.edu

Pocatello
208.282.2622

American Institute of Clinical Massage

4365 Inverness Drive

Post Falls, ID 83854

Email: info@aicmtouch.com

Post Falls
208.773.5890

Rexburg College of Massage Therapy

669 Pioneer Rd. #500

Rexburg, ID 83440

Rexburg
208.319.3149

North Idaho Massage Academy - Mt. Baldy Professional Bldg.

1315 West Hwy 2, #4

Sandpoint, ID 83864

Sandpoint
208.265.1933

OZ School of Massage

1657 Reed Lane

Soda Springs, ID 83276

Email: lozieroutfit@hotmail.com

Soda Springs
208.339.3774

Intermountain College of Natural Health

206 Martin Street, Suite A

Twin Falls, ID 83301

Twin Falls
208.735.1166
Idaho Continuing Education
6 CE Credits Annually

Hours

Requirements & Limitations

List of Choices

Renew on Birth Date Annually

An educational course setting may include a classroom, conference, seminar, on-line or a virtual classroom

If Course has substantially the same content, only one course will count toward CE hour requirements
Professional Ethics, Boundaries, or Communication

1

Required for Renewal

Ethics Bench

Body Mechanics & Self-Care

Not Limited

Self-Care Guru

Business Practices

Not Limited

Business Mastery

Adult CPR/ First Aid Instructor-Led

Direct Contact (Live)

Basic Training

Kinesiology, Anatomy, & Physiology of Human Body

Not Limited

Advanced Instruction Forum

Cultural Competency & Specialized Training

Not Limited

Special Population Techniques

Pathology of the Human Body

Not Limited

Advanced Instruction Forum

Self-Study: Books, DVD's, Research Materials, Related Publications, & Publishing an Article

Type-Written 2 page summary

Research Community

Publishing an Article

Credits determined by Board

Research Community

Somatic Education

Not Limited

Advanced Instruction Forum

Teacher Training

Not Limited

Instructor Headquarters

Lecture or Teaching a CE Class

6

Limit of 1 per renewal

Live

Active Service on ID Massage Related Board, Task Force, or Committee, or Attending Meetings

1 hour of CE for each Meeting/Day

Keep Record of Hours & Duties

*CE Subject Matter Must be Massage Therapy & Board Approved
6 Excess Hours taken will carry over to the next renewal period only
No CE requirements for First Renewal
Keep Records of CE Hours

5 Years- Audit Selected at Random Annually
Idaho State Board of Massage Therapy
Idaho Bureau of Occupational Licenses
700 West State Street, PO BOX 83720
Boise, ID 83720-0063
Phone: 208.334.3233
Fax: 208.334.3945
Email: mas@ibol.idaho.gov
* Board Approved Providers
Nationally accredited or Secretary of Education approved University or College
Local (City or County), State ( ID Massage Board) or Governmental (FSMTB) accrediting agencies
National (NCBTMB) and State Massage Therapy Associations
Provider Course Approved by ID Massage Board