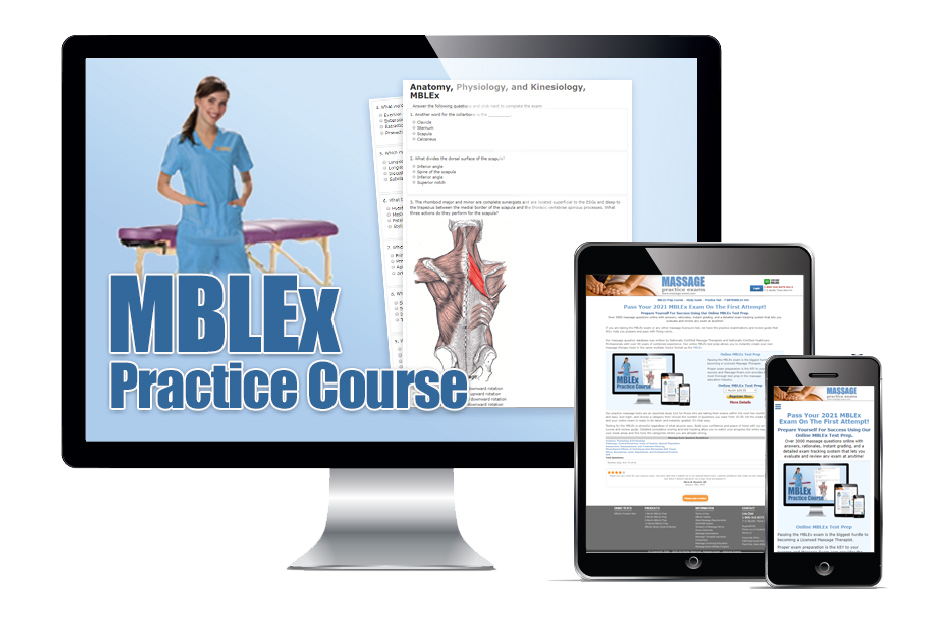 Online MBLEx Test Prep
Passing the MBLEx exam is the biggest hurdle to becoming a Licensed Massage Therapist.
Proper exam preparation is the KEY to your success and Massage-Exam.com provides the most thorough test prep in the massage education industry with over 3000 question, answers, and rationales.
Indiana Board of Massage Therapy - The board is currently accepting applications.
Massage Therapist Application - Massage Therapy License Checklist. Keep up to date with Indiana Board Newsletters.
Indiana Massage Schools - A list of massage schools in Indiana
Indiana requires an approved massage course consisting of no less than 500 hours of instruction in the areas of massage assessment, application, anatomy and physiology, body systems, and pathology as well as ethics and business practices.
House Enrolled Act 1289 Indiana State Board of Massage Therapy has begun the process of transitioning the practice of massage therapy from certification to required licensure. Individuals will not be required to hold a license to practice massage therapy in Indiana until 183 days After the effective date of additional rules adopted by the Massage Board. The Indiana Massage Board will continue to issue and renew state certification for massage therapists. check for updates on the transition to licensure on the home page.
Before an Indiana massage license is issued, you must pass one of the following Exams:
NBCA (Comparable to the MBLEx study exams)
You may also find the Indiana state senate amendment concerning professional and occupational licensure a helpful read.
License Renewal Information- Renew Online - 0 CE hrs/4 years
Massage-Exam.com has the ability to help you with your exam study needs. Our study resource has a base of over 3500 questions in specific categories such as massage assessment, massage application, business ethics, pathologies, kinesiology, body systems, anatomy and physiology. Build your confidence while taking multiple-choice questions in each category or take a mix of questions in the random category. Each graded question is accompanied by the rationale for added benefits in reviewing your core work material. You're not limited to taking only one test like in the bound and printed review books. You can utilize our site night and day and take as many tests as you would like, having the option of opening past tests and perusing questions you may have missed. Sign up and test your knowledge today.
Page update 7.17.17
| | |
| --- | --- |
| Web Information | |
| Education Requirements | |
| Title | Massage Therapist MT |
| Type of Credential | License |
| State Law Test | |
| State Practical or Written Exam | Written Exam |
| National Exam Requirement | |
| CEU's | |
| Initial Cost of License | $100 |
| Require City License | Check Local City & County Business Regulations |
| Renewal Fee | |
| Liability ins | |
| Credentialed Massage Practitioners | |
Indiana Professional Licensing Agency
State Board of Massage Therapy
402 W, Washington Street, Room W072
Indianapolis, IN 46204
Phone: 317.234.8800
Email: pla14@pla.in.gov
---
Massage Schools in Indiana
Indiana Continuing Education
0 CE Credits Quadrennially

Hours

Requirements & Limitations

List of Choices

Renew on May 15th every 4 years from State Approval Anniversary Date
ABMP- Biennially

16

Not Limited

CE Catalog

AMTA- Quadrennially

48

Not Limited

CE Catalog

NCBTMB- Biennially

24

Not Limited

CE Catalog

Increase Professional Knowledge and Skills to ensure effective and safe Massage Therapy Practices by taking advantage of the benefits Continuing Education offers
Check your Massage Association or City/County Professional/Business Laws to meet Continuing Education requirements
Professional Ethics, Boundaries, or Communication

Not Limited

Ethics Bench

Body Mechanics & Self-Care

Not Limited

Self-Care Guru

Business Practices

Not Limited

Business Mastery

Adult CPR/ First Aid Instructor-Led

Direct Contact (Live) or Online

Basic Training

Kinesiology, Anatomy, & Physiology of Human Body

Not Limited

Advanced Instruction Forum

Cultural Competency & Specialized Training

Not Limited

Special Population Techniques

Pathology of the Human Body

Not Limited

Advanced Instruction Forum

Self-Study: Books, DVD's, Research Materials, Related Publications, & Publishing an Article

Not Limited

Research Community

Somatic Education

Not Limited

Advanced Instruction Forum

Teacher Training

Not Limited

Instructor Headquarters

Lecture or Teaching a CE Class

Not Limited

Live

Active Service on IN Massage Related Board, Task Force, Committee, or Attending Meetings

1 hour of CE for each Meeting/Day/Hour

Keep Record of Hours & Duties

No CE requirements for State License Renewal- Must have Proof of Valid Inusrance
Keep Records of CE Hours

5 Years
Indiana Professional Licensing Agency
State Board of Massage Therapy
402 W, Washington Street, Room W072
Indianapolis, IN 46204
Phone: 317.234.8800
Email: pla14@pla.in.gov