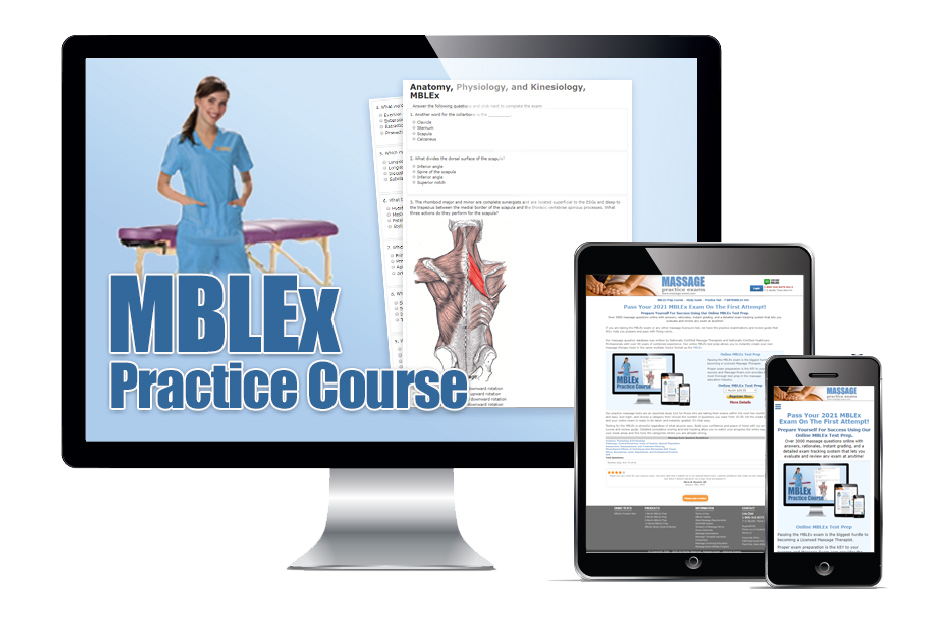 Online MBLEx Test Prep
Passing the MBLEx exam is the biggest hurdle to becoming a Licensed Massage Therapist.
Proper exam preparation is the KEY to your success and Massage-Exam.com provides the most thorough test prep in the massage education industry with over 3000 question, answers, and rationales.
Massage Board of Massage Therapy - Governing agency for massage licensing and certification requirements.
Iowa Massage Therapist License Application - Download and complete this document from the Iowa Board of Massage Therapy. Or Online Application process. You can also Renew Online as well.
Verify your License Status- Or validate a Massage Therapist
Iowa Massage Schools - A list of massage schools in Iowa
Becoming a massage therapist in Iowa starts with completing the initial course work from an Iowa approved massage course or school. Once the course is complete, you are required to take and pass the MBLEx (Massage & Bodywork Licensing Examination). Passing this exam will allow you to apply for your state license. The MBLEx (Massage & Bodywork Licensing Examination) is delivered on a computer at an approved testing center. The massage questions on the exam are delivered one at a time. The exam is complete when you have finished 100 questions or the 2 hours time limit has expired.
Proper test preparation is essential in passing the MBLEx. The MBLEx is governed by the Federation of State Massage Therapy Boards (FSMTB). The tools we have created here on Massage-Exam were designed specifically for the purpose of helping you master the information on the licensing exam. Study from a pool of over 3500 massage questions covering the exact same topics as the MBLEx. With our massage exams you not only get the correct answer for each question, you also get the rationale or reasoning behind the correct answer. This allows you to actually learn concepts you may not know or are having difficulty with. Have a question about massage therapy curriculum? Use our Massage Support Desk that comes with your massage exam subscription to ask a Licensed Massage Therapist your question.
The state of Iowa maintains a fairly detailed FAQ about massage therapy licensing, renewal, and continuing education.
License Renewal Information- Renew Online -16 CE Credits/ 2 years
| | |
| --- | --- |
| List of schools | |
| Education Requirements | 500 Hrs |
| Title | Massage Therapist MT |
| Type of Credential | License |
| State Law Test | |
| State Practical or Written Exam | Written Exam |
| National Exam Requirement | |
| CEU's | |
| Initial Cost of License | |
| Require City License | Check Local City & County Business Regulations |
| Renewal Fee | |
| Liability ins | |
| Credentialed Practitioners | 2,396 |
Iowa Board of Massage Therapy
Iowa Department of Public Health
Bureau of Professional Licensure
Lucas State Office Building, 5th Floor
321 East 12th Street
Des Moines, IA 50319
Phone: 515.281.6959
---
Massage Schools in Iowa
Carlson College of Massage Therapy

11809 Country Rd. X-28

Anamosa, IA 52205

Anamosa
319.462.3402

2945 Williams Parkway SW

Ceder Rapids, IA 52404

Email: cradm@capricollege.com

Cedar Rapids
800.397.0612

2450 East 53rd Street

Davenport, IA 52807

Email: davadm@capricollege.com

Davenport
800.728.1336

Continuing Education Only

Windemere Institute of Healing Arts

2219 Pole Line Rd.

Decorah, IA 52101

Email: WIHA@rconnect.com

Decorah
800.874.0905

3601 Douglas Ave.

Des Moines, IA 50310

Email: office@collegeofmassage.info

Des Moines
515.277.2126

395 Main Street

Dubuque, IA 52001

Email: dbqadm@capricollege.com

Dubuque
800.728.0712

24 2nd Street NE

Mason City, IA 50401

Email: lajames@lajames.com

Mason City
641.424.2161

East-West School of Integrative Healing Arts

1395 Jordan Street

North Liberty, IA 52317

North Liberty
319.351.3262

Indian Hills Community College

525 Grandview Ave.

Ottumwa, IA 52501

Ottumwa
800.726.2585

1900 North Grand Ave. #8

Spencer, IA 51301

Email: jgentle@iowalakes.edu

Spencer
877.807.9585
Iowa Continuing Education
16 CE Credits Biennially

Hours

Requirements & Limitations

List of Choices

Renew on the 15th of the State Approval Anniversary Month Biennially
Direct Contact (Live) Iowa Board Approved

8

Required for Renewal

Live

Remaining 8 hours may be contact or noncontact hours
Taking and Passing MBLEx
Keep Passing Record
MBLEx
Taking and Passing NCBTMB
Keep Passing Record
NCBTMB
Professional Ethics, Boundaries, or Communication

Not Limited

Ethics Bench

Body Mechanics & Self-Care

Not Limited

Self-Care Guru

Business Practices

Not Limited

Business Mastery

Adult CPR/ First Aid, Sanitation, or Geriatric Care

Direct Contact (Live) or Online

Basic Training

Kinesiology, Anatomy, & Physiology of Human Body

Not Limited

Advanced Instruction Forum

Cultural Competency & Specialized Training

Not Limited

Special Population Techniques

Pathology of the Human Body

Not Limited

Advanced Instruction Forum

Self-Study: Books, DVD's, Research Materials, & Related Publications

Not Limited

Research Community

Publishing an Article
5 CE hr= 1 page

Research Community

Somatic Education

Not Limited

Advanced Instruction Forum

Teacher Training

Not Limited

Instructor Headquarters

Lecture, Teaching a CE Class, or Massage Course

4

Maximum Allowed - 1 hour= 1 CE hr must maintain course info for audit

Live

Active Service on IA Massage Related Board, Task Force, Committee, or Attending Meetings

1 hour of CE for each Meeting/Day/Hour

Keep Record of Hours & Duties

*CE Subject Matter Must be Massage Therapy related
Excess Hours taken will NOT carry over to the next renewal period
No CE requirements for First Renewal- CE's acquired within first 2 years of licensure can be used in next renewal only
Keep Records of CE Hours

5 Years- Audit Selected at Random Annually- Must report

CE's

on Renewal Application
Iowa Board of Massage Therapy
Iowa Department of Public Health
Bureau of Professional Licensure
Lucas State Office Building, 5th Floor
321 East 12th Street
Des Moines, IA 50319
Phone: 515.281.6959
* Board Approved Providers