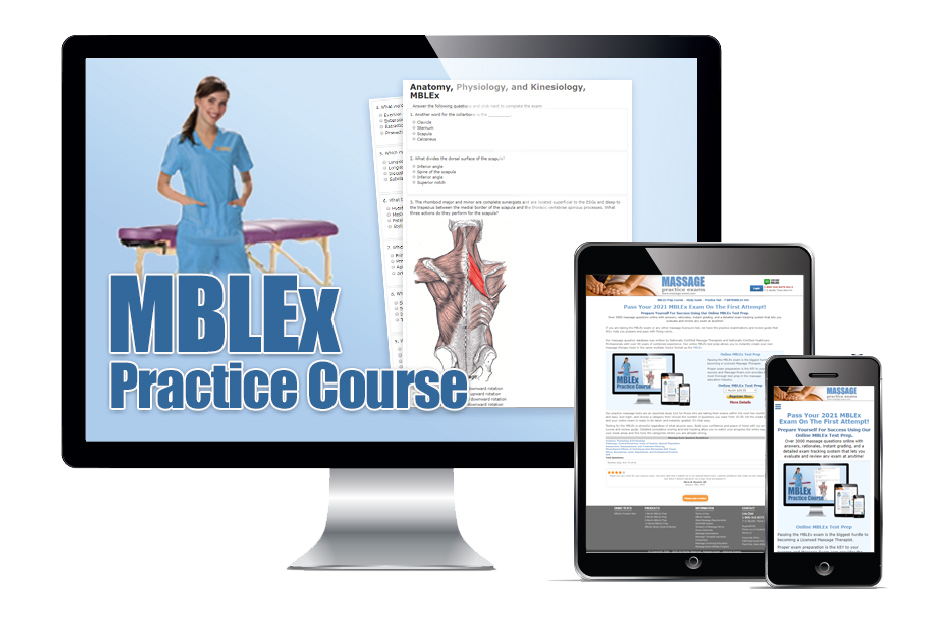 Online MBLEx Test Prep
Passing the MBLEx exam is the biggest hurdle to becoming a Licensed Massage Therapist.
Proper exam preparation is the KEY to your success and Massage-Exam.com provides the most thorough test prep in the massage education industry with over 3000 question, answers, and rationales.
Board of Licensure for Massage Therapy- Administrative authorities for Kentucky Massage Therapists. Home page has a list of revised Statutes.
Massage Therapist Application - Is available to download, fill out, and send in to the Kentucky Board of Massage. FAQs. Proper Initial Application Guide.
Approved MBLEx Licensing Examination KRS 309.358(5)
Kentucky Massage Schools - A list of massage schools in Kentucky
Keep in touch with the Kentucky Board through their Newsletter.
The Kentucky Massage Therapy Board has been established to process your application for licensure and provide necessary information and guidelines for Massage Therapists. You must complete a minimum of 600 hours to be considered for licensure in the state of Kentucky. They also require that the MBLEx be passed and proof sent along with a completed application to obtain a License to practice. Kentucky Board also accepts the Ohio and New York State licensing exams.
To properly prepare for your exam, our Massage-Exam website offers a strong foundation of information for all categories covered on the MBLEx. With over 3500 questions including rationale, and the simulation exams, which will help you be familiar with the test format, structure, and content base, you will be well on your way to passing your certification exam.
You also have the ability to view your progress on various subjects with each test taken, finding where you need to spend more time studying. The categories available are pathology, massage application, massage assessment, business ethics/standards, anatomy/physiology and kinesiology. The MBLEx also has definition questions on CAM modalities, history, and CPR that are also included in our practice exams.
**Kentucky and The Massage Therapy Practice Act- 2011**
Kentucky Board of Licensure for Massage Therapy
911 Leawood Drive, Frankfort KY 40601
PO BOX 1360
Frankfort, KY 40602
Phone: 502-782-8808
Fax: 502-696-5230
Email: jessie.parker@ky.gov
---
Massage Schools in Kentucky
1711 Destiny Lane, #102

Bowling Green, KY 42104

Bowling Green
800.639.7284

Gateway Community and Technical College

500 Technology Way Florence

Florence, KY 41042

Covington
859.441.4500

465 East High St. #110

Lexington, KY 40507

Lexington
859.475.0023

Bluegrass Professional School of Massage Therapy

501 Darby Creek Rd. #15A

Lexington, KY 40509

Lexington
859.264.1450

Lexington Healing Arts Academy

272 Southland Dr.

Lexington, KY 40503

Lexington
859.252.5656

2700 Bardstown Rd.

Louisville, KY 40205

Louisville
502.895.3500

4112 Fern Valley Rd.

Louisville, KY 40219

Louisville
502.495.1040

4627 Dixie Highway

Louisville, KY 40216

Louisville
800.264.1799

914 West Broadway

Mayfield, KY 42066

Mayfield
270.247.8923
Kentucky Continuing Education
24 CE Credits Biennially

Hours

Requirements & Limitations

List of Choices

Renew on State Approval Anniversary Date
All 24 hours may be contact (live) or noncontact hours
Professional Ethics, Boundaries, or Communication

3

Required for Renewal

Ethics Bench

Body Mechanics & Self-Care

Not Limited

Self-Care Guru

Business Practices

Not Limited

Business Mastery

Adult CPR/ First Aid Instructor-Led

Direct Contact (Live) or Online

Basic Training

Kinesiology, Anatomy, & Physiology of Human Body

Not Limited

Advanced Instruction Forum

Cultural Competency & Specialized Training

Not Limited

Special Population Techniques

Pathology of the Human Body

Not Limited

Advanced Instruction Forum

Self-Study: Books, DVD's, Research Materials, Related Publications, & Publishing an Article

Not Limited

Research Community

Somatic Education

Not Limited

Advanced Instruction Forum

Teacher Training

Not Limited

Instructor Headquarters

Lecture or Teaching a CE Class

Earn Double CE's

Limit of 12 Hrs per renewal

Live

Active Service on KY Massage Related Board, Task Force, Committee, or Attending Meetings

1 hour of CE for each Meeting/Day/Hour

Keep Record of Hours & Duties

*CE Providers Must be Board Approved subject matter must be Massage Therapy related
No CE's will be given for repeated instruction of the same course within a 2 year renewal period
12 Excess Hours taken will carry over to the next renewal period only
Coursework on animals will not qualify for Massage and Bodywork CE requirements
Keep Records of CE Hours

4 Years- Audit Selected at Random Annually- Must list CE's on Renewal Application
Kentucky Board of Licensure for Massage Therapy
911 Leawood Drive, Frankfort KY 40601
PO BOX 1360
Frankfort, KY 40602
Phone: 502-782-8808
Fax: 502-696-5230
Email: jessie.parker@ky.gov
*Board Approved Providers