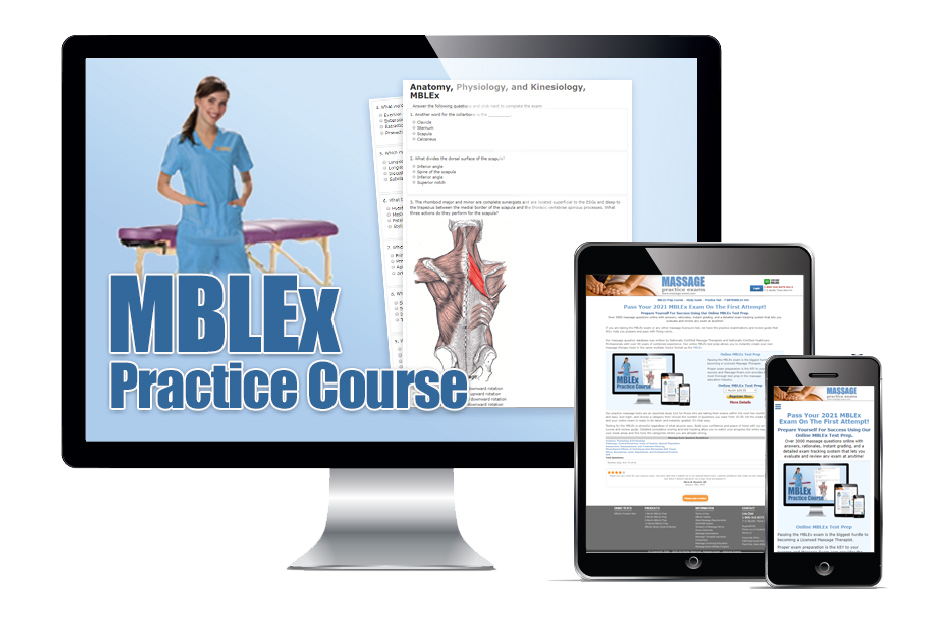 Online MBLEx Test Prep
Passing the MBLEx exam is the biggest hurdle to becoming a Licensed Massage Therapist.
Proper exam preparation is the KEY to your success and Massage-Exam.com provides the most thorough test prep in the massage education industry with over 3000 question, answers, and rationales.
Massage Therapy Board for the State of Louisiana- Open this link to find access to important information regarding licensure in Louisiana.

Application for licensure- It is required that this application be thoroughly filled out and submitted with the application fee of $75. You must have your money in 30 days prior to your scheduled oral exam date. Money orders only.
Louisiana Massage Schools - A list of massage schools in Louisiana

After schooling is completed, you must pass the MBLEx (Massage & Bodywork Licensing Examination), it is governed by the Federation of State Massage Therapy Boards (FSMTB). You can obtain proof of passing the MBLEx at the testing center after you have completed your one hundred, multiple-choice question exam administered by a designated local Pearson Vue facility. The Federation sends results to the state listed on the initial application.

To be prepared for materials covered on the licensing examination, utilize our state-of-the-art program available on Massage-Exam.com. With the ability to monitor how many questions you have taken and in what categories, you can choose where you want to study from the following:
Anatomy/physiology and Kinesiology
Pathology
Massage Assessment
Massage Application
Business ethics and standards

There are simulated exams, which simulate the actual exam, missed question tests that help you review the information you did not know, or do focused study in the regular categories, focusing on one category at a time.

Massage-Exam.com Grades and stores each test so you may review them at will. The answers and rationale accompany each graded question so you can review and become familiar and knowledgeable with the structure and content of the Licensing exam. Also, with over 3500 multiple-choice questions, you will feel well prepared when taking your exam.
License Renewal Information- Renew Online -12 CE Credits/ year
Web Information
List of schools
Education Requirements

500 Hrs

Title

Massage Therapist

Type of Credential

License

State Law Test
State Practical or Written Exam

Written

National Exam Requirement
CEU's
Initial Cost of License

$75

Require City License

Check Local City & County Business Regulations

Renewal Fee

$125/ Each year on

March 31st

Liability ins
Credentialed Practitioners

2,400
Louisiana Board of Massage Therapy
2645 O'Neal Lane
Bldg C, Ste. E
Baton Rouge, LA 70816
Phone: 225.756.3488
Fax: 225.756.3493
Email: admin@labmt.org
---
Massage Schools in Louisiana
1505 Metro Dr. #I

Alexandria, LA 71301

Alexandria
800.499.7293

3704 Coliseum Blvd.

Alexandria, LA 71303

Alexandria
318.445.6649

10525 Plaza Americana Dr.

Baton Rouge, LA 70816

Baton Rouge
225.926.5820

19231 6th Ave.

Covington, LA 70433

Covington
985.892.6651

803 Barrow St.

Houma, LA 70360

Houma
800.511.9506

1227 Grand Caillou Rd.

Houma, LA 70363

Houma
985.223.1755

120 James Comeaux Rd.

Lafayette, LA 70508

Lafayette
800.514.2609

3605 Ambassador Caffery Pkwy.
Lafayette, LA 70503

Lafayette
337.988.6764

LA Institute of Massage Therapy

3750 Nelson Rd.

Lake Charles, LA

Email: info@LaMassageSchool.com

Lake Charles
337.474.3737

2829 4th Ave.

Lake Charles, LA 70601

Lake Charles
337.564.5716

3200 Cleary Ave.

Metairie, LA 70002

Metairie
800.517.8176

4436 Veterans Memorial BLVd.

Metairie, LA 70006

Metairie
800.517.8176

2319 Louisvile Ave.

Monroe, LA 71201

Monroe
318.323.2889

Delgado Community College

2600 General Meyer Ave.

New Orleans, LA 70114

New Orleans
504.762.3100

8731 Park Plaza Drive

Shreveport, LA 71105

Shreveport
800.516.6597

1227 Shreveport Barksdale Hwy.

Shreveport, LA 71105

Shreveport
318.323.2889
Louisiana Continuing Education
12 CE Credits Annually

Hours

Requirements & Limitations

List of Choices

Renew on March 31st Annually
All 12 CE's Subject Matter and Provider Must be Louisiana Board Approved
Professional Ethics, Boundaries, or Communication

Not Limited

Ethics Bench

Body Mechanics & Self-Care

Not Limited

Self-Care Guru

Business Practices

Not Limited

Business Mastery

Adult CPR/ First Aid Instructor-Led

Direct Contact (Live)

Basic Training

Kinesiology, Anatomy, & Physiology of Human Body

Not Limited

Advanced Instruction Forum

Cultural Competency & Specialized Training

Not Limited

Special Population Techniques

Pathology of the Human Body

Not Limited

Advanced Instruction Forum

Self-Study: Books, DVD's, Research Materials, Related Publications, & Publishing an Article

Not Limited

Research Community

Somatic Education

Not Limited

Advanced Instruction Forum

Teacher Training

Not Limited

Instructor Headquarters

Lecture or Teaching a CE Class

No CE credit received

Live

Active Service on LA Massage Related Board, Task Force, Committee, or Attending Meetings

1 hour of CE for each Meeting/Day/Hour

Keep Record of Hours & Duties

*CE Subject Matter and Provider Must be Louisiana Board Approved
Excess Hours taken do NOT carry over to the next renewal period
No CE requirements for First Renewal- Must Type "No CE's Required" on Renewal Application
Keep Records of CE Hours

5 Years- Audit Selected at Random Annually
Louisiana Board of Massage Therapy
2645 O'Neal Lane
Bldg C, Ste. E
Baton Rouge, LA 70816
Phone: 225.756.3488
Fax: 225.756.3493
Email: admin@labmt.org
* Board Approved Providers
Providers and Programs Must be approved by the Louisiana Massage Board