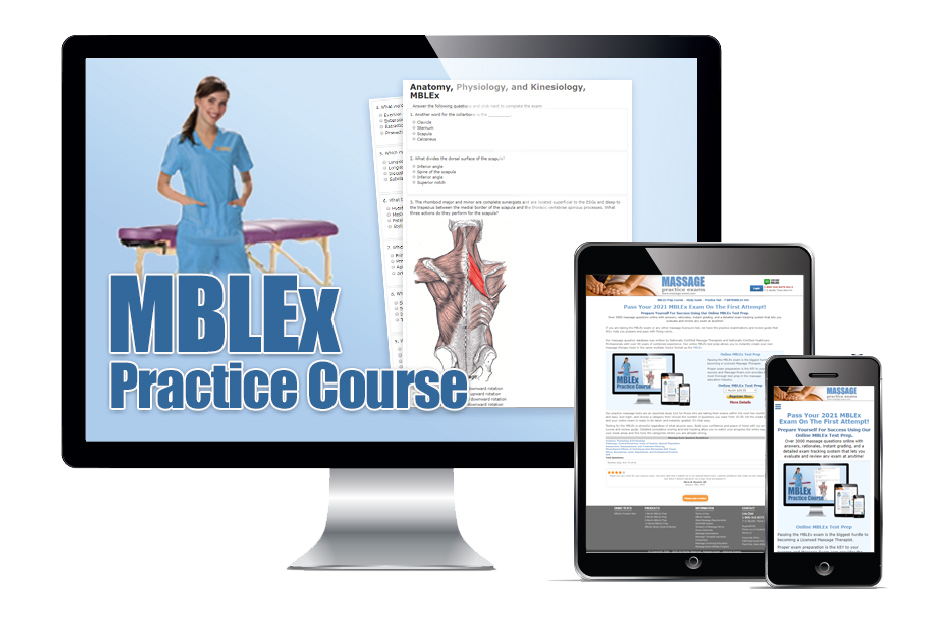 Online MBLEx Test Prep
Passing the MBLEx exam is the biggest hurdle to becoming a Licensed Massage Therapist.
Proper exam preparation is the KEY to your success and Massage-Exam.com provides the most thorough test prep in the massage education industry with over 3000 question, answers, and rationales.
The State of Maryland Board of Chiropractic & Massage Therapy Examiners- Regulatory body under the Board of Chiropractic Examiners for Massage therapists.

Fill out this application for Massage Therapy Certification & Registration- To become eligible to practice Massage in the state of Maryland.
Verify your License Online
Maryland Massage Schools - A list of massage schools in Maryland

Maryland has two types of Massage therapists. The first is an LMT or Licensed Massage Therapist and the second is an RMP Registered Massage Practitioner. An LMT and RMP are required to obtain 500 accredited hours at an approved establishment regulated by the Maryland State Massage Therapy Advisory Committee. In addition to their 500 hours, a CMT must also attend 60 hours of college courses. Having this distinction allows the CMT to practice in health care facilities such as nursing homes, clinics, doctors' offices, and hospitals. An RMT only has the right to practice under a private business, health club, or spa.

Both a CMT and RMT are also required to pass the MBLEx.

The MBLEx is designed to provide a standard examination for students of Massage for entry-level professional scope of practice in gaining licensure. The FSMTB was established in 2005 with the intent to build a support system for the Member Boards.

The state of Maryland has a mandatory Jurisprudence examination given by the council on the Massage Therapy Advisory Committee under the direction of Maryland's Board of Chiropractic Examiners. Before you are eligible to take the jurisprudence exam, you must show proof of passing the MBLEx. The Jurisprudence Exam (page 7) must be completed in an hour and a half. It contains 55 multiple-choice questions on Maryland state laws and regulations for Massage Therapists. It also contains questions on continuing education requirements and code of ethics questions on doing business professionally. You must pass this examination with a 75% or better to obtain approval to practice Massage Therapy in Maryland. To find this material, visit the Maryland Massage Therapy Advisory Committee's "How To Search Maryland Statues and Regulations" page.

To help you practice for your massage exams and strengthen your confidence level, we advise you to utilize our site. Massage-Exam.com pprovides over 3500+ multiple-choice questions covering all the categories on the MBLEx.. You will be able to view each exam taken with the accompanying rationale, which explains the information in the corrected question and answer, for review at any time. Watch your overall scores improve as you utilize our site as much as you can during the length of your subscription. Let us know if we can answer any questions for you. Take a few minutes to peruse our site and sign up today.
Jurisprudence Application - (Page 7) Fee for JP exam is $100. However, after you have sent in the application for licensure, and have taken the Jurisprudence exam it is another $200 to obtain your License or Registration in order to practice Massage. Study Guide for JP exam: Massage Therapy Jurisprudence Exam Dates & Instructions
Maryland State Massage Board Newsletters
Continuing Education Requirements- Changes applied to 2014 LMT Renewal 24 CE/ 2 years
| | |
| --- | --- |
| Web Information | www.mdmassage.org |
| List of schools | Maryland Massage Schools |
| Education Requirements | 500 Hrs and 60 College credit Hrs |
| Title | Licensed Massage Therapist LMT Registered Massage Practitioner RMP |
| Type of Credential | Licensed LMT Registration RMP |
| State Law Test | |
| State Practical or Written Exam | Written Exam- MBLEx |
| National Exam Requirement | |
| CEU's | 24/ 2 years- Approved |
| Initial Cost of License | $450 |
| Require City License | Check Local City and County Business Laws |
| Renewal Fee | $200/ 2 years |
| Liability ins | Massage Insurance Comparison |
| Credentialed Practitioners | 3,379 |
Maryland Board of Chiropractic Examiners
Massage Therapy Advisory Committee
4201 Patterson Ave. #301
Baltimore, MD 21215
Phone: 410-764-4738
Fax: 410-358-2863
Email: jonesel@dhmh.state.md.us
---
Massage Schools in Maryland
Maryland Continuing Education
24 CE Credits Biennially

Hours

Requirements & Limitations

List of Choices

Renew on October 30th every Even year
CE hours may be contact or noncontact hours
17 hours must be *Board Approved
Professional Ethics, Boundaries, Communication, or Jurisprudence

3

Required for Renewal

Ethics Bench

Body Mechanics & Self-Care

Not Limited

Self-Care Guru

Business Practices

Not Limited

Business Mastery

AIDS/HIV, Adult CPR/ First Aid Instructor-Led

3

Required for Renewal- Contact or noncontact- CPR cert not required for renewal

Basic Training

Kinesiology, Anatomy, & Physiology of Human Body

Not Limited

Advanced Instruction Forum

Diversity, Cultural Competency, & Specialized Training

1

Required for Renewal

Special Population Techniques

Pathology of the Human Body

Not Limited

Advanced Instruction Forum

Self-Study: Books, DVD's, Research Materials, Related Publications, & Publishing an Article

Not Limited

Research Community

Somatic Education

Not Limited

Advanced Instruction Forum

Teacher Training

Not Limited

Instructor Headquarters

Lecture or Teaching a CE Class

6

Maximum Allowed

Live

Active Service on MD Massage Related Board, Task Force, Committee, or Attending Meetings

12

1 hour of CE for each hour

Keep Record of Hours & Duties

*CE Subject Matter Must be Board Approved
Excess Hours taken will NOT carry over to the next renewal period
No CE requirements for First Renewal
Keep Records of CE Hours

4 Years- Audit Selected at Random Annually
Maryland Board of Chiropractic Examiners
Massage Therapy Advisory Committee
4201 Patterson Ave. #301
Baltimore, MD 21215
Phone: 410-764-4738
Fax: 410-358-2863
Email: jonesel@dhmh.state.md.us
* Board Approved