Massachusetts Massage Therapy Regulations and Licensing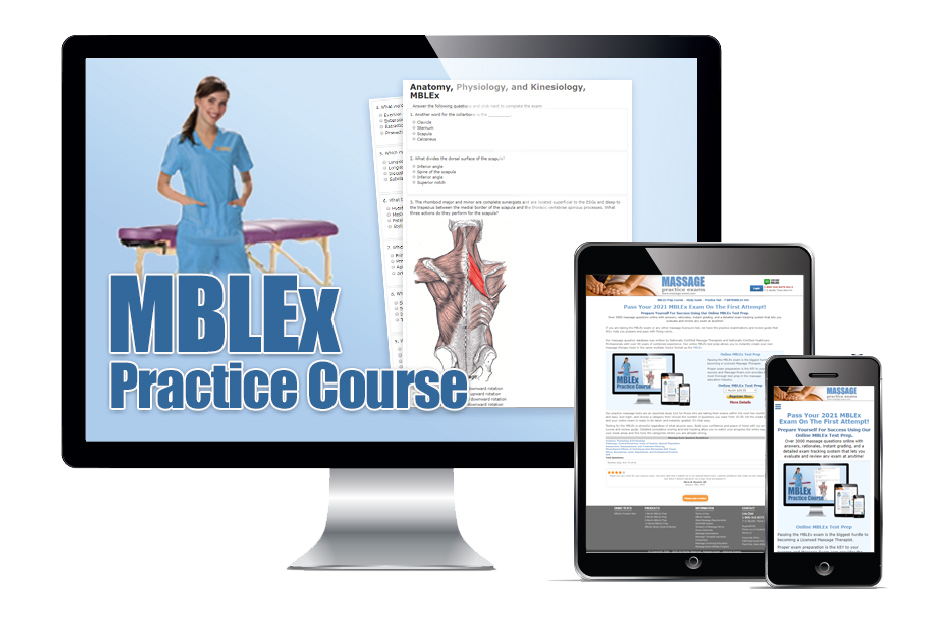 Online MBLEx Test Prep
Passing the MBLEx exam is the biggest hurdle to becoming a Licensed Massage Therapist.
Proper exam preparation is the KEY to your success and Massage-Exam.com provides the most thorough test prep in the massage education industry with over 3000 question, answers, and rationales.
Massage News

Board of Registration of Massage Therapy for Massachusetts- Information regarding the Massage Board under the Division of Professional Licensure Boards.
Initial or Reciprocal Massage Therapy License Application. Allow 4-6 weeks for processing. Check MA State Massage Board site for Online Application options.
Massachusetts Massage Schools - A list of massage schools in Massachusetts
Code of Professional Ethics and Standard Practices. Updated regulations FAQ
The state of Massachusetts is now requiring all practicing Massage Therapists to be Licensed under the Division of Professional Licensure Boards through the Board of Registration of Massage Therapy. A minimum of 650 hrs is the current education requirements. There are no exam requirements for licensure in Massachusettes and the Grandfathering provisions are expired and no longer in effect. Any change in the requirements will be posted on the Massachusettes Board of Regulation of Massage Therapy web site. (Information updated by Board Administrator 4/27/2010, check out the News Page)
Students, to prepare for your upcoming final exams, utilize our online, 24 hour access, preparation website, Massage-Exam.com. With your subscription you can generate as many tests in any category for review of your massage curriculum which will give you the confidence and knowledge you need to pass your massage exams. We recommend utilizing the MBLEx massage review. Each graded question gives you the answer and accompanying rationale. The rationale has tips to remember the content and explanations or reminders to solidify information, helping to commit it to memory.
Graduates are also strongly encouraged to take a licensing exam upon course completion. You may choose to take the MBLEx. Successfully passing the MBLEx while the information is fresh will serve you in the future if you decide to move to another state or want to comply with state regulations when the Laws are passed for Licensing exams.
License Renewal Information- Renew Online -0 CE Credits/ year Under development
Page update 7.18.17
Division of Professional Licensure
1000 Washington Street, # 710
Boston, MA 02118-6100
Phone: 617.727.3074
Fax: 617.727.1944
Mail Application package to:
Board of Massage Therapy
1000 Washington Street Suite #710
Individual Licensure
Boston, MA 02118-6100
Phone: 617.727.1747
Fax: 617.727.0139
Email:MassageTherapy@state.ma.us
---
Massage Schools in Massachusetts
365 Westgate Dr.

Brockton, MA 02301

Brockton
508.941.0730

1 Northampton St.

Easthampton, MA 01027

Easthampton
413.529.2900

82 HArtwell Street

Fall River, MA 02720

Fall River
508.730.2740

343 Main St.

Great Barrington, MA 01230

Great Barrington
800.816.1233

126 High St.

Ipswich, MA 01938

Ipswich
978.356.0414

211 Plain St.

Lowell, MA 08152

Lowell
978.458.4800

2 Florence Street

Malden, MA 02155

Malden
781.324.5454

222 Boston Ave.

Medford, MA 02155

Medford
781.960.0111

188 Union St.

New Bedford, MA 02740

New Bedford
508.678.2811 ext.4000

1350 West St.

Pittsfield, MA 01201

Pittsfield
800.816.1233

505 East St.

Pittsfield, MA 01201

Email: infoalbany@mildred-elley.edu

Pittsfield
413-442-0333

59 Industrial Park Rd.

Plymouth, MA 02360

Plymouth
508.747.3130

5 Middlesex Ave.

Somerville, MA 02145

Somerville
617.776.3500

Central Mass School of Massage Therapy

200 Main St.

Spencer, MA 01562

Email: info@centralmassschool.com

Spencer
508.885.0306

515 Woburn St.

Tewksbury, MA 01876

Tewksbury
978.934.9300

Bancroft School of Massage Therapy

333 Shrewsbury St.

Worcester, MA 01604

Worcester
866.352.9409
Massachusetts Continuing Education
0 CE Credits Annually -Under Development

Hours

Requirements & Limitations

List of Choices

Renew on 28th day of your Birthday Month every year
ABMP- Biennially

16

Not Limited

CE Catalog

AMTA- Quadrennially

48

Not Limited

CE Catalog

NCBTMB- Biennially

24

Not Limited

CE Catalog

Increase Professional Knowledge and Skills to ensure effective and safe Massage Therapy Practices by taking advantage of the benefits Continuing Education offers
Check your Massage Association or City/County Professional/Business Laws to meet Continuing Education requirements
Professional Ethics, Boundaries, or Communication

Not Limited

Ethics Bench

Body Mechanics & Self-Care

Not Limited

Self-Care Guru

Business Practices

Not Limited

Business Mastery

Adult CPR/ First Aid Instructor-Led

Direct Contact (Live) or Online

Basic Training

Kinesiology, Anatomy, & Physiology of Human Body

Not Limited

Advanced Instruction Forum

Cultural Competency & Specialized Training

Not Limited

Special Population Techniques

Pathology of the Human Body

Not Limited

Advanced Instruction Forum

Self-Study: Books, DVD's, Research Materials, Related Publications, & Publishing an Article

Not Limited

Research Community

Somatic Education

Not Limited

Advanced Instruction Forum

Teacher Training

Not Limited

Instructor Headquarters

Lecture or Teaching a CE Class

Not Limited

Live

Active Service on MA Massage Related Board, Task Force, or Committee, or Attending Meetings

1 hour of CE for each Meeting/Day/Hour

Keep Record of Hours & Duties

No CE requirements for Massachusetts License Renewal - Under Development
Keep Records of CE Hours

5 Years
Division of Professional Licensure
1000 Washington Street, # 710
Boston, MA 02118-6100
Phone: 617.727.3074
Fax: 617.727.1944
Mail Application package to:
Board of Massage Therapy
1000 Washington Street Suite #710
Individual Licensure
Boston, MA 02118-6100
Phone: 617.727.1747
Fax: 617.727.0139