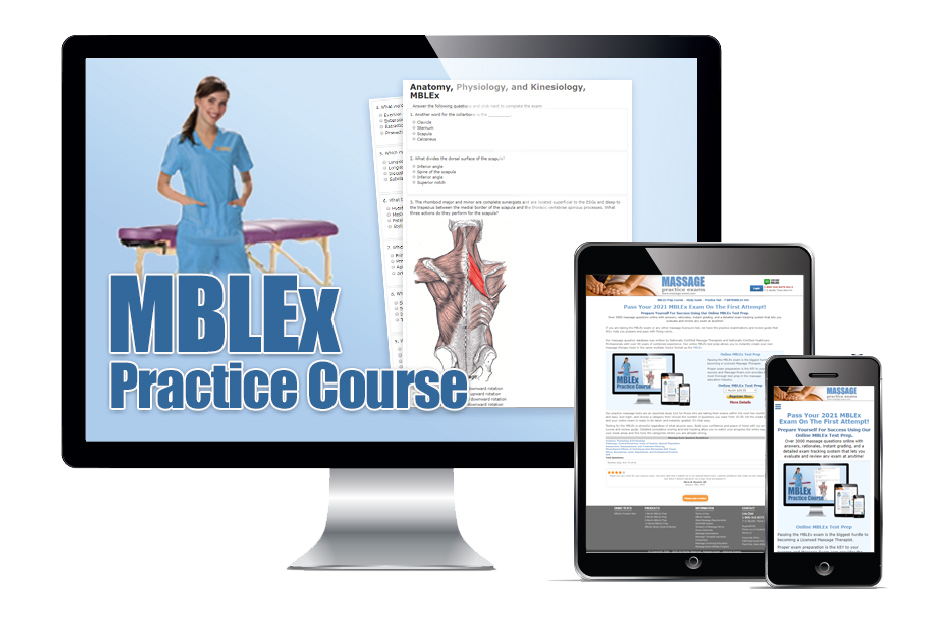 Online MBLEx Test Prep
Passing the MBLEx exam is the biggest hurdle to becoming a Licensed Massage Therapist.
Proper exam preparation is the KEY to your success and Massage-Exam.com provides the most thorough test prep in the massage education industry with over 3000 question, answers, and rationales.
Michigan Board of Massage Therapy- Home page for Massage Therapy Board information.
Massage Therapist Application and Instruction Packet- Download to print your application for licensure.
Massage Therapy list of Requirements to become eligible to practice Massage Therapy in Michigan State.
The Michigan Board of Massage Therapy accepts a passing score of the MBLEx from the Federation of State massage Therapy Boards.
Make a study of Massage Curriculum, prepare for end-of-term exams, or pass your Licensing Examination with Massage-Exam.com. With over 3500 questions to study from, you will have the confidence to excel in your upcoming exams. We cover massage application, massage assessment, pathology, business ethics, kinesiology, anatomy, and physiology. Our program stores every test you take and keeps track of your progress with question counts, questions answered correctly, and overall percentage scores per category. This means you will be able to see the areas where you are struggling and study accordingly. In addition, each graded question is accompanied by a rationale, confirming the information to the multiple-choice answers.
Another accepted method for application in Michigan is to have a current and valid membership in one of the following Associations or Organizations for at least one year prior to January 9th, 2009:
American Massage Therapy Association
American Medical Massage Association
Associated Bodywork and Massage Professionals
Modalities included under the practice of Massage Therapy.
International studies- If you would like to be eligable to go to school for Massage in the state of Michigan check out this site.
Grandfathering Information effective one year before 2009.
Michigan Massage Schools - A list of massage schools in Michigan Approved Programs
Renew License- Online applications- Information on relicensure- 18 CE hours/3 years
Verify License - Prohibited Conduct R 338.723



Michigan Board of Massage Therapy
Department of Licensing & Regulatory Affairs LARA
611 West Ottawa Street
PO Box 30670
Lansing, MI 48909
Phone: 517.335.0918
---
Massage Schools in Michigan
4500 Enterprise Dr.

Allen Park, MI 48101

Email: adm-ap@baker.edu

Allen Park
800.767.4120

Continuing Education Only

Ann Arbor Institute of Massage Therapy

180 Jackson Plaza #100

Ann Arbor, MI 48103

Ann Arbor
734.677.4430
Bayshire Beauty Academy Bay City
917 Saginaw St. 989 894-2431
Bay City, MI 48708
Email: bayshire@speednetllc.com
Bay City
989.894.2431

34950 Little Mack Ave.

Clinton Township, MI 48035

Clinton Township
888.272.2842

Healing Hands Holistic Health Center

23925 Denton

Clinton Township, MI 48036

Email: dennis@myomas.com

Clinton Township
586.469.3811

740 West Lake Lansing Rd. #400

East Lansing, MI 48823

East Lansing
888.285.9989

2040 Raybrook, SE #104

Grand Rapids, MI 49546

Grand Rapids
888.285.9989

0-11279 Tallmadge Woods Dr. Suite C

Grand Rapids, MI 49534 Email:info@sanativetranquility.com

Grand Rapids
616.791.0472

Institute of Natural Therapies

21464 Paavola Rd.

Hancock, MI

Hancock
906.482.222

4341 South Westnedge #2110

Kalamazoo, MI 49008

Kalamazoo
888.285.9989

Kalamazoo Center for Healing Arts

6350 West KL Ave.

Kalamazoo, MI 49009

Email: kchands@kcha.com

Kalamazoo
269.373.1000

515 N Washington Square Room 108

Lansing, MI 48933

Email: OHernandez-Patino@lcc.edu

Lansing
517.483.1410

204 East Nepessing St.

Lapeer, MI 48446

Lapeer
810.667.9453

18600 Haggerty Rd.

Livonia, MI 48152

Email: massage@schoolcraft.edu

Livonia
734.462.4400

9449 Hix Rd.

Livonia, MI 48150

Livonia
734.779.0730

125 West Washington St.

Marquette, MI

Marquette
906.225.1700

1903 Marquette Ave.

Muskegon, MI 49442

Email: adm-mu@baker.edu

Muskegon
800.937.0337

40 East Norton Ave.

Muskegon, MI 49444

Muskegon
888.285.9989

1020 South Washington St.

Owosso, MI 48867

Email: adm-ow@baker.edu

Owosso
800.879.3797

121 South Anderson

Plainwell, MI 49080

Plainwell
269.685.8114

3403 Lapeer Rd.

Port Huron, MI 48060

Email: adm-ph@baker.edu

Port Huron
888.262.2442

Lakewood School of Therapeutic Massage

1102 6th Street

Port Huron, MI 48060

Email: lakewoodschool@sbcglobal.net

Port Huron
810.987.3959

Irene's Myomassology Institute

26061 Franklin Rd.

Southfield, MI 48033

Southfield
248.350.1400

Guardian Massage & Reflexology School

40580 Van Dyke #D

Sterling Heights, MI 48313

Email: Charlotte@CharlotteIrwin.com

Sterling Heights
586.268.5444

812 South Garfield Ave. #1

Traverse City, MI 49686

Traverse City
888.285.9989

550 Stephenson Hwy. #100-110

Troy, MI 48083

Troy
248.589.1078
Michigan Continuing Education
18 CE Credits Triannually (3 Years)

Hours

List of Choices

Renew on October 31st every Three years from State Approval Anniversary Date
18 CE hours may be contact or noncontact hours
Professional Ethics, Boundaries, or Communication

Not Limited

Ethics Bench

Body Mechanics & Self-Care

Not Limited

Self-Care Guru

Business Practices

Not Limited

Business Mastery

Adult CPR/ First Aid Instructor-Led

Direct Contact (Live) or Online

Basic Training

Kinesiology, Anatomy, & Physiology of Human Body

Not Limited

Advanced Instruction Forum

Cultural Competency & Specialized Training

Not Limited

Special Population Techniques

Pathology of the Human Body

Not Limited

Advanced Instruction Forum

Self-Study: Books, DVD's, Research Materials, Related Publications, & Publishing an Article

Not Limited

Research Community

Somatic Education

Not Limited

Advanced Instruction Forum

Teacher Training

Not Limited

Instructor Headquarters

Lecture or Teaching a CE Class

Not Limited

Live

Active Service on MI Massage Related Board, Task Force, Committee, or Attending Meetings

1 hour of CE for each hour

Keep Record of Hours & Duties

*CE Massage Therapy Subject Matter Must be Board Approved
Excess Hours taken will NOT carry over to the next renewal period
No CE requirements for First Renewal- Initial license is valid for a partial licensure cycle and will expire on the upcoming October 31st Renewal date
Keep Records of CE Hours

6 Years- Audit Selected at Random Annually
Michigan Board of Massage Therapy
Department of Licensing & Regulatory Affairs LARA
611 West Ottawa Street
PO Box 30670
Lansing, MI 48909
Phone: 517.335.0918
* Board Approved Providers
Michigan Massage Board Approval