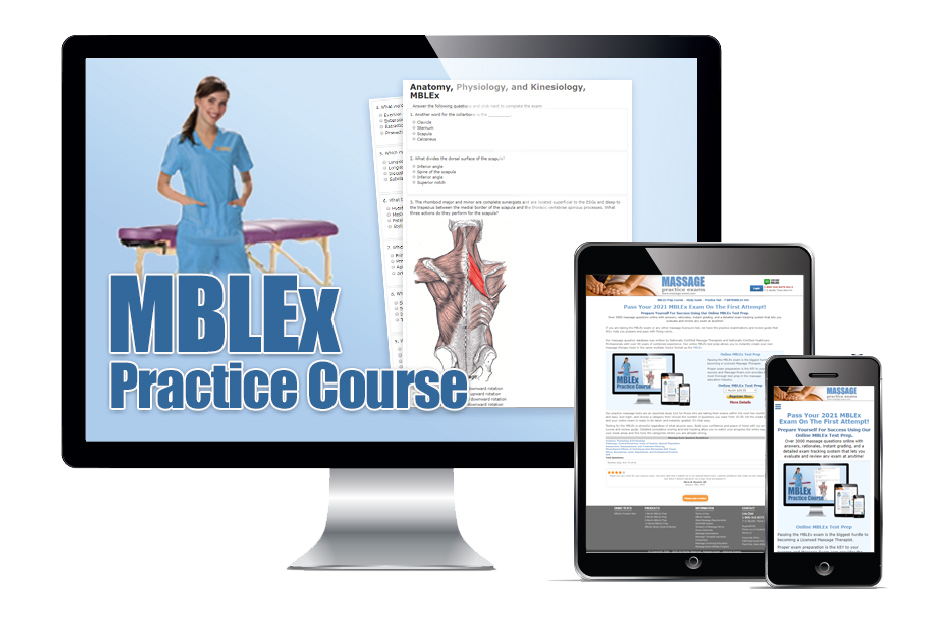 Online MBLEx Test Prep
Passing the MBLEx exam is the biggest hurdle to becoming a Licensed Massage Therapist.
Proper exam preparation is the KEY to your success and Massage-Exam.com provides the most thorough test prep in the massage education industry with over 3000 question, answers, and rationales.
Board of Therapeutic Massage- Missouri State regulatory body for the proper execution of professional therapeutic Massage businesses and licensure.
Application for a Massage Therapist License - The required business and licensure applications to practice Massage Therapy in the state of Missouri.
Missouri Rules & Regulations for Massage Therapist
License Renewal Information- Renew Online -12 CE Credits/ 2 years
Missouri Massage Schools - A list of massage schools in Missouri
A passing score of one of the following: MBLEx or the NBCA, is required to obain a license to practice Massage Therapy. Check out our sample multiple-choice questions in anatomy and physiology, kinesiology, pathology, assessment, application, and business standards/ethics.

Massage-Exam.com gives you the opportunity to study your massage course curriculum to be better prepared for all required exams to obtain a license. Keep track of your previous tests and scores to observe your improvements, review questions with rationale, and learn which categories may need additional attention.
Division of Professional Registration
Missouri Massage Therapy Board
3605 Missouri Blvd.
PO BOX 1335
Jefferson City, MO 65102
Phone: 573-522-6277
Fax: 573-751-0735
Email: massagether@pr.mo.gov
---
Massage Schools in Missouri
2132 Tenbrook Rd.

Arnold, MO 63010

Arnold
636.296.9300

1732 North Kingshighway

Cape Girardeau, MO 63701

Cape Girardeau
573.334.9181

4260 Shoreline Dr.

Earth City, MO 63045

Earth City
314.344.4440

1407 Southwest Blvd.

Jefferson City, MO 65109

Jefferson City
573.635.6600
WellSpring School of Allied Health
9140 Ward Parkway #100
Kansas City, Missouri 64114
Kansas City
816.523.9140

10910 Manchester Rd.

Kirkwood, MO 63122

Kirkwood
314.965.8363

A Gathering Place Massage Therapy School

12131 Dorsett Rd.

Maryland Heights, MO 63043

Maryland Heights
314.739.5559

1202 East Highway 72

Rolla, MO 65401

Rolla
573.364.8464

3131 Frederick Ave.

St. Joseph, MO 64506

St. Joseph
816.364.5399

Professional Massage Training Center

229 East Commercial St.

Springfield, MO 65803

Springfield
417.863.7682

Elements of Wellness School of Massage

7201 Delmar Blvd. #202

University City, MO 63130

Email: info@eowmassage.com

University City
314.727.1778
Missouri Continuing Education
12 CE Credits Biennially

Hours

Requirements & Limitations

List of Choices

Renew on January 31st every Odd year
12 CE hours may be contact or noncontact hours
Professional Ethics, Boundaries, or Communication

Not Limited

Ethics Bench

Body Mechanics & Self-Care

Not Limited

Self-Care Guru

Business Practices

Not Limited

Business Mastery

Adult CPR/ First Aid Instructor-Led

Direct Contact (Live) or Online

Basic Training

Kinesiology, Anatomy, & Physiology of Human Body

Not Limited

Advanced Instruction Forum

Cultural Competency & Specialized Training

Not Limited

Special Population Techniques

Pathology of the Human Body

Not Limited

Advanced Instruction Forum

Self-Study: Books, DVD's, Research Materials, Related Publications, & Publishing an Article

Not Limited

Research Community

Somatic Education

Not Limited

Advanced Instruction Forum

Teacher Training

Not Limited

Instructor Headquarters

Lecture or Teaching a CE Class

Not Limited

Live

Active Service on MO Massage Related Board, Task Force, Committee, or Attending Meetings

1 hour of CE for each hour

Keep Record of Hours & Duties

*CE Subject Matter Must be Massage Therapy Related
Excess Hours taken will NOT carry over to the next renewal period
Keep Records of CE Hours

6 Years- Audit Selected at Random Annually
Division of Professional Registration
Missouri Massage Therapy Board
3605 Missouri Blvd.
PO BOX 1335
Jefferson City, MO 65102
Phone: 573-522-6277
Fax: 573-751-0735
Email: massagether@pr.mo.gov
* Board Approved Providers