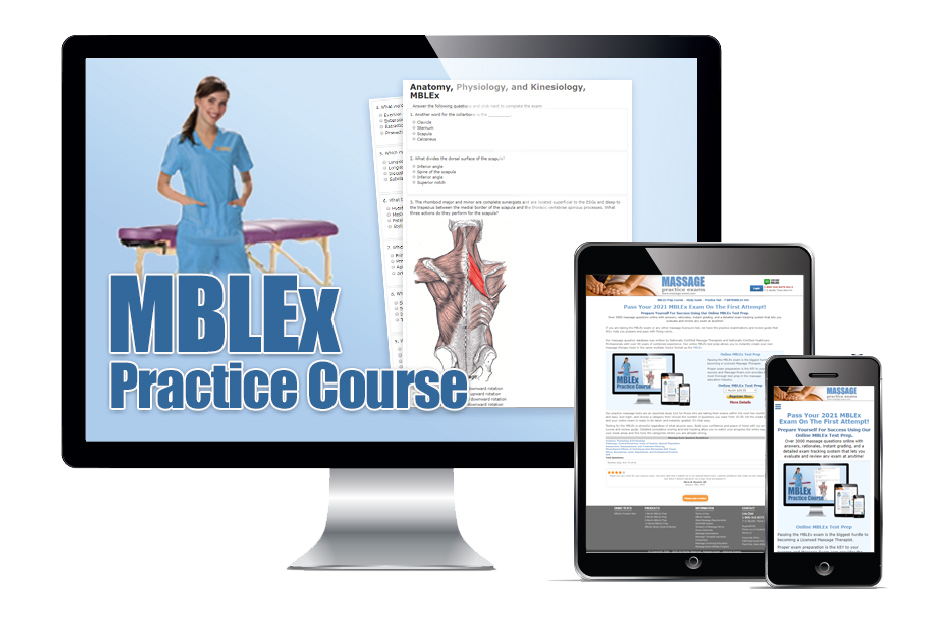 Online MBLEx Test Prep
Passing the MBLEx exam is the biggest hurdle to becoming a Licensed Massage Therapist.
Proper exam preparation is the KEY to your success and Massage-Exam.com provides the most thorough test prep in the massage education industry with over 3000 question, answers, and rationales.
Montana Board of Massage Therapy- Regulated by the Department of Labor and Industry Business Standards
The legislature started the statewide licensure procedures in 2005.
** Update for Montana Regulations **
Grandfather Clause July 1st 2010- Ended July 1, 2012= 100 hrs for license
New Regulations After July 1 2012= 500 hrs for license
Proof of 500 hours and Passing score on the MBLEx. Apply Online
You must hold a current valid License in another state with similar requirements. Contact the Board to verify reciprocity. FAQs
Go online and renew $90- 12 CE/ 2 years Continuing Education Requirements. Renew Annually July1st- August 31st
Montana Massage Schools - A list of massage schools in Montana

Throughout the United States, with or without state licensing regulations, a minimum of 500 hours or more from an approved curriculum is required with a passing score from the Federation of State Massage Therapy Boards (FSMTB). Within the state of Montana, you may work as a Massage Therapist when you have successfully graduated from an accredited school of massage. The Montana Board now accepts the MBLEx.

Massage-Exam.com is beneficial to the graduating students in Montana, both as a study resource for their final exams and preparation for the Licensing Exams. Our website has over 3500 multiple-choice questions in anatomy/physiology, kinesiology, body systems, massage assessment, massage application, pathology, business ethics, and standards. Massage-Exam.com's program also gives you the ability to look over your scores and previous tests to recognize the areas needing greater improvement or additional study. Get prepared and feel confident that you have done all in your power to obtain your goal in becoming a Massage Therapist by utilizing our study resource.
Web Information
http://www.mt.gov/
Education Requirements
500 Hours
Title
Licensed Massage Therapist LMT
Type of Credential
License
State Law Test
Statutes, Rules & Regulations
State Practical or Written Exam
Written- MBLEx
National Exam Requirement
CEU's
12 CE/ 2 years
Initial Cost of License

Grandfather $130- ended July 1st 2012

Endorsment/ Examination $140

Require City License
Check Local City & County Business Regulations
Renewal Fee
$90
Liability ins
Massage Therapy Insurance Comparison
Credentialed Massage Practitioners
Montana Board of Massage Therapy
PO Box 200513
301 South Park (4th Floor)
Helena, MT 59620-0513
Phone: 406.841.2300 (Licensing) or 2329
Fax: 406.841.2305
Email: dlibsdlmt@mt.gov
Contact the Board
---
Massage Schools in Montana
111 S. Grand Ave. Annex 3

Bozeman, MT 59715

Bozeman
406.582.1555

1500 Airport Road

Kalispell, MT 59901

Email: massage1institute@gmail.com

Kalispell
406.250.9616

1629 South Ave. West

Missouls, MT 59801

Email: joe@montanamassage.com

Missoula
406.549.9244
Montana Continuing Education
12 CE Credits Biennially

Hours

Requirements & Limitations

List of Choices

Renew on February 1st every Even year
12 CE hours may be contact or noncontact hours
Professional Ethics, Boundaries, or Communication

Not Limited

Ethics Bench

Body Mechanics & Self-Care

Not Limited

Self-Care Guru

Business Practices

Not Limited

Business Mastery

Adult CPR/ First Aid Instructor-Led

Direct Contact (Live) with certification

Basic Training

Kinesiology, Anatomy, & Physiology of Human Body

Not Limited

Advanced Instruction Forum

Cultural Competency & Specialized Training

Not Limited

Special Population Techniques

Pathology of the Human Body

Not Limited

Advanced Instruction Forum

Self-Study: Books, DVD's, Research Materials, Related Publications, & Publishing an Article

Not Limited- Credits approved by Board- Documentation and Notes

Research Community

Somatic Education

Not Limited

Advanced Instruction Forum

Teacher Training

Not listed as an accepted CE

Instructor Headquarters

Lecture or Teaching a CE Class

1 hour= 1 CE- First time only- Keep documentation

Live

Active Service on MT Massage Related Board, Task Force, Committee, or Attending Meetings

1 hour of CE for each hour

Keep Record of Hours & Duties

*CE Subject Matter Must be Massage Therapy Related
Excess Hours taken will NOT carry over to the next renewal period- Retake CE's are not counted
No CE requirements for First full year- Must have 6 CE credit hours to report for 1st time renewal of license obtained with less then 2 full years
Keep Records of CE Hours

5 Years- Audit Selected at Random Annually
Montana Board of Massage Therapy
PO Box 200513
301 South Park (4th Floor)
Helena, MT 59620-0513
Phone: 406.841.2300 (Licensing) or 2329
Fax: 406.841.2305
Email: dlibsdlmt@mt.gov
* Massage Therapy Related