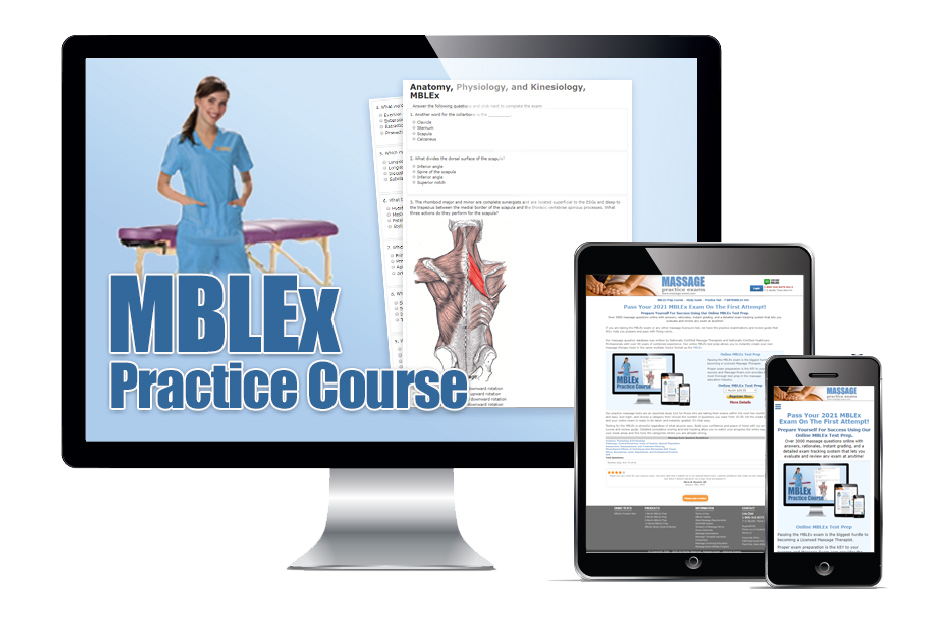 Online MBLEx Test Prep
Passing the MBLEx exam is the biggest hurdle to becoming a Licensed Massage Therapist.
Proper exam preparation is the KEY to your success and Massage-Exam.com provides the most thorough test prep in the massage education industry with over 3000 question, answers, and rationales.
Board of Massage Therapy for the State of Nebraska- Governed by Nebraska Department of Health & Human Services.
Application for Licensure in Nebraska- Is in PDF format and can be filled out online but must be printed out, signed, and sent in the mail with accompanied required documents to obtain a license. FAQ's
Jurisprudence Exam- Free online open book exam with 50 multiple-choice questions for Nebraska Statutes, Rules & Regulations.
Certification Verification online index- Renewal information for licensure - 24 CE's/ 2 years
Mail applications directly to:
Licensing & Regulatory Affairs
Massage Therapy
P.O. Box 94986
Lincoln, Nebraska 68509
Nebraska Massage Schools - A list of massage schools in Nebraska

Nebraska accepts the Federation's MBLEx. Before you can take this state exam, you must first graduate from an accredited school of Massage with 1000 curriculum hours.

Massage-Exam.com will help you successfully study for your end of the course exams and help prepare you for the MBLEx. You will have access to over 3500 Massage Therapy questions covering anatomy/physiology, kinesiology, pathology, body systems, assessment, application, history, and business ethics. Visit our sample tests and get a feel for the categories and structure of the multiple-choice questions available from our study resources and sign up today.
The NCBTMB certification listed by Nabraska Massage Board is the BCTMB, which is the NCBTMB's Advanced Certification. This BCTMB can only be obtained 6 months after you are licensed and have checked off a list of requirements as well as the state licensure MBLEx.
Nebraska Department of Health & Human Service
HHSR&L Credentialing Division
Massage Therapy Board
PO BOX 94986
Lincoln, Nebraska 68509
Phone: 402-471-4918
Fax: 402-471-3577
Email: rita.watson@nebraska.gov
---
Massage Schools in Nebraska
6020 South 58th St.

Lincoln, NE 68516

Lincoln
402.421.7410

3350 North 90th St.

Omaha, NE 68134

Omaha
402.572.8500

10159 J St.

Omaha, NE 68127

Omaha
402.331.8383

9748 Park Drive

Omaha, NE 68127

Omaha
402.331.3694

Universal College of Healing Arts

8702 North 30th St.

Omaha, NE 68132

Omaha
402.556.4456
Nebraska Continuing Education
24 CE Credits Biennially

Hours

Requirements & Limitations

List of Choices

Renew on November 1st every Odd year
Direct Contact (Live) Nebraska Board Approved

14

Required for Renewal

Live

Remaining 10 hours may be contact or noncontact hours
Professional Ethics, Boundaries, or Communication

7

Minumum Allowed- 3 hours Required for Renewal

Ethics Bench

Jurisprudence Exam
3
Minimum Allowed for 75% or Above
NE Exam
Passing MBLEx
7

Minimum Allowed for passing score

MBLEx Review

Practical Exam

3

Minimum Allowed Administered by NE Approved School

Body Mechanics & Self-Care

Not Limited

Self-Care Guru

Business Practices

Not Limited

Business Mastery

Adult CPR/ First Aid Instructor-Led

Direct Contact (Live) or Online

Basic Training

Kinesiology, Anatomy, & Physiology of Human Body

Not Limited

Advanced Instruction Forum

Cultural Competency & Specialized Training

Not Limited

Special Population Techniques

Pathology of the Human Body

Not Limited

Advanced Instruction Forum

Self-Study: Books, DVD's, Research Materials, & Related Publications

7

Not Allowed- Unless it is Ethics

Research Community

Somatic Education

Not Limited

Advanced Instruction Forum

Teacher Training

Not Limited

Instructor Headquarters

Publishing an Article

7

Minimum Allowed

Live

Instructor at Massage School, Lecture, or Teaching a CE Class

7

1.5 CE for each hour of Teaching 1 CE for each hour of Lectures & CE- Minimum Allowed- First presentation ONLY

Live

Active Service on NE Massage Related Board, Task Force, Committee, or Attending Meetings

1 hour of CE for each Meeting/Day/Hour

Keep Record of Hours & Duties

*CE Subject Matter must be Massage Therapy Related Providers Must be FSMTB or NCBTMB Approved
Excess Hours taken will NOT carry over to the next renewal period
No CE requirements for First Renewal
Keep Records of CE Hours

5 Years- Audit Selected at Random Annually
Nebraska Department of Health & Human Service
HHSR&L Credentialing Division
Massage Therapy Board
PO BOX 94986
Lincoln, Nebraska 68509
Phone: 402-471-4918
Fax: 402-471-3577
Email: rita.watson@nebraska.gov
* Board Approved Providers