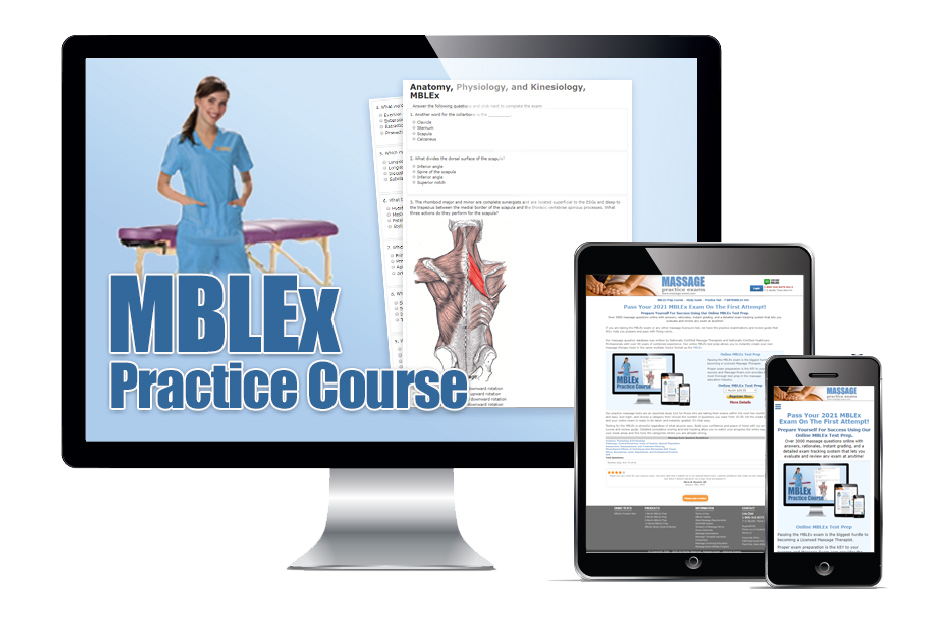 Online MBLEx Test Prep
Passing the MBLEx exam is the biggest hurdle to becoming a Licensed Massage Therapist.
Proper exam preparation is the KEY to your success and Massage-Exam.com provides the most thorough test prep in the massage education industry with over 3000 question, answers, and rationales.
Department of Health and Human Services- The State of New Hampshire does not have a regulatory board for Massage Therapy, all applicants must go through DHHS.
New Hampshire General Court Laws & Regulation- The Administrative Laws and Regulations for Massage Therapist.
Applications for licensure can be sent in the mail or emailed from DHHS call: 603-271-3608.
License Renewal Information- Renewal PDF -12 CE's/ 2 years.
New Hampshire Massage Schools - A list of massage schools in New Hampshire
New Hampshire requires a minimum of 750 hours of Massage Therapy curriculum, a current Adult CPR / First Aid certification, and proof of passing the state licensing exam, the MBLEx before your NH state massage license can be issued. The MBLEx is regulated by the Federation of State Massage Therapy Boards. Preparing for your end of the term exams and your licensing exam can be made less stressful with Massage-Exam's help. Questions based on Massage curriculum materials covering assessment, application, pathology, body systems, kinesiology, business standards, and anatomy and physiology provide a strong review.
Questions based on Massage curriculum and materials covered in the NH requirements are Anatomy and physiology, History, theory, practice, benefits, contraindications of massage therapy, related modalities, and adjunct therapies within the scope of practice of a massage therapist, including Swedish massage and hydrotherapy. Also you can review training in hygiene/sanitary practices which includes blood-borne pathogen standards. Adult CPR and first aid, business practices, and ethics of massage therapy.
The NCBTMB certification that is an option for licesure by NH Massage Board has been changed to the BCTMB, which is the NCBTMB's Advanced Certification. This BCTMB can only be obtained 6 months after you are licensed and have checked off a list of requirements.
New Hampshire Dept. of Health & Services
Office of Professional Licensure and Certification
Philbrook Building
121 South Fruit Street
Concord, NH 03301
Phone: 603-271-3608 Fax: 603-271-3950
---
Massage Schools in New Hampshire
New Hampshire Continuing Education
12 CE Credits Biennially

Hours

Requirements & Limitations

List of Choices

Renew on June 30th every 2 years on State Approval Anniversary Date
NCBTMB- Biennially

24

NH option for Renewal- Maintain NCBTMB certification

BCTMB

- Not Required

CE Catalog

12 CE hours may be contact or noncontact hours
Professional Ethics, Boundaries, or Communication

Not Limited

Ethics Bench

Body Mechanics & Self-Care

Not Limited

Self-Care Guru

Business Practices

3

Minimum Allowed

Business Mastery

Adult CPR/ First Aid Instructor-Led

Required for Renewal

Direct Contact (Live)

Basic Training

Kinesiology, Anatomy, & Physiology of Human Body

Not Limited

Advanced Instruction Forum

Massage Techniques, Benefits & Contraindications, Hydrotherapy, Joint Movement, & Hygiene/Sanitary Practices

Not Limited

Advanced Instruction Forum

Cultural Competency & Specialized Training

Not Limited

Special Population Techniques

Pathology of the Human Body

Not Limited

Advanced Instruction Forum

Self or Home-Study: Books, DVD's, & Computer programs

Not Limited- Written Exam & Certificate of completion

Research Community

Publishing an Article or Book

6

Minimum Allowed per renewal period- 3 hrs/ year

Research Community

Somatic Education

Not Limited

Advanced Instruction Forum

Teacher Training

Not Listed

Instructor Headquarters

Lecture or Teaching a CE Class

6

Minimum Allowed per renewal period- 3 hrs/ year

Live

Active Service on NH Massage Related Board, Task Force, Committee, or Attending Meetings

Not Listed- 1 hour of CE for each hour

Keep Record of Hours & Duties

*CE Providers must be Approved by FSMTB or NCBTMB- * CE Subject Matter Must be within the Massage Therapy Scope of Practice
Excess Hours taken will NOT carry over to the next renewal period
Keep Records of CE Hours

4 Years- Audit Selected at Random Annually- Must submit Documentation on Renewal Form
New Hampshire Dept. of Health & Services
Office of Professional Licensure and Certification
Philbrook Building
121 South Fruit Street
Concord, NH 03301
Phone: 603-271-3608 Fax: 603-271-3950
* Board Approved Providers
National Certification Board for Therapeutic Massage and Bodywork (NCBTMB)
Federation of State Massage Therapy Boards (FSMTB)
Commission on Postsecondary Education
Massage Institution of higher learning and/or a University system
Course Approval Required by New Hampshire Board
Do not assume that all courses Instructed by an NCBTMB provider are acceptable. Courses must meet the subject requirements listed under He-P 902.08