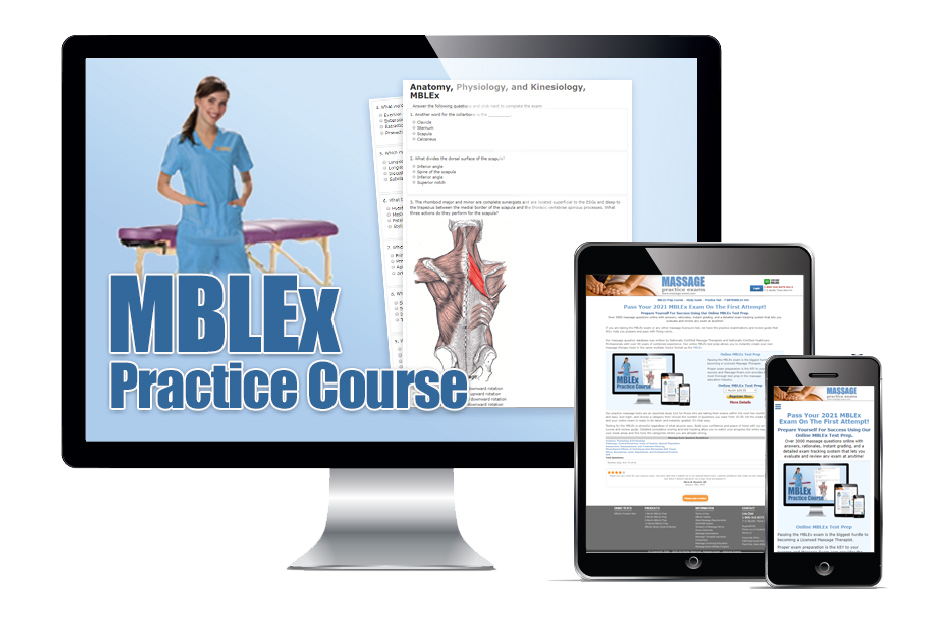 Online MBLEx Test Prep
Passing the MBLEx exam is the biggest hurdle to becoming a Licensed Massage Therapist.
Proper exam preparation is the KEY to your success and Massage-Exam.com provides the most thorough test prep in the massage education industry with over 3000 question, answers, and rationales.
New Mexico Massage Therapy Board- Open this link to find out more about your Massage Therapy Board.
Send a signed and notarized copy of the Application for becoming a Licensed Massage Therapist for the State of New Mexico, to the Board, or fill out ONLINE. Form A- Application for school to fill out. Check out the FAQs for the New Mexico Massage Therapy Board.
Renew License ONLINE- Or print, fill out, and send in. 16 CE's/ 2 years
New Mexico Massage Schools - A check list for registered massage schools in New Mexico
New Mexico has a requirement of 650 hours of an approved Massage Therapy School. They also require you to have a passing score on the Massage & Bodywork Licensing Examination (MBLEx), before you are eligible to obtain a license to practice Massage. A Jurisprudence Examination will be sent to you after the Board has recieved your application, a 2x2 photo of yourself, a copy of your GED, CPR card, an official transcript mailed directly from your school to the Board, and proof of passing the MBLEx sent directly to the Massage State Board from the federation. The Federation will automatically send passing results to the state(s) listed on your MBLEx application. Failure to provide all required information and forms with your application will delay the process.
To prepare for your exams at the end of your Massage Therapy course and for the MBLEx, we invite you to check out Massage-Exam.Com.Our study materials will help you become proficient with the information and subjects on your exams.Benefits from using Massage-exam.com include; studying as much or as little as you would like, any time day or night, from any device with internet. Every answered question comes with a rationale that explains the information in the question and answer, furthering your knowledge base. Try out our FREE Trial or sign up with us today. We guarantee 100% access to our site until you pass your exams, don't wait, sign up today.
New Mexico Massage Therapy Board
Toney Anaya Bldg. 2nd Floor
2550 Carrilos Road
Santa Fe, NM 87505
PO BOX 25101
Santa Fe, NM 87505

Phone: 505-476-4870
Fax: 505-476-4645
Email: massage.board@state.nm.us
---
Massage Schools in New Mexico
New Mexico School of Natural Therapeutics

202 Morningside Dr. SE

Albuquerque, NM 87108

Albuquerque
505.268.6870

Universal Therapeutic Massage Institute UTMI

3410 Aztec Rd. NE

Albuquerque, NM 87107

Email: info@utmi.com

Albuquerque
505.888.0020

Mountain Meadow Massage School

101 Mader Lane

Alto, NM 88312

Alto
575.202.7542

Artesia Family Wellness Center

Artesia, NM 88211

Artesia
575.746.3662

HCR, 74

El Prado, NM 87529

Email: tsm@newmex.com

El Prado
505.758.2725

Muscle Therapy Center

1711 N Jefferson Street

Hobbs, NM 88240

Hobbs
575.393.3425

Body Care School Healing Arts

2032 Rose Lane

Las Cruces, NM 88005

Las Cruces
575.525.6655

Massage Therapy Training Institute

2701 W. Picacho #4

Las Cruces, NM 88007

Las Cruces
575.523.6811

2810 Sudderth Drive #207

Ruidoso, NM 88345

Ruidoso
575.257.4325

1091-A Siler Rd.

Santa Fe, NM 87507

Santa Fe
505.982.8398

University of New Mexico

115 Civic Plaza Dr.

Taos, NM 87571

Taos
575.737.6200
New Mexico Continuing Education
16 CE Credits Biennially

Hours

Requirements & Limitations

List of Choices

Renew on October 31st every Even year
Direct Contact (Live) New Mexico Board Approved

8

Required for Renewal

Live

Remaining 8 hours may be contact or noncontact hours
Subjuct Matter must be Allied Healthcare, Massage & Bodywork related, or NCBTMB Approved
Professional Ethics, Boundaries, or Communication

4

Required for Renewal

Ethics Bench

Body Mechanics & Self-Care

Not Limited

Self-Care Guru

Business Practices

Not Limited

Business Mastery

Adult CPR/ First Aid Instructor-Led

Direct Contact (Live) or Online

Basic Training

Kinesiology, Anatomy, & Physiology of Human Body

Not Limited

Advanced Instruction Forum

Cultural Competency & Specialized Training

Not Limited

Special Population Techniques

Pathology of the Human Body

Not Limited

Advanced Instruction Forum

Publishing an Article

12

Minumum Allowed- Amount of CE's obtained is determined at a NM Massage Board Meeting

Research Community

Self-Study: Books, DVD's, Research Materials, & Related Publications

Not Limited

Research Community

Somatic Education

Not Limited

Advanced Instruction Forum

Teacher Training- Must Consist of Knowledge, Skills, & Abilities of teaching Adult Learners 16.7.11.8 (B)
16

Minumum Required- Massage Instructor's must complete an

Additional

16 CE's with 8 hands-on and 8 on-line

Instructor Headquarters

Lecture or Teaching a CE Class

8

Minumum Allowed

Live

Active Service on NM Massage Related Board, Task Force, Committee, or Attending Meetings

1 hour of CE for each hour- At Board's Discretion

Keep Record of Hours & Duties

All Technique Courses MUST be Hands-on, Contact Hours, not online
Excess Hours taken do NOT carry over to the next renewal period

*CE Subject Matter Must be Massage Therapy Related & Providers Approved by NCBTMB

Keep Records of CE Hours

5 Years- Audit Selected at Random Annually- Must list CE's on Renewal Form
New Mexico Massage Therapy Board
Toney Anaya Bldg. 2nd Floor
2550 Carrilos Road
Santa Fe, NM 87505
PO BOX 25101
Santa Fe, NM 87505

Phone: 505-476-4870
Fax: 505-476-4645
Email: massage.board@state.nm.us
* Board Approved Providers
National Certification Board for Therapeutic Massage and Bodywork (NCBTMB)
Allied Healthcare Higher Education Accreditation- granting Postsecondary degrees
Accredited Institution of higher learning and/or a University system
Course Approval Required by New Mexico Board