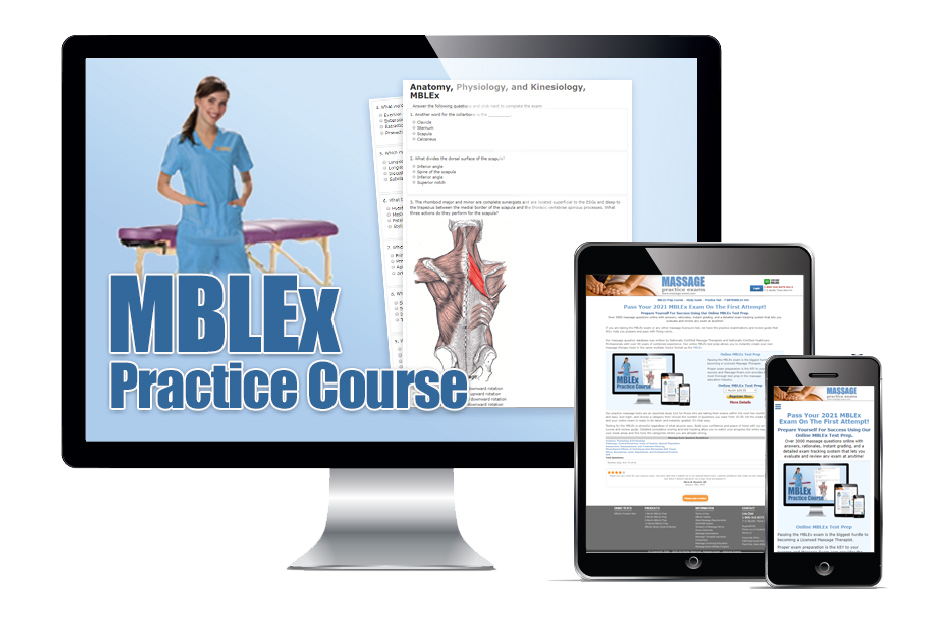 Online MBLEx Test Prep
Passing the MBLEx exam is the biggest hurdle to becoming a Licensed Massage Therapist.
Proper exam preparation is the KEY to your success and Massage-Exam.com provides the most thorough test prep in the massage education industry with over 3000 question, answers, and rationales.
North Carolina Board of Massage & Bodywork Therapy- is the regulatory Board for healthcare practitioners in Massage and Bodywork. FAQ
Application request form- Send in this request along with $20 money order to the Board to receive the application packet for a Massage Therapy License practicing in North Carolina. Online Application request form
License Application Instructions- A detailed packet giving you all the information regarding your application process. Jurisprudence Exam information.
Renewal Information- Application & Instructions - 24 CE's/ 2 years
Check the Status of your Application
North Carolina Massage Schools - A list of Board Approved massage schools in North Carolina
North Carolina Board for Massage and Bodywork must receive a written request before they will send out the official application. There is a minimum requirement of 500 hours at a Board-Approved school, along with a passing score from the MBLEx.
To properly prepare for your new career in Massage, review for the end of the term tests, and study for the licensing Exam, we urge you to subscribe today at Massage-Exam.Com. We have over 3,500 multiple-choice questions in massage application/assessment, pathology, body systems, business standards, kinesiology, and anatomy and physiology. You have access to your scores and the ability to take new tests 24 hours a day, 7 days a week. Each question comes with a rationale to provide easily attained study information, at your fingertips.
Web Information
www.bmbt.org
List of approved schools
Board Approved
Education Requirements
500 Hrs
Title
Licensed Massage & Bodywork Therapist LMBT
Type of Credential
License
National Exam Requirement
CEU's
24/ 2 years
Initial Cost of License

$190 (plus $20 application request fee)

(includes $40 Criminal History Report fee)

Require City License
Check Local City & County Business Regulations
Renewal Fee
$100/ 2 years
Liability ins
Massage Therapy Insurance Comparison
Credentialed Practitioners
6,181
North Carolina Board of Massage & Bodywork Therapy
PO Box 2539
Raleigh, NC 27602
Physical Location
Wachovia Capital Center Building
150 Fayetteville St. Mall, # 1900
Raleigh, North Carolina 27601
Phone: 919-546-0050
Fax: 919-833-1059
Email: admin@bmbt.org
Modalities in NC that require a License
NCBMBT List of Civil Penalties
---
Massage Schools in North Carolina
Ashville School of Massage and Yoga

77 Walnut St.

Ashville, NC 28801

Ashville
828.252.7377

Center for Massage & Natural Health's

530 Upper Flat Creek Rd.

Ashville, NC 28787

Ashville

(Weaverville)

828.658.0814

2205 Walnut St.

Cary, NC 27518

Cary
866.297.0267

Blue Ridge Healing Arts - CE's

9 Union St. North #300

Concord, NC 28027

Concord
704.795.7478

North Carolina School of Advanced Bodywork

1327 Charlotte Hwy.

Fairview, NC 28730

Fairview
828.628.3007

American & European Massage Clinic

4322 Bland Road

Raleigh, NC 27609

Email: bogatovaemc1@aol.com

Raleigh
919.790.9750

4101 Doie Cope Rd.

Raleigh, NC 27613

Raleigh
919.571.0057

The Healing Arts and Massage School

2113 Cameron St. Bryan Bldg. #233A,B

Raleigh, NC 27605

Raleigh
919.821.1444

6541 Meridien Drive #113

Raleigh, NC 27616

Raleigh
919.872.6386

5000 Market St.

Wilmington, NC 28405

Wilmington
910.392.4660
North Carolina Continuing Education
24 CE Credits Biennially

Hours

Requirements & Limitations

List of Choices

Renew on November 1st every 2 years from State Approval Anniversary Date
Direct Contact (Live) North Carolina Board Approved

12

Required for Renewal

Live

Remaining 12 hours may be contact or noncontact hours
Professional Ethics, Boundaries, or Communication

3

Required for Renewal

Ethics Bench

Body Mechanics & Self-Care

Not Limited

Self-Care Guru

Business Practices

8

Minimum Allowed

Business Mastery

Adult CPR/ First Aid HIV/AIDs, & Hepatitis Instructor-Led

Direct Contact (Live) or Online

Basic Training

Kinesiology, Anatomy, & Physiology of Human Body

Not Limited

Advanced Instruction Forum

Cultural Competency & Specialized Training

Not Limited

Special Population Techniques

Pathology of the Human Body

Not Limited

Advanced Instruction Forum

Self-Study: Books, DVD's, Research Materials, Related Publications, & Publishing an Article

Not Limited

Research Community

Somatic Education

Not Limited

Advanced Instruction Forum

Teacher Training

Not Limited

Instructor Headquarters

Lecture or Teaching a CE Class

Not Limited

Live

Active Service on NC Massage Related Board, Task Force, Committee, or Attending Meetings

1 hour of CE for each hour- At Board's Discretion

Keep Record of Hours & Duties

*CE Providers Must be NCBTMB, NCCAOM Approved or An Accredited College or University
Excess Hours taken do NOT carry over to the next renewal period
24 CE requirements for First Biennial Renewal- Less then 2 years & more then 1 year= 12 CE including 3 CE Ethics, 6 CE's Contact & 6 CE's Noncontact or Contact
Keep Records of CE Hours

5 Years- Audit Selected at Random Annually- Must submit copies and List CE's on Renewal form
North Carolina Board of Massage & Bodywork Therapy
PO Box 2539
Raleigh, NC 27602
Physical Location
Wachovia Capital Center Building
150 Fayetteville St. Mall, # 1900
Raleigh, North Carolina 27601
Phone: 919-546-0050
Fax: 919-833-1059
Email: admin@bmbt.org
* Board Approved Providers
National Certification Board for Therapeutic Massage and Bodywork (NCBTMB)
National Certification Commission for Acupuncture and Oriental Medicine (NCCAOM)
Institution of higher learning, University system, or International Postsecondary Programs

Allowed- Anatomy, Physiology, Pathology, Psychology, Pharmacology, Business Management, or Massage & Bodywork Therapy

Course Approval Not Required by North Carolina Board
Modalities in NC that require a Massage & Bodywork License
Animal Massage Not accepted as CE Credits
NCBMBT List of Civil Penalties