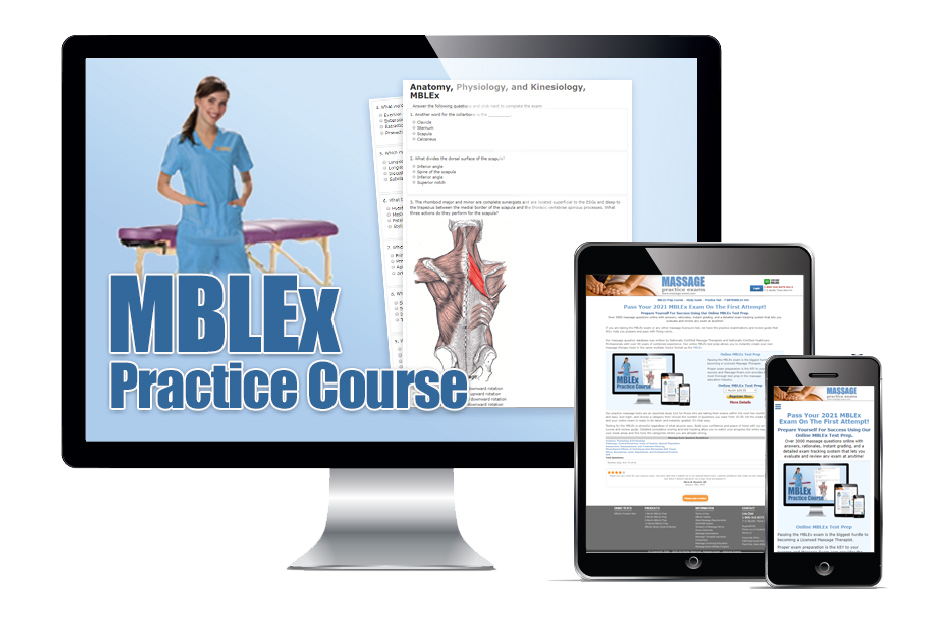 Online MBLEx Test Prep
Passing the MBLEx exam is the biggest hurdle to becoming a Licensed Massage Therapist.
Proper exam preparation is the KEY to your success and Massage-Exam.com provides the most thorough test prep in the massage education industry with over 3000 question, answers, and rationales.
Oklahoma is working with the State Board of Cosmetology, Barbering, & Massage Therapy to provide statewide regulations for Massage Therapists.
Application for Licensure submitted After May 1st 2017
Must be 18 years of Age
Certificate of Completion from Massage school with 500 hours or more
Pass the MBLEx
Proof of Current Liability Insurance
Full Disclosure with Background check
Application for OK Licensure may be given to those who maintain a Valid license under any US, DC, or Foreign Nation that meets or exceeds the educational and examination requirements of the Oklahoma Massage Therapy Practice Act
Oklahoma Bill - 687- Approved by Governor 05/11/2016
Oklahoma Massage Schools - A list of massage schools in Oklahoma
The Massage Therapy Practice Act enforces a minimum of 500 hours in a state approved course curriculum and a passing score on the MBLEx (Massage & Bodywork Licensing Examination) governed by the Federation of State Massage Therapy Boards (FSMTB).
Our site can be helpful to any Massage Therapist student or any therapist looking to become certified. Massage-Exam.com has over 3500 questions in the following categories; massage assessment, massage application, kinesiology, body systems, pathology, business ethics, anatomy and physiology. Our site is available 24 hours a day, every day of the week, for your study needs.
eb Information
https://www.ok.gov/cosmo/
List of schools
Oklahoma Massage Schools
Education Requirements
500 Hrs
Title
Massage Therapist MT
Type of Credential

Massage Therapists must be licensed by

May 1st 2017

State Law Test
Laws & Rules
State Practical or Written Exam
Written Exam
National Exam Requirement
CEU's
0 CE's/ 2 years - In Process
Initial Cost of License
$25
Require City License
Check Local City & County Business Regulations
Renewal Fee
$50/ 2 years- Only a 30 day grace period
Liability ins
Massage Therapy Insurance Comparison
Credentialed Practitioners
Oklahoma State Board of Cosmetology, Barbering, & Massage Therapy
2401 NW 23rd Street #84
Oklahoma City, OK 73107
Phone: 405-521-2441
Fax: 405-521-2440
---
Massage Schools in Oklahoma
Integrated Massage Therapy College (IMTC)

14909 N. Kelly Ave

Edmond, OK 73013

Edmond
405.880.8697

112 Sw 11th St.

Lawton, OK 73501

Lawton
580.355.4416

Central State Beauty & Wellness College

8494 NW Expressway

Oklahoma City, OK 73162

Oklahoma City
405.722.4499

8900 North Weston Ave.

Oklahoma City, OK 73114

Oklahoma City
405.879.0224

3131 S. Sharidan

Tulsa, OK 74145

Tulsa
918.298.8200
Oklahoma Continuing Education
0 CE Credits Biennially

Hours

Requirements & Limitations

List of Choices

ABMP- Biennially

16

Not Limited

CE Catalog

AMTA- Quadrennially

48

Not Limited

CE Catalog

NCBTMB- Biennially

24

Not Limited

CE Catalog

Increase Professional Knowledge and Skills to ensure effective and safe Massage Therapy Practices by taking advantage of the benefits Continuing Education offers
Check your Massage Association or City/County Professional/Business Laws to meet Continuing Education requirements
Professional Ethics, Boundaries, or Communication

Not Limited

Ethics Bench

Body Mechanics & Self-Care

Not Limited

Self-Care Guru

Business Practices

Not Limited

Business Mastery

Adult CPR/ First Aid Instructor-Led

Direct Contact (Live) or Online

Basic Training

Kinesiology, Anatomy, & Physiology of Human Body

Not Limited

Advanced Instruction Forum

Cultural Competency & Specialized Training

Not Limited

Special Population Techniques

Pathology of the Human Body

Not Limited

Advanced Instruction Forum

Self-Study: Books, DVD's, Research Materials, Related Publications, & Publishing an Article

Not Limited

Research Community

Somatic Education

Not Limited

Advanced Instruction Forum

Teacher Training

Not Limited

Instructor Headquarters

Lecture or Teaching a CE Class

Not Limited

Live

Active Service on OK Massage Related Board, Task Force, Committee, or Attending Meetings

1 hour of CE for each Meeting/Day/hour

Keep Record of Hours & Duties

No CE requirements for State License Renewal
Keep Records of CE Hours

5 Years
Oklahoma State Board of Cosmetology, Barbering, & Massage Therapy
2401 NW 23rd Street #84
Oklahoma City, OK 73107
Phone: 405-521-2441
Fax: 405-521-2440