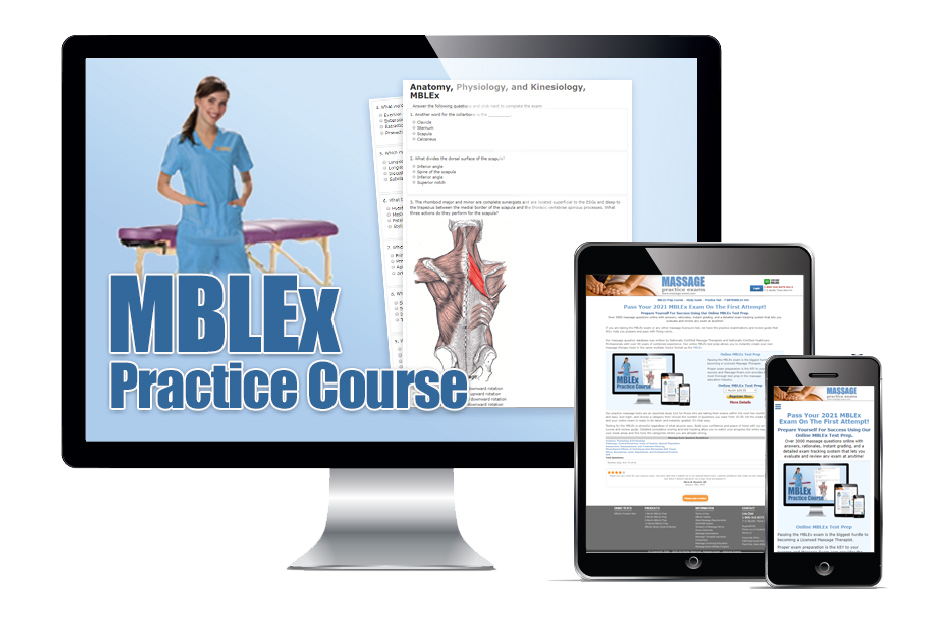 Online MBLEx Test Prep
Passing the MBLEx exam is the biggest hurdle to becoming a Licensed Massage Therapist.
Proper exam preparation is the KEY to your success and Massage-Exam.com provides the most thorough test prep in the massage education industry with over 3000 question, answers, and rationales.
South Dakota Board of Massage Therapy- The regulatory Board information, rules, and laws.
Application- Completely fill out and notarize before sending in the application for a Massage Therapy license. FAQ
License Renewal Information- 8 CE Credits/ 2 years
South Dakota Massage Schools - A list of massage schools in South Dakota
In the past, 100 hours was enough to get you a job as a massage therapist in the state of South Dakota. However, grandfathering laws are now in place so people who are already massage therapists can carry a license if they have performed competently in a job for three years. The new requirements are the basic 500 hours of massage curriculum and the passing of one of these accepted exams: The NBCA administered by the AMMA or the MBLEx by the FSMTB. To be in compliance, anyone wishing to be a Licensed Massage Therapist after 2005 must have the minimum 500 hours at an approved Massage training establishment, passing score on chosen exam, and Liability Insurance.
Massage-Exam.Com can help with your exam study needs. Our study resource has a base of over 3500 questions in specific categories such as massage assessment, massage application, business ethics, pathologies, kinesiology, body systems, anatomy and physiology. Build your confidence in taking multiple-choice questions in each category or take a mix of questions in the random category. Each graded question is accompanied by a rationale that explains the information in the question and answer for added benefits in reviewing your core work material. You're not limited to taking only one test like in the bound and printed review books. You can utilize our site night and day and take as many tests as you would like, having the option of opening past tests and perusing questions you may have missed. Sign up and test your knowledge today.
South Dakota Board of Massage Therapy - Contact
PO BOX 340 (mailing)
1351 North Harrison Ave
Pierre, SD 57501
Phone: 605-224-1721
Fax: 888-425-3032
Email: sdbmt@midwestsolutionssd.com
---
Massage Schools in South Dakota
National Accreditation Accepted By:
Commission on Massage Therapy Accreditation (COMTA)
Accrediting Council for Independent
Colleges and Schools (ACICS)
National Accrediting Commission of Career Arts & Sciences (NACCAS)
Accrediting Council for Continuing Education and Training (ACCET)
Accrediting Commission of Career Schools and Colleges (ACCSC)
Accrediting Commission of the Distance Education and Training Council (DETC)
Higher Learning Commission (HLC)
South Dakota Continuing Education
8 CE Credits Biennially

Hours

Requirements & Limitations

List of Choices

Renew on September 30th every Even year
All 8 CE hours may be contact or noncontact hours
Professional Ethics, Boundaries, or Communication

Not Limited

Ethics Bench

Body Mechanics & Self-Care

Not Limited

Self-Care Guru

Business Practices

Not Limited

Business Mastery

Adult CPR/ First Aid Instructor-Led

Direct Contact (Live)- Or Online

Basic Training

Kinesiology, Anatomy, & Physiology of Human Body

Not Limited

Advanced Instruction Forum

Cultural Competency & Specialized Training

Not Limited

Special Population Techniques

Pathology of the Human Body

Not Limited

Advanced Instruction Forum

Self-Study: Books, DVD's, Research Materials, Related Publications, & Publishing an Article

Not Limited

Research Community

Somatic Education

Not Limited

Advanced Instruction Forum

Teacher Training

Not Limited

Instructor Headquarters

Lecture or Teaching a CE Class

Not Limited

Live

Active Service on SD Massage Related Board, Task Force, Committee, or Attending Meetings

1 hour of CE for each Meeting/Day/Hour- At Boards discretion

Keep Record of Hours & Duties

*CE Providers Must be Board Approved by NCBTMB or American Medical Massage Association
Excess Hours taken do NOT carry over to the next renewal period
All 8 CE's are required for the First Renewal- CE Hours are Prorated based on Initial Licensure Date
Keep Records of CE Hours

5 Years- Audit Selected at Random Annually- Must list CE's on Renewal Form
South Dakota Board of Massage Therapy - Contact
PO BOX 340 (mailing)
1351 North Harrison Ave
Pierre, SD 57501
Phone: 605-224-1721
Fax: 888-425-3032
Email: sdbmt@midwestsolutionssd.com
*Board Approved Providers