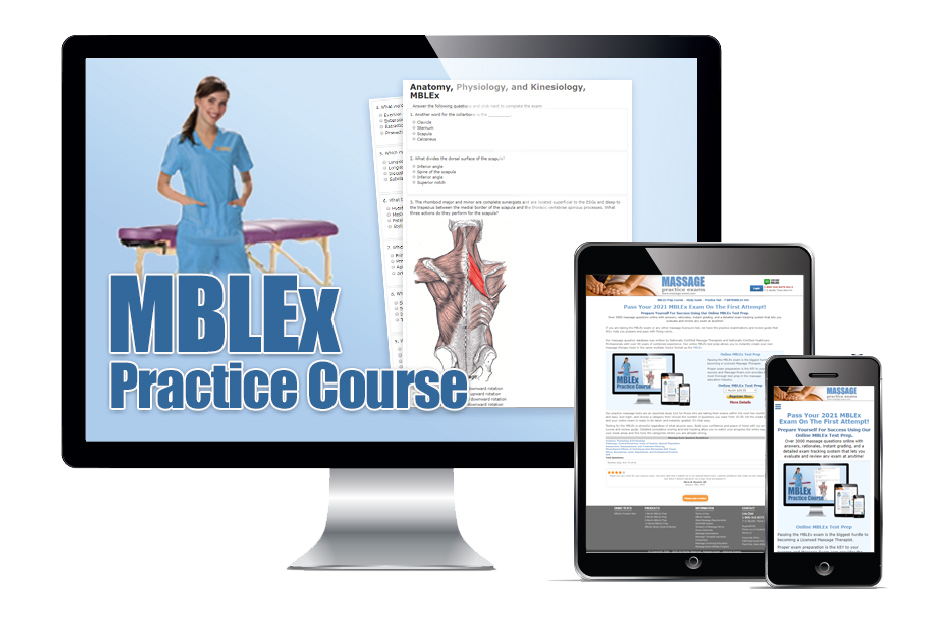 Online MBLEx Test Prep
Passing the MBLEx exam is the biggest hurdle to becoming a Licensed Massage Therapist.
Proper exam preparation is the KEY to your success and Massage-Exam.com provides the most thorough test prep in the massage education industry with over 3000 question, answers, and rationales.
Tennessee Board of Massage Licensure- regulated by the Department of Health.
Application for a Massage Therapist License- Complete and send in after having it notarized along with the non-refundable application fee. Massage Licensure Act of 1995
License Renewal- Renew or update personal information online. Renew Online -25 CE Credits/ 2 years
Tennessee Massage Schools - A list of massage schools in Tennessee.
To practice Massage Therapy in the State of Tennessee, the Board of Massage Licensure has set up proper guidelines to help with the process. A minimum of 500 hours from an approved school is essential. You must take and pass the FSMTB's MBLEx to be licensed.
** The Tennessee Board has granted a petition to make the MBLEx exclusive **
For a comprehensive review of massage application, assessment, pathology, kinesiology, body systems, anatomy, physiology and business ethics, utilize Massage-Exam.Com. With over 3500 questions to review, with the ability to track your test scores in each category, and gain information on subjects that may need more review time. You also have the flexibility of 24-hour access, for your subscribed amount of time, to take as many tests as you like. Consider using our site as your study resource in preparing for your massage exams.
TN DOH September 6th 2012 New Rules in Effect
- Background checks required
- Jurisprudence Questionnaire (pg. 13 In application)
-Laws, Rules Policies & Regulations
Tennessee Board of Massage
665 Mainstream Drive, 2nd Floor
Nashville, TN 37243
Phone:(615)253-2111 or 1-800-778-4123
Fax: 615-532-5164
Email: tn.health@tn.gov
---
Massage Schools in Tennessee
500 Wilson Pike Circle #121

Brentwood, TN 37027

Email: mary@cumberlandinstitute.com

Brentwood
615.370.9794

Miller-Motte Technical Institute

6020 Shallowford Rd.

Chattanooga, TN 37421

Email: jkearns@miller-motte.com

Chattanooga
423.510.9675

Miller-Motte Technical College

1820 Business Park Dr.

Clarksville, TN 37040

Clarksville
931.553.0071

Appalachin Training Center for Healing Arts

117 West Hwy 25-70

Dandridge, TN 37725

Dandridge
865.397.5227
Chattanooga Massage Institute Inc.
6401 Hixson Pike, Suite E
Hixson, TN 37343
E-mail: chattmassage@bellsouth.net
Hixson
423.847.1417
Bodyworks School of Massage, Inc.
2752 B North Highland Avenue
Jackson, TN 38305
E-mail: bodyworksmassage@cs.com
Jackson
731.664.8704

Reflections of Health School of Massage

1604 Lamons Lane #207A

Johnson City, TN 37604

Johnson City
423.929.3331

Arbor Institute School of Massage

6500 Papermill Dr. #214

Knoxville, TN 37919

Email: info@AIM-Knoxville.com

Knoxville
865.450.3330

Tennessee School of Therapeutic Massage

4702-B Western Ave.

Knoxville, TN 37921

Knoxville
865.588.2324

Miller-Motte Technical Institute- Nashville

1515 Gallatin Pike North

Madison, TN 37115

Madison
866.297.0267

5100 Poplar Ave. #132

Memphis, TN 38137

Email: tstewart@concorde.edu

Memphis
901.761.9494

2076 Union Ave. #202

Memphis, TN 38104

Email: info@themassageinstitute.com

Memphis
901.726.4665
Tennessee School of Massage
1083 West Rex Road, Suite 202
Memphis, TN 38119
E-mail: info@tsom.net
Memphis
901.843.2706
Mind Body Institute, LLC
2416 Music Valley Drive, Suite 119
Nashville, TN 37214
E-mail: mindybody@comcast.net
Nashville
615.360.8554

701 Briarcliff Ave.

Oak Ridge, TN 37830

Email: keefepk@roanestate.edu

Oak Ridge
865.481.2001
Tennessee Continuing Education
25 CE Credits Biennially

Hours

Requirements & Limitations

List of Choices

Renew on December 31st every Even year
All 25 hours may be contact or noncontact hours
Professional Ethics, Boundaries, Substance Abuse, or Communication

2

Required for Renewal

Ethics Bench

Business/ Massage Practices Management

+

Required for Renewal- Part of Ethics requirement of 2 CE's

Business Mastery

Tennessee & Federal Statutes and Rules
2
Required for Renewal -Must be TN Board Approved
Ethics Bench

Body Mechanics & Self-Care

Not Limited

Self-Care Guru

Adult CPR/ First Aid / HIV Instructor-Led

Direct Contact (Live) - American Heart Association or American Red Cross

Basic Training

Kinesiology, Anatomy, & Physiology of Human Body

Not Limited

Advanced Instruction Forum

Cultural Competency & Specialized Training

Not Limited

Special Population Techniques

Pathology of the Human Body

Not Limited

Advanced Instruction Forum

Self-Study: Books, DVD's, Research Materials, Related Publications, & Publishing an Article

Not Limited

Research Community

Somatic Education

Not Limited

Advanced Instruction Forum

Teacher Training

Not Limited

Instructor Headquarters

Lecture or Teaching a CE Class

Not Limited

Live

Active Service on TN Massage Related Board, Task Force, Committee, or Attending Meetings

1 hour of CE for each Meeting/Day/Hour- At Boards discretion

Keep Record of Hours & Duties

*CE Providers Must be NCBTMB or Board Approved
Excess Hours taken do NOT carry over to the next renewal period
All 25 CE's are required for the First Annual Renewal- CE Hours are Prorated based on Initial Licensure Date & must include Ethics, Massage Practice (2), & TN Law (2) hour CE requirement
Keep Records of CE Hours

4 Years- Audit Selected at Random Annually
Tennessee Board of Massage
Heritage Place Metro Center
227 French Landing, #300
Nashville, TN 37243
Phone: 615-532-3202 or 1-800-778-4123, ext. #32111
Fax: 615-532-5164
Email: tn.health@tn.gov
*Board Approved Providers