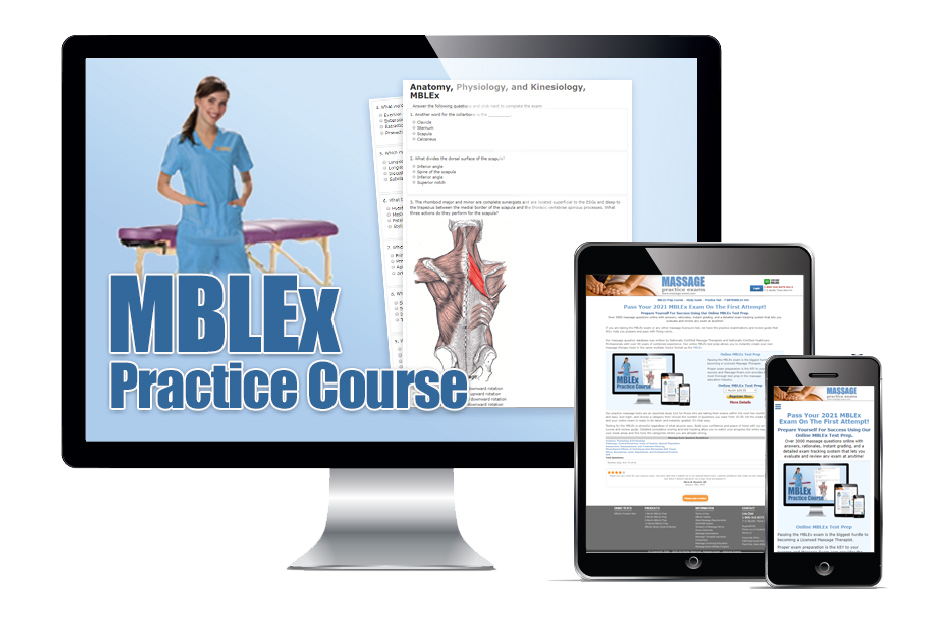 Online MBLEx Test Prep
Passing the MBLEx exam is the biggest hurdle to becoming a Licensed Massage Therapist.
Proper exam preparation is the KEY to your success and Massage-Exam.com provides the most thorough test prep in the massage education industry with over 3000 question, answers, and rationales.
Texas Massage Therapy Licensing Program- main website for the Department of Health Services in charge of massage licensing.
Application- PDF for your submittal for a license to practice Massage Therapy. FAQ's - Renew online - 12 CE Credits/ 2 years
Texas Massage Schools - A list of massage schools in Texas
As of September 1st 2007 the required minimum hours are 500. The previous requirement was 300 hours. The applications and website do not show this new change as of yet. Check the Statutes/Laws page for new information. This requirement affects people who enrolled after September 1st 2007. Those who are under the new regulations will not have to participate in the State practical. Students of massage will need to pass the MBLEx licensing exam from the FSMTB. The MBLEx exam can be taken at a Pearson Vue testing facility by appointment after the MBLEx application is approved.

Texas Massage Therapy Laws- For the Jurisprudence Exam
Applicants who were enrolled before this date must successfully complete the state administered written and practical examinations. You are not eligible to take the exams until you have an approved application. Fees will be paid to the testing facility for the examination. Texas State Licensing Requirements.
Massage-Exam.Com is a great resource to study for all your Massage examinations. Access to our site is unlimited during your subscribed time. For your convenience there are no limits to the amount of tests you can take. Reviewing for your exams has never been more comprehensive. There are over 3500 massage application/assessment, anatomy/physiology, kinesiology, pathology, body systems and business ethics questions to analyze. Each graded question has a rationale that explains the information in the question and answer. Tests are scored in each category to help monitor your improvements and comprehension.
Department of Health Professional Licensing
Massage Therapy Licensing Program
PO Box 12197
Austin, TX 78711
1100 West 49th St.
Austin, TX 78756
Phone: 512-834-6616
Fax: 512-834-6677
Email: massage@dshs.state.tx.us
---
Massage Schools in Texas
3110 Mustang Rd.

Alvin, TX 77511

Email: massage@alvincollege.edu

Alvin
281.756.3806

Amarillo Massage Therapy Institute

2710 Civic Circle #7

Amarillo, TX 79109

Amarillo
806.331.0795

2335 Green Oaks Blvd. West

Arlington, TX 76016

Arlington
817.446.6629

A New Beginning School of Massage

2525 Wallingwood Dr. #1501

Austin, TX 78746

Austin
512.306.0975

8620 Burnet Rd. #300

Austin, TX 78757

Austin
866.948.2808

Lauterstein-Conway Massage School

4701-B Burnet Rd.

Austin, TX 78756

Email: info@tlcschool.com

Austin
512.374.9222

The Academy of Health Care Professions

6505 Airport Blvd.
Austin, TX 78752

Austin
800.487.6728

South Texas Vocational Technical Institute

2144 Central Blvd.

Brownsville, TX 78520

Brownsville
956.465.4696

13370 Preston Rd.

Dallas, TX 75240

Dallas
972.866.8704

9570 Gateway Blvd. North

El Paso, TX 79924

El Paso
915.831.3722

2990 Richmond Ave. #200

Houston, TX 77098

Email: info@avalonmassageschool.com

Houston
713.333.5250

Phoenix School of Holistic Health

6600 Harwin #101

Houston, TX 77036

Email: info@themassageschool.com

Houston
713.974.5976

Clear Lake

17043 El Camino Rd. #201

Houston, TX

Houston
281.488.3903

The Academy of Health Care Professions

8313 Southwest Freeway #300
Houston, TX 77074

Houston
800.487.6728

The Academy of Health Care Professions

240 Northwest Mall Blvd.
Houston, TX 77092

Houston
800.487.6728

1565 West Main St. #114

Lewisville, TX 75067

Lewisville
972.353.8989

4920 South Loop 289

Lubbock, TX 79424

Lubbock
806.722.3300

7420 82nd St.

Lubbock, TX 79424

Lubbock
806.866.0089

1804 North Galloway #A

Mesquite, TX 75149

Mesquite
972.285.6133

1203 East Ferguson #104

Pharr, TX 78577

Email: Info@massage-masters.com

Pharr
956.787.9077

1620 Custer Rd.

Plano, TX 75075

Email: learnmore@kekino.com

Plano
972.509.5588

13091 Pond Springs Road, Suite 400

Austin, Texas 78729

Austin
512-387-3003

602 NW Loop 410 #122

San Antonio, TX 78216

San Antonio
210.375.2688

5313 Walzem Rd. #A

San Antonio, TX 78218

San Antonio
210.798.7988

The Academy of Health Care Professions

4738 NW Loop 410
San Antonio, TX 78229

San Antonio
800.487.6728

5704 Evers

San Antonio, TX 78238

Email: estela@massageservices.org

San Antonio
210.684.5599
Texas Continuing Education
12 CE Credits Biennially

Hours

Requirements & Limitations

List of Choices

Renew on Last day of your Birthday Month, every other year, starting from State Approval Anniversary
All 12 CE hours may be contact or noncontact hours
If subject matter includes Manipulation of Soft Tissue or Massage Therapy Techniques, they MUST be Hands-on or Contact Hours
Professional Ethics, Boundaries, or Communication

Not Limited

Body Mechanics & Self-Care

Not Limited

Self-Care Guru

Business Practices

Not Limited

Business Mastery

Adult CPR/ First Aid Instructor-Led

6

Minimum Allowed Direct Contact (Live)- American Heart Association, American Red Cross, or National Safety Council

Basic Training

Kinesiology, Anatomy, & Physiology of Human Body

Not Limited

Advanced Instruction Forum

Cultural Competency & Specialized Training

Not Limited

Special Population Techniques

Pathology of the Human Body

Not Limited

Advanced Instruction Forum

Self-Study: Books, DVD's, Related Publications, & Publishing an Article

Not Limited

Research Community

Somatic Education

Not Limited

Advanced Instruction Forum

Teacher Training

Not Limited

Instructor Headquarters

Lecture or Teaching a CE Class

Not Limited

Live

Active Service on TX Massage Related Board, Task Force, Committee, or Attending Meetings

Not Accepted as CE's

Keep Record of Hours & Duties

*CE Subject Matter Must be Massage Tharapy Related & Providers Must be NCBTMB & TX Board Approved
Excess Hours taken do NOT carry over to the next renewal period
All 12 CE's are required for First Biennial Renewal
Keep Records of CE Hours

3 Years- Audit Selected at Random Annually
Department of Health Professional Licensing
Massage Therapy Licensing Program
PO Box 12197
Austin, TX 78711
1100 West 49th St.
Austin, TX 78756
Phone: 512-834-6616
Fax: 512-834-6677
Email: massage@dshs.state.tx.us
*Board Approved Providers