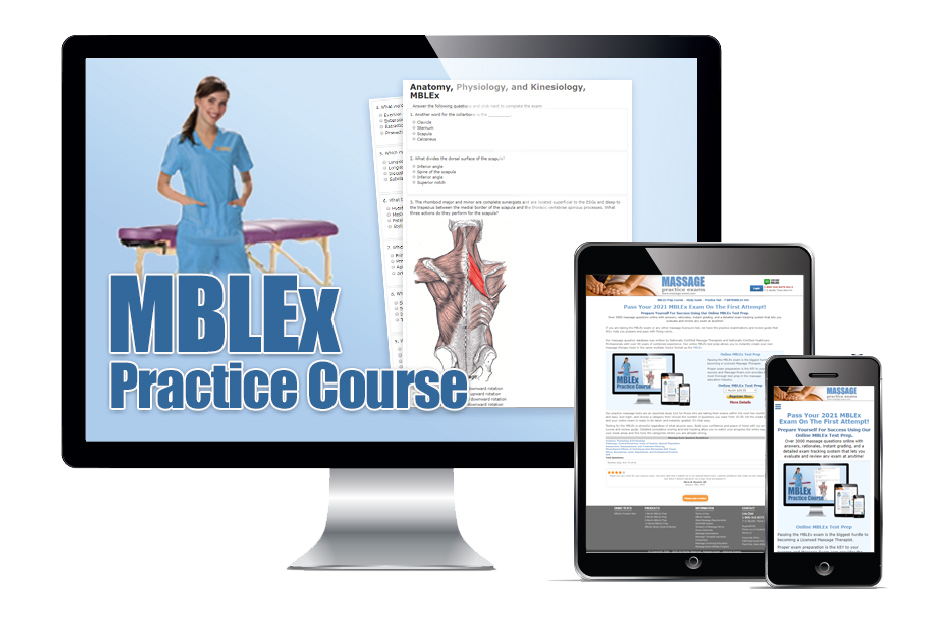 Online MBLEx Test Prep
Passing the MBLEx exam is the biggest hurdle to becoming a Licensed Massage Therapist.
Proper exam preparation is the KEY to your success and Massage-Exam.com provides the most thorough test prep in the massage education industry with over 3000 question, answers, and rationales.
Utah Division of Occupational and Professional Licensing for Massage Therapists- Board information, statutes, and laws update for review of rules and regulations governing Massage Therapists.
Application- for Massage Therapist (MT) or Massage Apprentice (MA).
License Renewal Information- Renew Online -0 CE Credits/ 2 years Odd years on May 31st
Utah Massage Schools - A list of massage schools in Utah
To be eligible to receive a license to practice Massage in the State of Utah, you must submit your application and documentation to the Massage Therapy Board at the Utah Division of Occupational and Professional Licensing. Massage Apprentices (MA) must have 1000 hours of supervised training and Thomson Prometric documentation of a passing score on the Utah Massage Theory Examination. A Massage Therapist (MT) must submit proof of a minimum of 600 hours of instruction from an accredited Massage school Training program and a passing score from the MBLEx from the Federation of State Massage Therapy Board (FSMTB). Both an MT and an MA need to take the Utah Massage Law exam, also given by Thomson Prometric.
Review for the MBLEx on Massage-Exam.Com. We have 24-hour access to over 3500 questions for Massage Therapy curriculum. Each graded question reveals the rationale which explains the information in the question and answer that you can review at any time. The Massage-Exam.Com website keeps track of each test taken, along with your overall scores, to facilitate your progress. Eliminate guesswork for studying your exams and sign up today.
Continuing Education Bill HB 351- 24 hours every 2 years- Did NOT Pass.
Division of Occupational & Professional Licensing
Board of Massage
PO Box 146741
Salt Lake City, Utah 84114
Phone: 801-530-6628
Fax: 801-530-6511
---
Massage Schools in Utah
Renaissance School of Therapeutic Massage

566 West 1350 South

Bountiful, UT 84010

Bountiful
801.292.8515

Eagle Gate College

915 North 400 West

Layton, UT 84041

Layton
801.546.7500

Healing Mountain Massage School

363 S. 500 E. Suite 210

Salt Lake City. UT. 84102

Salt Lake City
801-355 6300 ext. 2

Utah College of Massage Therapy

135 South State St. #12

Lindon, UT 84042

Lindon
801.796.0300

Provo College

1450 West 820 North

Provo, UT 84601

Provo
877.777.5886

336 Bugatti Dr.

Salt Lake City, UT 84115

Salt Lake City
801.484.7624

Utah College of Massage Therapy

25 South 300 East

Salt Lake City, UT 84111

Salt Lake City
801.521.3330

Apprenticeship Only

368 East St. George Blvd.

St. George, UT 84770

St. George
435.673.4101
Utah Continuing Education
0 CE Credits Biennially

Hours

Requirements & Limitations

List of Choices

Renew on May 31st every Odd year
ABMP- Biennially

16

Not Limited

CE Catalog

AMTA- Quadrennially

48

Not Limited

CE Catalog

NCBTMB- Biennially

24

Not Limited

CE Catalog

Increase Professional Knowledge and Skills to ensure effective and safe Massage Therapy Practices by taking advantage of the benefits Continuing Education offers
Check your Massage Association or City/County Professional/Business Laws to meet Continuing Education requirements
Professional Ethics, Boundaries, or Communication

Not Limited

Ethics Bench

Body Mechanics & Self-Care

Not Limited

Self-Care Guru

Business Practices

Not Limited

Business Mastery

Adult CPR/ First Aid Instructor-Led

Direct Contact (Live) or Online

Basic Training

Kinesiology, Anatomy, & Physiology of Human Body

Not Limited

Advanced Instruction Forum

Cultural Competency & Specialized Training

Not Limited

Special Population Techniques

Pathology of the Human Body

Not Limited

Advanced Instruction Forum

Self-Study: Books, DVD's, Research Materials, Related Publications, & Publishing an Article

Not Limited

Research Community

Somatic Education

Not Limited

Advanced Instruction Forum

Teacher Training

Not Limited

Instructor Headquarters

Lecture or Teaching a CE Class

Not Limited

Live

Active Service on UT Massage Related Board, Task Force, Committee, or Attending Meetings

1 hour of CE for each Meeting/Day/Hour

Keep Record of Hours & Duties

When Bill is accepted the state will require 24 CE's Biennially
No CE requirements for State License Renewal
Keep Records of CE Hours

5 Years
Division of Occupational & Professional Licensing
Board of Massage
PO Box 146741
Salt Lake City, Utah 84114
Phone: 801-530-6628
Fax: 801-530-6511