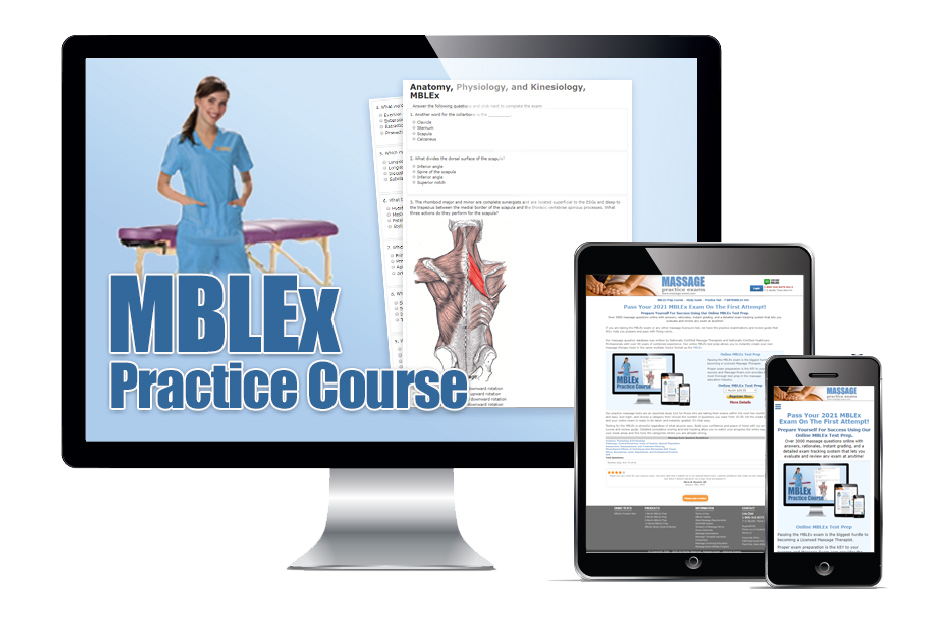 Online MBLEx Test Prep
Passing the MBLEx exam is the biggest hurdle to becoming a Licensed Massage Therapist.
Proper exam preparation is the KEY to your success and Massage-Exam.com provides the most thorough test prep in the massage education industry with over 3000 question, answers, and rationales.
Massage Therapy is regulated by the Virginia Board of Nursing.
Application- Fill out completely online to receive your license to practice Massage. License Verification
License Renewal Information- Renew Online -24 CE Credits/ year
Virginia Massage Schools - A list of massage schools in Virginia
To practice Massage Therapy in the state of Virginia you must have at least 500 hours from an approved massage training program and a successful completion of a Federation of State Massage Therapy Boards MBLEx examination.
To prepare for your Massage examinations, utilize Massage-Exam.com for your study resource. Our 3500+ question database will give you the advantage to review curriculum in massage application, massage assessment, pathology, body systems, anatomy, physiology, kinesiology and business standards. For your convenience, you will have access 24/7 to take as many tests as you want, or review past tests. Let Massage-Exam.Com be your study resource for all your exam preparation needs.
Department of Health Professions
Board of Nursing
Perimeter Center
9960 Mayland Drive #300
Henrico, VA 23233-1463
Phone: 804-367-4515
Fax: 804-527-4455
Email: nursebd@dhp.virginia.gov
---
Massage Schools in Virginia
The State Council for Higher Education for Virginia (SCHEV) is in charge of approved schools for Massage Therapy:
Please contact SCHEV at (804) 225-2600 or via the web at www.schev.edu for more information.
NOVA- Northern Virginia Community College

4001 Wakefield Chapel Rd.

Annandale, VA 22003

Email: ncrippen@nvcc.edu

Annandale
703.878.5617

14701 Lee Hwy Suite 306

Centreville, VA 20121

Centreville
703.266.2220

153 Zan Rd.

Charlottesville, VA 22901

Charlottesville
434.293.4031

Dabney's Lancaster Community College

1000 Dabney Dr.

Clifton Forge, VA 24422

Clifton Forge
540.261.1211

Northern Virginia School of Therapeutic Massage

200 Little Falls St. #303

Falls Church, VA 22046

Falls Church
703.533.3113

Le Arai Beauty & Barber Academy

8630 J Lee Hwy

Fairfax, VA 22031

Fairfax
703.204.1166

10130 Colvin Run Rd. #A&B

Great Falls, VA 22066

Great Falls
703.759.2200

Miller-Motte Technical College

1011 Creekside Lane

Lynchburg, VA 24502

Lynchburg
888.419.4508

Patrick Henry Community College

645 Patriot Ave.

Martinsville, VA 24115

Martinsville
276.638.8777

1001 Omni Blvd. #200

Newport News, VA 23606

Newport News
866.708.6174

6300 Center Dr. #100

Norfolk, VA 23502

Norfolk
757.499.5447

2000 Westmoreland St. Ste. A

Richmond, VA 23230

Richmond
804.323.1020

Miller-Motte Technical College

4444 Electric Road

Roanoke, VA 24018

Roanoke
540.597.1010

Advanced Fuller School of Massage

195 Sout Rosemont Rd. #105

Virginia Beach, VA 23452

Virginia Beach
757.340.7132

Cayce/Reilly School of Massotherapy

215 67th St.

Virginia Beach, VA 23451

Email: Cayceschool@edgarcayce.org

Virginia Beach
757.457.7270
Virginia Continuing Education
24 CE Credits Biennially

Hours

Requirements & Limitations

List of Choices

Renew on Last day of your Birthday Month, every other year, starting from State Approval Anniversary
Hold Current Certification by NCBTMB OR Complete 24 CE's for State Licensure Renewal
NCBTMB- Biennially

24

CE Catalog

OR Complete 24 CE's for State Licensure Renewal
Direct Contact (Live) Virginia Board Approved

12

Required for Renewal

Live

Remaining 12 hours may be contact or noncontact hours
Professional Ethics, Boundaries, or Communication

1

Required for Renewal

Ethics Bench

Body Mechanics & Self-Care

Not Limited

Self-Care Guru

Business Practices

Not Limited

Business Mastery

Adult CPR/ First Aid Instructor-Led

12

Minimum Allowed Direct Contact (Live) or Online

Basic Training

Kinesiology, Anatomy, & Physiology of Human Body

Not Limited

Advanced Instruction Forum

Cultural Competency & Specialized Training

Not Limited

Special Population Techniques

Pathology of the Human Body

Not Limited

Advanced Instruction Forum

Self-Study: Books, DVD's, Research Materials, Related Publications, & Publishing an Article

12

Minimum Allowed

Research Community

Somatic Education

Not Limited

Advanced Instruction Forum

Teacher Training

Not Limited

Instructor Headquarters

Lecture or Teaching a CE Class
12

Minimum Allowed

Live

Active Service on VA Massage Related Board, Task Force, Committee, or Attending Meetings

1 hour of CE for each Meeting/Day/Hour- At Boards discretion

Keep Record of Hours & Duties

*CE Subject Matter Must Massage Therapy Related & Providers Must be NCBTMB Approved for a Minimum of 12 CE hours
Excess Hours taken do NOT carry over to the next renewal period
No CE requirements for First Renewal
Keep Records of CE Hours

6 Years- Audit Selected at Random Annually- Must list on Renewal Form
Department of Health Professions
Board of Nursing
Perimeter Center
9960 Mayland Drive #300
Henrico, VA 23233-1463
Phone: 804-367-4515
Fax: 804-527-4455
Email: nursebd@dhp.virginia.gov
*Board Approved Providers