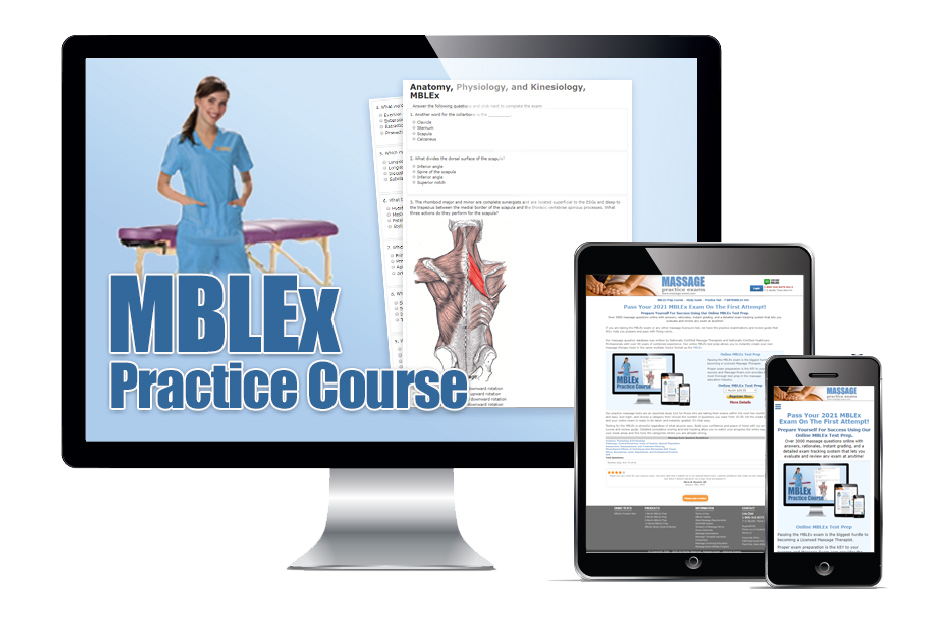 Online MBLEx Test Prep
Passing the MBLEx exam is the biggest hurdle to becoming a Licensed Massage Therapist.
Proper exam preparation is the KEY to your success and Massage-Exam.com provides the most thorough test prep in the massage education industry with over 3000 question, answers, and rationales.
Washington Health Professions Quality Assurance Board of Massage - regulated by the Department of Health.
Application- for licensure to practice massage in Washington. Take your Jurisprudence Exam online. Check status of your application. Sign up to receive email updates from the WA Massage Board.
License Renewal Information- Renew Online -24 CE Credits/ 2 years
Laws for Certification in Reflexology. **Effective July 1st 2013**
- Credential Application- 200 hours of instruction and a passing score on the Reflexologist Certification Exam- American Reflexology Certification Board (ARCB). To be grandfathered in (July 1st 2014), you will need to have practiced Reflexology for 5 years prior to July 1st 2013. When you are a Llicensed Massage Practitioner (LMP) you're able to practice reflexology without getting a reflexology certification.
Washington Massage Schools - A list of massage schools in Washington Approved Schools
A minimum of 500 hours from an accredited school is required to obtain a Massage Therapist license. The State also requires a jurisprudence (Law) exam (located online) along with proof of passing the MBLEx, administered by the FSMTB, at Pearson Vue testing centers.
Massage-Exam.com will help you prepare for your end-of-term exams and the licensing exam. If you plan to have dual licenses for Washington and Oregon, our site will help you with the Oregon Exam and Practical as well. Our database of over 3500 questions in massage application, massage assessment, body systems, pathology, business ethics, kinesiology, anatomy and physiology will help review your massage curriculum. You will have access any time, day and night. Each graded question is accompanied by a rationale that explains the information in the question and answer and includes the ability to review every test you take on your Results Page.
***** Renewal & Application Fee Changes ****
*** CE Changes: On January 1, 2010, new rules on continuing education (CE) went into effect. FAQ ** Changed to 24 CE/ 2 years
Web Information

List of schools

Education Requirements

Title

Licensed Massage Practitioner LMP

Type of Credential

License

State Law Test

Laws

, Rules & Regulations - Open book Exam

State Practical or Written Exam

National Exam Requirement

CEU's

Initial Cost of License

$141

Require City License

Check Local City & County Business Regulations

Renewal Fee

$106/ year

Liability ins

Credentialed Practitioners

11,621
Washington State Board of Massage
PO BOX 47877
Olympia, WA 98504
Phone: 360-236-4700
Fax: 360-664-9077
Email: hpqa.csc@doh.wa.gov
---
Massage Schools in Washington
426 North Olympia Ave.

Arlington, WA 98223

Arlington
360.435.8490

15921 NE 8th #106-C

Bellevue, WA 98008

Bellevue
425.641.3409

237 West Kellogg Rd.

Bellingham, WA 98226

Bellingham
360.383.3000

906 SE Everett Mall Way, #600

Everett, WA 98208

Everett
425.789.7960

Northwest School of Animal Massage

Fall City, WA 98024

Fall City
425.222.3703

2030 SOUTH 314th Street

Federal Way, WA 98003

Federal Way
253.237.5301

26 East Third Ave

Kennewick, WA 99336

Kennewick
509.586.6434

Clover Park Technical College

4500 Steilacoom Blvd. SW

Lakewood, WA 98499

Lakewood
253.589.5800

Spectrum Center School of Massage

12506 18th St. NE #1

Lake Stevens, WA 98258

Email: spectrum@spectrumschool.com

Lake Stevens
425.334.5409

6505 218th Street SW #15

Mountlake Terrace, WA 98043

Mountlake Terrace
360.301.6260

Center for World Indigenous Studies

1015 4th Ave. West #A&B

Olympia, WA 98502

Olympia
360.586.0656

Port Townsend School of Massage

1071 Landes Court

Port Townsend, WA 98368

Email: info@massageeducation.com

Port Townsend
360.379.4066

1319 Lee Blvd.

Richland, WA 99352

Richland
509.943.9589

Northwest Academy of Healing Arts

2707 California Ave. SW #201

Seattle, WA 98116

Email: admissions@nw-academy.com

Seattle
206.932.5950

10102 E. Knox Ave., Suite 200
Spokane, WA 99206

Spokane
877.206.2106

775 East Holland Ave. #110

Spokane, WA 99218

Spokane
509.465.3033

1810 North Greene St.

Spokane, WA 99217

Spokane
509.533.7000

Everest College - Now Altierus

2156 Pacific Ave.

Tacoma, WA 98402

2108 Pacific Ave.

Tacoma, WA 98208

Tacoma
253.207.4000

Bodymechanics School of Myotherapy & Massage

2330 Mottman Rd. #106

Tumwater, WA 98512

Tumwater
360.350.0015

Institute of Structural Medicine

103 Ross Rd.

Twisp, WA 98856

Twisp
509.997.9392

Bodymechanics School of Myotherapy & Massage

7723 NE Fourth Plain Blvd. Van Mall Sq.

Vancouver, WA 98662

Vancouver
360.350.0015
Washington Continuing Education
24 CE Credits Biennially
Hours
Requirements & Limitations

List of Choices

Renew on Birth Date every other year

Direct (Live) Supervised Training
8
Required for Renewal

Live

Remaining 16 hours may be contact or noncontact hours

Ethics, Communication, State Laws & Regulations
4
Required for Renewal
Ethics Bench

*- Professional Roles & Boundaries

2

Required for Renewal

Must be in the 4 hour Ethics requirement

Ethics Bench

Self-Care

Not Limited

Self-Care Guru

Business & Marketing

8
Minimum Allowed

Business Mastery

Adult CPR/ First Aid

Not Limited

HIV/ AIDS Training

4
Minimum Allowed

Specialized Training

Not Limited

Special Population Techniques

Distance Learning & Multimedia Devices- Must have Letter, Certificate, or Documentation

12
Minimum Allowed

CE Catalog

Books, Research Materials, & Related Publications- 2 page Synopsis

2
Minimum Allowed

Research Community

Multimedia Devices

12
Minimum Allowed

CE Catalog

Teaching a CE Class

8
Minimum Allowed- First Time only

Live

Active Service on a Massage Related Board or Committee

12
Minimum Allowed

Keep Record of Hours & Duties

Advanced Knowledge

Not Limited
Advanced Instruction Forum

Teacher Training

Not Limited
Instructor Headquarters
*CE Subject Matter Must be Massage Therapy Related
Excess Hours taken do NOT carry over to the next renewal period
No CE requirements Required for First Renewal
Keep Records of CE Hours
4 Years- Audit Selected at Random Annually- Must attest on Renewal Form
Washington State Board of Massage
PO BOX 47877
Olympia, WA 98504
Phone: 360-236-4700
Fax: 360-664-9077
Email: hpqa.csc@doh.wa.gov
*Board Approved Providers
The WA Board does not Approve CE courses or Providers
Attendance at a Local, State, National, or International CE Program