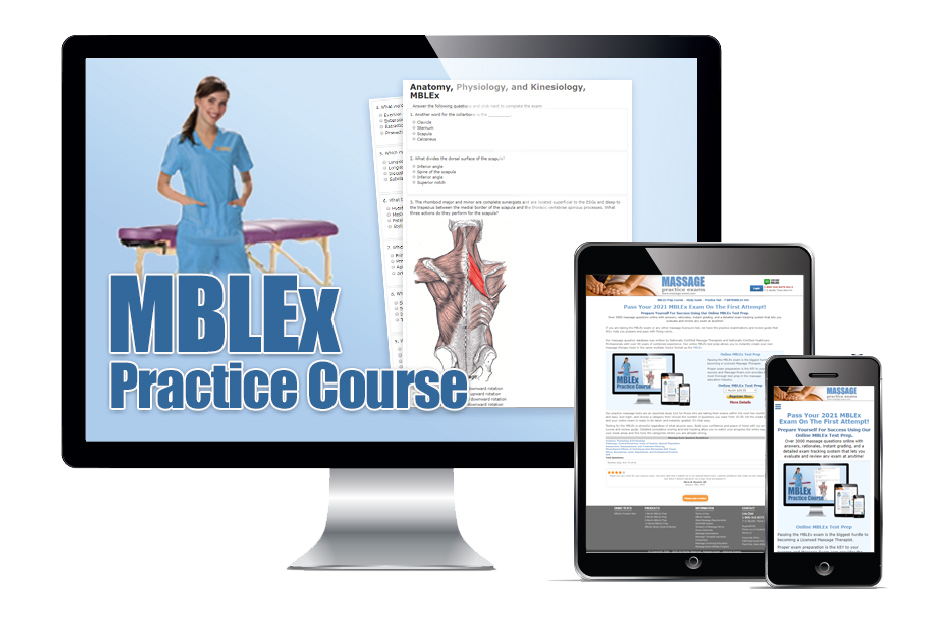 Online MBLEx Test Prep
Passing the MBLEx exam is the biggest hurdle to becoming a Licensed Massage Therapist.
Proper exam preparation is the KEY to your success and Massage-Exam.com provides the most thorough test prep in the massage education industry with over 3000 question, answers, and rationales.
West Virginia Massage Therapy Licensure Board - regulatory body for West Virginia for licensed Massage Therapists.
Application- completely fill out and send into the WV Massage Board for review. Code of Ethics (pg. 6) Renew online - 24 CE Credits/ 2 years
West Virginia Massage Schools - A list of massage schools in West Virginia Approved Schools
The WV Massage Therapy Board requires you to attend a minimum of 500 hours at an approved Massage Therapy school. To have a completed application through WV, you must take and pass the MBLEx which is administered by the Federation of State Massage Therapy Board. The MBLEx is given at Pearson Vue testing locations on a computer based platform.
In preparation for your massage exam (MBLEx), we recommend Massage-Exam.Com. With over 3500 questions in massage application, massage assessment, pathology, business ethics, body systems, anatomy, physiology and kinesiology, you can review your massage curriculum more effectively. View test scores and previous tests taken to help improve your comprehension. Review each question with its accompanying rationale to enhance understanding or help remember aspects that pertain to the subject matter in the question. Take advantage of our study resource and excel in your massage exams.
West Virginia Massage Therapy Licensure Board
179 Summers St. #711
Charleston, WV 25301
Phone: 304-558-1060 or 1-800-871-7265
Fax: 304-558-1061
Email: linda_lyter@verizon.net
---
Massage Schools in West Virginia
West Virginia Continuing Education
24 CE Credits Biennially

Hours

Requirements & Limitations

List of Choices

Renew before the End of the Month of your State Approval Anniversary
All 24 CE hours for WV State may be contact or noncontact hours
Professional Ethics, Boundaries, or Communication

3

Required for Renewal

Ethics Bench

Body Mechanics & Self-Care

Not Limited

Self-Care Guru

Business Practices

Not Limited

Business Mastery

Adult CPR/ First Aid Instructor-Led

Direct Contact (Live) or Online

Basic Training

Kinesiology, Anatomy, & Physiology of Human Body

Not Limited

Advanced Instruction Forum

Cultural Competency & Specialized Training

Not Limited

Special Population Techniques

Pathology of the Human Body

Not Limited

Advanced Instruction Forum

Self-Study: Books, DVD's, Research Materials, Related Publications, & Publishing an Article

Not Limited

Research Community

Somatic Education

Not Limited

Advanced Instruction Forum

Teacher Training

Not Limited

Instructor Headquarters

Lecture or Teaching a CE Class

Not Limited

Live

Active Service on WV Massage Related Board, Task Force, Committee, or Attending Meetings

1 hour of CE for each Meeting/Day/Hour- At Boards Discretion

Keep Record of Hours & Duties

*CE Subject Matter Must be Massage Therapy Related & Providers Must be NCBTMB Approved
6 Excess Hours taken may carry over to the next renewal period only
Keep Records of CE Hours

5 Years- Keep Originals and send Copies with Renewal application
West Virginia Massage Therapy Licensure Board
179 Summers St. #711
Charleston, WV 25301
Phone: 304-558-1060 or 1-800-871-7265
Fax: 304-558-1061
Email: linda_lyter@verizon.net
*Board Approved Providers
NCBTMB