Arkansas Massage Therapist Certification and Licensing Information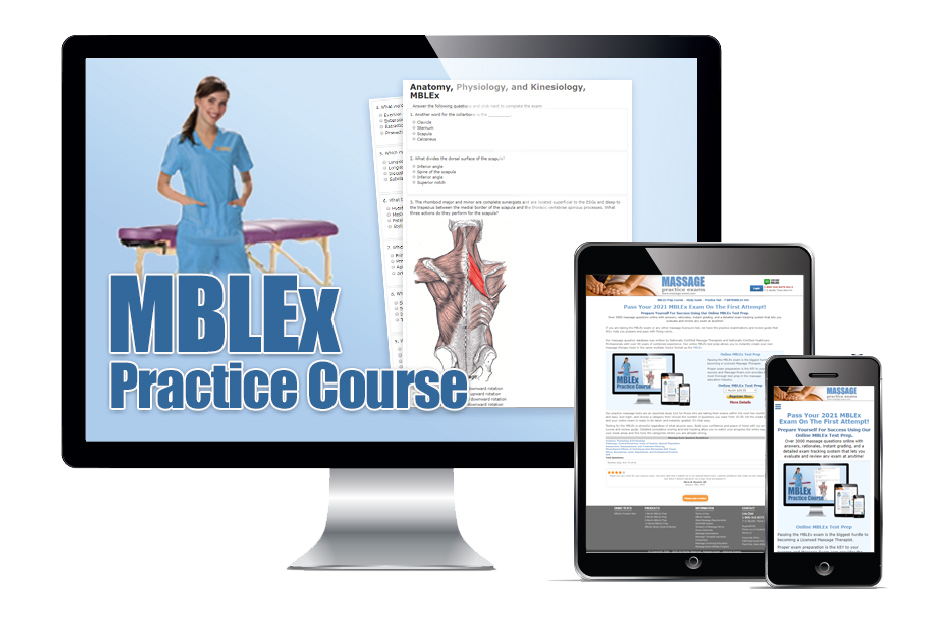 Online MBLEx Test Prep
Passing the MBLEx exam is the biggest hurdle to becoming a Licensed Massage Therapist.
Proper exam preparation is the KEY to your success and Massage-Exam.com provides the most thorough test prep in the massage education industry with over 3000 question, answers, and rationales.
Massage News

Arkansas State Board of Massage Therapy - Detailed information on the state massage board.
** Legislative Alert for Arkansas ** FAQ - 2010 Adopted Rules & Regulations
Application Form for Arkansas Massage Therapists - Download and fill out this application. Application Instructions
License Renewal Information- Renew PDF -18 CE Credits/ 2 years
Arkansas Massage Schools - A State Board list of Arkansas Massage Schools
The state of Arkansas requires that a massage therapist be licensed and certified. Applicants for a massage therapist license must now pass the MBLEx which has replaced the NCETMB. The MBLEx should better measure the qualifications of the massage therapist in pursuit of licensure. In addition, you must take and pass the Arkansas Law Exam.
If you are still in massage school or have just completed your course, you will benefit greatly from our MBLEx Practice Exams. Study online with over 3500 massage questions ranging from massage laws and ethics to massage assessment and pathology. Each massage exam comes complete with rationales for every question so you learn from your answers, whether they are correct or incorrect.
Page update 7.10.17
| | |
| --- | --- |
| Web Information | |
| List of schools | |
| Education Requirements | 500 in-class hrs |
| Title | Massage Therapist MT, License Master Massage Therapist MMT, Instructor |
| Type of Credential | License |
| State Law Test | |
| State Practical or Written Exam | |
| National Exam Requirement | |
| CEU's | |
| Initial Cost of License | $180 |
| Require City License | Check Local City and County Business Regulations |
| Renewal Fee | $30/year for Massage Therapist MT, $40/year for License Master Massage Therapist MMT and $45/year for Instructors |
| Liability ins | |
| Credentialed Practitioners | 2,700 |
Arkansas State Board of Massage Therapy
PO BOX 2019
101 East Capitol Ave., Suite 206
Little Rock, AR 72203
Phone: 501-683.1448
Fax: 501-683.1426
info@ArkansasMassageTherapy.com
---
Massage Schools in Arkansas
1212 Military Rd Suite D

Benton, AR 72015

Email: bodywellness@att.net

Benton

501.315.4325

Camden
870.231.9515

Northwest Arkansas School of Massage

3-A Dogwood Ridge

Eureka Spings, AR 72632

Email: Jill24295@yahoo.com

Eureka Springs
479.366.3583

2120 South Waldron Rd. Suite 306C

Fort Smith, AR 72903

Email: absomass@cox.net

Fort Smith

479.484.0100

6108 South 31st Street

Fort Smith, AR 72908

Fort Smith
479.648.0021

AR Therapeutic Massage Institute and Spa

853 Third Street

Hot springs, AR 71902

Hot Springs

501.623.3888

Radiance School of Massage

3810 Central Ave. Suite E

Hot Springs, AR 71913

Email:erportman@gmail.com

Hot Springs

501.520.0809

Arkansas College of Massage Therapy

1000 South Caraway Road # 112B

Jonesboro, AR 72402

Email: acomt3402@yahoo.com

Jonesboro

870.897.9283

Northeast Arkansas School of Massage

2702 South Culberhouse Suite M

Jonesboro, AR 72401

Jonesboro

870.931.1880

2417 Ferncliff

Little Rock, AR 72223

Little Rock

501.821.7749

Touching America School of Massage

600 Pine Forest Drive Suite 120

Maumelle, AR 72113

Maumelle

501.772.1226

Massage Works School of Massage

201 West Jefferson St. #A

PO Box 1033

Mountain View, AR 72560

Email: theannab7@gmail.com

Mountain View

870.269.6101

River Valley School of Massage

2003 East Parkway Drive

Russellville, AR 72802

Email: info@rvmassage.com

Russellville

479.890.7876

Life's Work School of Massage

210 South Thompson Street # 4-A

Springdale, AR 72764 Email:charlesdanielharper@yahoo.com.com

Springdale

479.365.2079

502 East 24th St.

Texarkana, AR 71854

Email: atfhealth@aol.com

Texarkana

870.774.1000
Arkansas Continuing Education
18 CE Credits Biennially

Hours

Requirements & Limitations

List of Choices

Renew on Birth Date every other year
Direct Contact (Live) Arkansas Board Approved

12

Required for Renewal

Live

Remaining 6 hours may be noncontact hours or Home Study and Online Courses
Professional Ethics, Boundaries, or Communication

Not Limited

Ethics Bench

Body Mechanics & Self-Care

Not Limited

Self-Care Guru

Business Practices

Not Limited

Business Mastery

Adult CPR/ First Aid Instructor-Led

Direct Contact (Live)

or Online

Basic Training

Kinesiology, Anatomy, & Physiology of Human Body

Above the 500 hour curriculum

Advanced Instruction Forum

Cultural Competency & Specialized Training

Not Limited

Special Population Techniques

Pathology of the Human Body

Above the 500 hour curriculum

Advanced Instruction Forum

Self-Study: Books, DVD's, Research Materials, Related Publications, & Publishing an Article

Not Limited

Research Community

Somatic Education

Not Limited

Advanced Instruction Forum

Teacher Training

Not Limited

Instructor Headquarters

Lecture or Teaching a CE Class

Not Allowed

Live

Active Service on Massage Related Board, Task Force, or Committee, or Attending Meetings

1 hour of CE for each Meeting/Day

Keep Record of Hours & Duties

*CE Subject Matter Must be Massage Therapy Related
Excess Hours taken may NOT carry over to the next renewal period
1 hour of CE = 50 minutes of uninterrupted in-classroom learning
Keep Records of CE Hours

3 Years- CE Documentation Required at time of Renewal
Arkansas State Board of Massage Therapy
PO BOX 2019
101 East Capitol Ave., Suite 206
Little Rock, AR 72203
Phone: 501-683.1448
Fax: 501-683.1426
info@ArkansasMassageTherapy.com
*Board Approved Credentialing Organizations