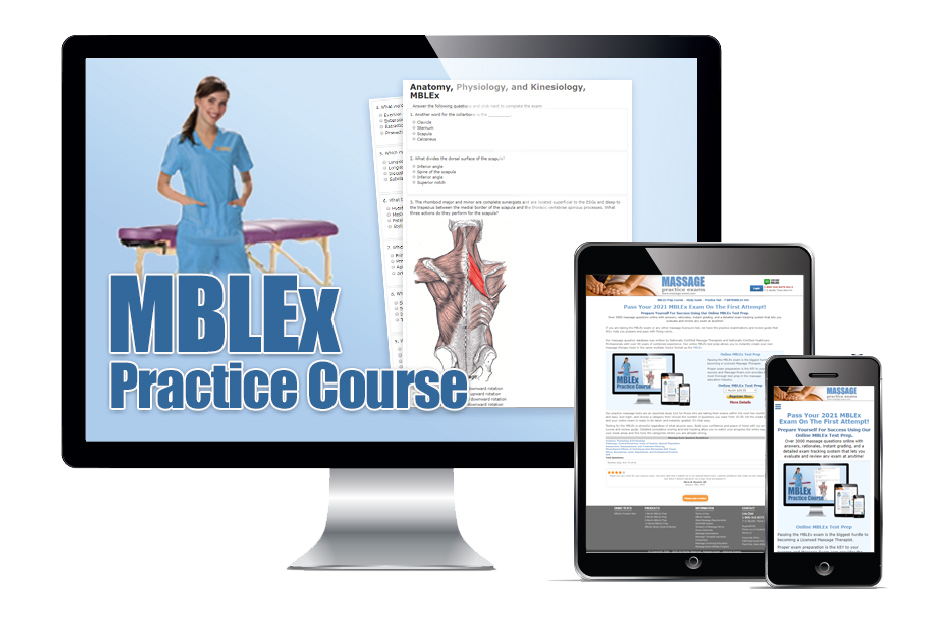 Online MBLEx Test Prep
Passing the MBLEx exam is the biggest hurdle to becoming a Licensed Massage Therapist.
Proper exam preparation is the KEY to your success and Massage-Exam.com provides the most thorough test prep in the massage education industry with over 3000 question, answers, and rationales.
CT DOH Massage Therapy Board- The Department of Public Health for the state of Connecticut
Application for Massage Therapist License in Connecticut - This is the document in PDF format that you must fill out for licensure consideration.
Licensing Requirements- Find out what is needed to receive a valid license to practice in Connecticut.
License Renewal Information-24 CE Credits/ 4 years
Connecticut Massage Schools - A list of massage schools in Connecticut Commission on Massage Therapy Accreditation (COMTA).
Connecticut does require a massage therapist to be certified and licensed. Massage therapists must have graduated from an approved massage course consisting of at least five hundred hours. The candidate applying for a massage license must also have passed the MBLEx. The exam is delivered by computer at an approved testing facility. You must be registered for the massage exam prior to showing up at the testing center.
Each question on the MBLEx is delivered one at a time. The examination is adaptive, meaning the question delivered is based on previous answers to questions within that section. You must correctly answer basic, intermediate, and professional level questions sufficiently to pass the exam.
The Connecticut State Massage Statutes outline exactly what is expected of a massage therapist applying for licensure. Massage Statutes of Connecticut
CT Dept. of Public Health
Massage Therapy Licensure

410 Capitol Ave MS# 12 APP
PO Box 340308
Hartford, CT 06134
Phone: 860-509-7603
Fax: 860.707.1982
Email: dph.alliedhealth@ct.gov
---
Massage Schools in Connecticut
Connecticut Continuing Education
24 CE Credits Quadrennially (4 yrs)

Hours

Requirements & Limitations

List of Choices

Renew on State Approval Anniversary Date
Direct Contact (Live) CT Board Approved

18

Required for Renewal

Live

Remaining 6 hours may be contact or noncontact hours
Professional Ethics, Boundaries, or Communication

Not Limited

Ethics Bench

Body Mechanics & Self-Care

Not Limited

Self-Care Guru

Business Practices

Not Limited

Business Mastery

Adult CPR/ First Aid Instructor-Led

Direct Contact (Live) or Online

Basic Training

Kinesiology, Anatomy, & Physiology of Human Body

Not Limited

Advanced Instruction Forum

Cultural Competency & Specialized Training

Not Limited

Special Population Techniques

Pathology of the Human Body

Not Limited

Advanced Instruction Forum

Self-Study: Books, DVD's, Research Materials, Related Publications, & Publishing an Article

Not Limited

Research Community

Somatic Education

Not Limited

Advanced Instruction Forum

Teacher Training

Not Limited

Instructor Headquarters

Lecture or Teaching a CE Class

Not Limited

Live

Active Service on CT Massage Related Board, Task Force, Committee, or Attending Meetings

1 hour of CE for each Meeting/Day

Keep Record of Hours & Duties

*12 CE Hours Need approval from NCBTMB
Excess Hours taken may NOT carry over to the next renewal period
No CE requirements for First Renewal
Keep Records of CE Hours

6 Years- Audit Selected at Random Annually
CT Dept. of Public Health
Massage Therapy Licensure

410 Capitol Ave MS# 12 APP
PO Box 340308
Hartford, CT 06134
Phone: 860-509-7603
Fax: 860.707.1982
Email: dph.alliedhealth@ct.gov
* Board Approved Providers
National Certification Board for Therapeutic Massage and Bodywork (NCBTMB)