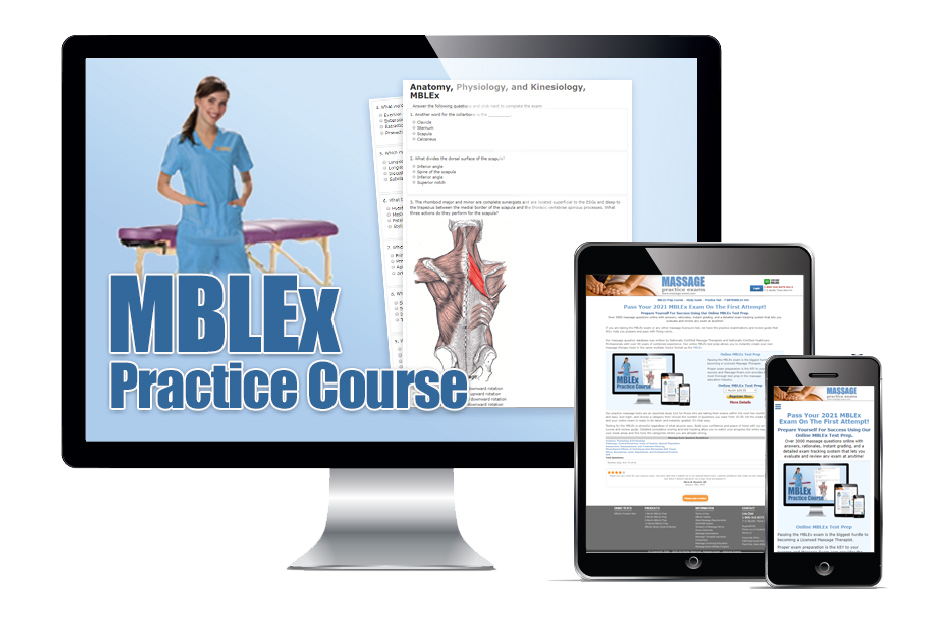 Online MBLEx Test Prep
Passing the MBLEx exam is the biggest hurdle to becoming a Licensed Massage Therapist.
Proper exam preparation is the KEY to your success and Massage-Exam.com provides the most thorough test prep in the massage education industry with over 3000 question, answers, and rationales.
District of Columbia Board of Massage Therapy - Links to main categories of massage licensure information, forms, and contact information.
Massage License Application for the District of Columbia - PDF document that you must fill out and submit to be a massage therapist. Please read the Application Instructions.
Application Checklist- For both Endorsement (Supervised Parctice Form) and Examination
District of Columbia Massage Schools - A list of massage schools in District of Columbia
The District of Columbia requires that anyone practicing massage therapy shall be licensed by the Board of Massage Therapy. Applicants can view this checklist to see everything they will need to meet the requirements for submission of the massage license application.
Step 1: Graduate School or Endorsement
Step 2: Apply for a DC State License and obtain a Background check
Step 3: Apply to take and pass the Licensing Exam MBLEx (results are sent to your state automatically) DC Regulations 7504
Step 4: Obtain DC License and Liability Ins.
Renew License online - All renewal is done every 2 years on the odd numbered year by January 31st. License Renewal -12 CE Credits/ 2 years
The DC Board of Massage requires your email address to ensure you are updated on regulatory changes and have access to the newsletter.
Along with several identification documents, you will need to have proof that you have passed the MBLEx. This proof should be sent directly to the Board of Massage from the exam administrator. If you are already a licensed, or certified massage therapist in another state, you may apply for a massage endorsement license which will give you reciprocity to the District of Columbia.
To prepare for the DC licensing Massage Examination, we suggest using our massage practice exams. With over 3500 massage assessment, application, ethics, anatomy and physiology questions, you will be completely prepared for the MBLEx. Staffed with Licensed Massage Therapists and available 24 hours a day, our massage testing application is the study aid that can make the difference between pass and fail. Take a look at some of our sample massage questions.
Department of Health Board of Massage Therapy
899 North Capitol St. NE 1st Floor
Washington, DC 20002
Phone: 877.374.1157
Fax: 202.727.8471
Send All Documents to:
Department of Health
Health Professional Licensing Administration
Board of Massage Therapy
899 North Capitol Street, NE 1st Floor
Washington, DC 20002
---
Massage Schools in District of Columbia
District of Columbia Continuing Education
12 CE Credits Biennially

Hours

Requirements & Limitations

List of Choices

Renew on January 31st every Odd year
Direct Contact (Live) DC Board Approved

6

Required for Renewal

Live

9 CE's of the 12 Hours must be Massage-Related. Remaining 6 hours may be contact or noncontact hours
Professional Ethics, Boundaries, or Communication

3

Required for Renewal

Ethics Bench

Body Mechanics & Self-Care

Not Limited

Self-Care Guru

Business Practices

Not Limited

Business Mastery

Adult CPR/ First Aid Instructor-Led

Required for Renewal, Not part of CE Hours. Direct Contact (Live)

Basic Training

Kinesiology, Anatomy, & Physiology of Human Body

Not Limited

Advanced Instruction Forum

Cultural Competency & Specialized Training

Not Limited

Special Population Techniques

Pathology of the Human Body

Not Limited

Advanced Instruction Forum

Self-Study: Books, DVD's, Research Materials, & Related Publications

Not Limited

Research Community

Publishing a Book Review or Review Paper

2

Minimum Allowed - Must submit proof

Research Community

Publishing an Article

4

Minimum Allowed - Must submit proof

Research Community

Publishing a Book

8

Minimum Allowed - Must submit proof

Research Community

Somatic Education

Not Limited

Advanced Instruction Forum

Teacher Training

Not Limited

Instructor Headquarters

Lecture or Teaching a CE Class

Dbl Credit for the amount of CE's - One time credit per class with same subject

Live

Active Service on DC Massage Related Board, Task Force, or Committee, or Attending Meetings

1 hour of CE for each Meeting/Day

Keep Record of Hours & Duties

*CE Subject Matter Must be Board Approved (7507)
Excess Hours taken may NOT carry over to the next renewal
No CE requirements for First Renewal
Keep Records of CE Hours

5 Years- Audit Selected at Random Annually
Department of Health Board of Massage Therapy
899 North Capitol St. NE 1st Floor
Washington, DC 20002
Phone: 877.374.1157
Fax: 202.727.8471
Send All Documents to:
Department of Health
Health Professional Licensing Administration
Board of Massage Therapy
899 North Capitol Street, NE 1st Floor
Washington, DC 20002
* Board Approved Providers
National Certification Board for Therapeutic Massage and Bodywork (NCBTMB)