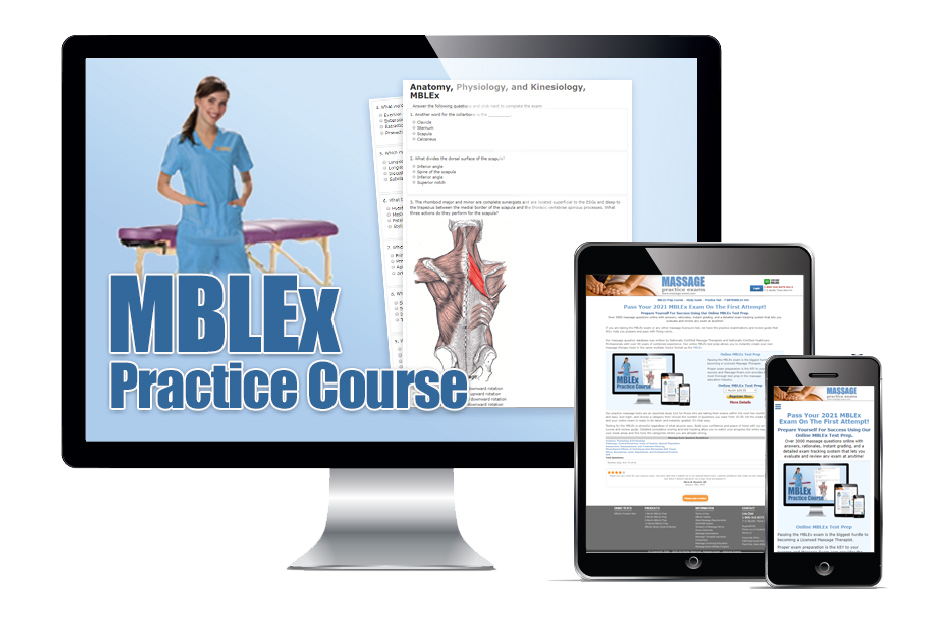 Online MBLEx Test Prep
Passing the MBLEx exam is the biggest hurdle to becoming a Licensed Massage Therapist.
Proper exam preparation is the KEY to your success and Massage-Exam.com provides the most thorough test prep in the massage education industry with over 3000 question, answers, and rationales.
New Jersey Board of Massage & Bodywork Therapy - Governs Massage, Bodywork, and Somatic Therapists.
Online Application by Examination - Complete, fill out, and return to Massage, Bodywork, and Somatic Therapists Committee. Applications for licensure obtained online. Application Tips
NEW! On May 1, 2017 - S2414 signed into law it revised the Massage Practicing Act to require licensure by education AND examination. Prior to May 1, 2017, applicants could obtain licensure by education OR by examination. The Act shall take effect immediately. There is an authorized grace period that ends on August 31, 2017 for those applications submitted online or post marked by August 31, 2017. All applications submitted on or after September 1, 2017 will be processed under the new rule. Reciprocity
September 4th 2012 the Massage & Bodywork Therapist Licensing Act became active. You are required to maintain a valid license when practicing Massage in New Jersey. FAQs
New Jersey Massage Schools - A list of massage schools in New Jersey
License Renewal Information- Renew Online -20 CE's/ 2 years
To obtain a license, the State of New Jersey requires 500 hours of course curriculum approved by the New Jersey Board for Massage and Bodywork Therapy. You may send in proof of transcripts and passing the MBLEx. To review anatomy/physiology, kinesiology, pathology, massage assessment, massage application, and business ethics, Massage-Exam.Com provides materials in each category for your study and learning. You also have the ability to keep track of tests taken and the overall percentages of correct answers in each category. Reviewing past tests taken is also easy. With just one click, you can see what areas of study need improvement so that you know the subjects where you need to spend your time.

Not only can our site be utilized to review for the exam, you can also take advantage of our testing for reviewing at the end of your term. Graduate with confidence from your Massage course curriculum.
New Jersey Board of Massage and Bodywork Therapy
PO Box 47032
Newark, New Jersey 07101
or
124 Halsey St.,
6th FloorNewark, NJ 07102
Phone: 973-504-6520
---
Massage Schools in New Jersey
Institute for Therapeutic Massage

1255 Broad Street #101B

Bloomfield, NJ 07003

Bloomfield
973.839.6131

Gentle Healing School of Massage

1274 S. River- Cranbury Rd.

Cranbury, NJ 08512

Email: info@gentlehealingschool.com

Cranbury
609.409.2700

321 Main St. 2nd Floor

Hackensack, NJ 07601

Hackensack
201.568.3220

765 Newman Springs Road

Lincroft, NJ 07738

Lincroft
732.224.2685

Institute for Therapeutic Massage

1069 Ringwood Ave. #315

Haskell, NJ 07420

Haskell
973.839.6131

2 Hudson Place, 2nd Floor

Hoboken, NJ 07030

Hoboken
201.215.6440

75 Montgomery St. #402

Jersey City, NJ 07302

Jersey City
201.568.3220

Institute for Therapeutic Massage

95 Mt. Kemble Ave.

Morristown, NJ 07962

Morristown
973.839.6131

303 University Ave.

Newark, NJ 07102

Newark
973.877.3000

207 Livinston St.

Northvale, NJ 07647

Northvale
201.394.9200

5000 Hadley Rd. #100

South Plainfield, NJ 07080

South Plainfield
908.222.9300

Institute for Therapeutic Massage

106 Apple Street #112

Tinton Falls, NJ 07724

Tinton Falls
732.936.9111

Institute for Therapeutic Massage

67 Route 37 West

Riverwood Building 2- 2nd floor

Toms River, NJ 08755

Toms River
732.936.9111

Cortiva Institute- Somerset School of Massage Therapy

1985 Highway 34

Wall Township, NJ 07719

Wall Township
732.885.3400

Warren County Community College

475 Route 57 West

Washington, NJ 07882

Washington
908.835.9222

Academy of Natural Health Sciences

102 Green St.

Woodbridge, NJ 07095

Woodbridge
732.634.2155
New Jersey Continuing Education
20 CE Credits Biennially

Hours

Requirements & Limitations

List of Choices

Renew on November 30th every Even year from State Approval Anniversary Date
Direct Contact (Live) New Jersey Board Approved

14

Required for Renewal

Live

Remaining 6 hours may be contact or noncontact hours
Professional Ethics, Boundaries, or Communication

2

Required for Renewal

Ethics Bench

Body Mechanics & Self-Care

Not Limited

Self-Care Guru

Business Practices

Must be Massage & Bodywork Related- Not Limited

Business Mastery

Adult CPR/ First Aid/ AED Instructor-Led

Required for Renewal Direct Contact (Live)

Basic Training

Kinesiology, Anatomy, & Physiology of Human Body

Not Limited

Advanced Instruction Forum

Cultural Competency & Specialized Training

Not Limited

Special Population Techniques

Pathology of the Human Body

Not Limited

Advanced Instruction Forum

Self-Study: Books, DVD's, Research Materials, Related Publications, & Publishing an Article

Not Limited

Research Community

Somatic Education

Not Limited

Advanced Instruction Forum

Teacher Training

Not Limited

Instructor Headquarters

Lecture or Teaching a CE Class

Not Limited

Live

Active Service on NJ Massage Related Board, Task Force, Committee, or Attending Meetings

1 hour of CE for each hour

Keep Record of Hours & Duties

*CE Providers Must be NJ Board Approved as well as Massage & Bodywork Related Subject Matter
18 Excess Hours taken may carry over to the next renewal period only- Must obtain 2 CE's in Ethics every renewal period
All 20 CE requirements required for First Even Year Renewal- 10 CE during 2nd year of Biennial Renewal- Must include the 2 hour Ethics CE
Keep Records of CE Hours

4 Years- Audit Selected at Random Annually
New Jersey Board of Massage and Bodywork Therapy
PO Box 47032
Newark, New Jersey 07101
or
124 Halsey St.,
6th FloorNewark, NJ 07102
Phone: 973-504-6520
*Board Approved Providers