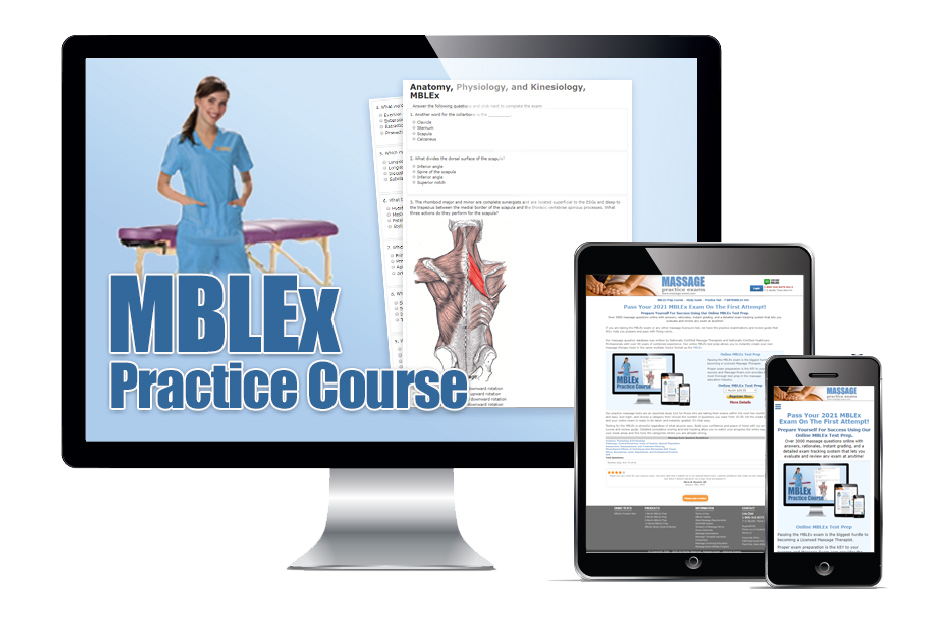 Online MBLEx Test Prep
Passing the MBLEx exam is the biggest hurdle to becoming a Licensed Massage Therapist.
Proper exam preparation is the KEY to your success and Massage-Exam.com provides the most thorough test prep in the massage education industry with over 3000 question, answers, and rationales.
Professional Licensing for Massage Therapist for the State of New York- governed by the Education Department's Office of Professions. FAQ
Completely fill out and send in your Application form to receive permission to take the State Examination. Application for Limited Permit
Massage Therapy Reciprocity Application- Moving from another state with a valid license? Check out the Laws, Rules, & Regulations Part 52.15 & Part 78. Verification of Experience Always start with the source when you cannot find the information in these resources, call the New York Division of Professional Licensing Services Massage Therapy Phone: 518-474-3817, ext# 150
The State requires 1000 hours from an institute of Massage Therapy that has been approved by the Education Department. The State of New York is one of the few who do not require you to take a State Exam given by the FSMTB, however they have their own Massage Therapy Examination that you must pass in order to receive a License to practice Massage.
License Renewal Information- Renew Online -36 CE's/ 3 years
New York Massage Schools - A list of massage schools in New York
To help you fully review and prepare for your State examination, we at Massage-Exam, invite you to utilize our study resource for the NCETMB with over 3500 questions related to course curriculum material including; pathology, massage assessment, massage application, body systems, business ethics, Complimentary Alternative Medicine (CAM), kinesiology, anatomy and physiology (New York Exam Blueprint). With our online study aid, you can study as much as you want, whenever you want, on any device with internet, with score and progress tracking. After the tests are graded, the results include rationales that explain the information in the questions and answers and give insights and helpful hints for study.
Question Estimations for the New York Exam:
20 questions on Massage Assessment & Evaluation 14%
40 questions on Massage Assessment Treatment plan examination 29%
Includes: Pathology, Body Systems, Anatomy, Physiology and Kinesiology
72 questions on Massage Application Treatment skills 51%
8 questions on Professional Massage Standards, Ethics, Business & Legal Practices 6%
For a total of 140 questions
Eastern Method questions 20
Passing Score is 75.0 Determined by NY State Board for Massage
Practice Guidelines & Practice Precautions
The New York Exam also contains state laws and regulations.
New York State Education Department
Office of Professions
Division of Professional Licensing Services
Massage Therapy
89 Washington Ave
Albany, NY 12234
Phone: 518-474-3817, ext# 150
Fax: 518.486.4846
Email: msthbd@mail.nysed.gov
---
Massage Schools in New York
Center for Natural Wellness School of Massage

3 Cerone Commercial Dr.

Albany, NY 12205

Albany
518.489.4026

855 Central Ave

Albany NY

Email: infoalbany@mildred-elley.edu

Albany
518-786-0855

New York College of Health Professions

6801 Jericho Turnpike

Syosset, NY 11791

Syosset
518.474.3852

Queensborough Community College

222-05 56th Ave.

Bayside, NY 11364

Bayside
718.631.6262

383 Pearl Street

Brooklyn, NY 11201

Email: bnewman@asa.edu

Brooklyn
201.477.0003

360 Choate Ave.

Buffalo, NY 14220

Email: info@trocaire.edu

Buffalo
716.826.1200

Finger Lakes Community College

3325 Marvin Sands Dr.

Canandaigua, NY 14424

Canandaigua
585.394.3500

Finger Lakes School of Massage

1251 Trumansburg Rd.

Ithaca, NY 14850

Ithaca
607.272.9024

80 Eaton Street

Morrisville, NY 13408

Morrisville
800.258.0111

Finger Lakes School of Massage

272 North Bedford Rd.

Mount Kisco, NY 10549

Mount Kisco
914.241.7363

American Center for The Alexander Technique

39 West 14th Street Room 507

New York, NY 10011

New York
212.633.2229

Pacific College of Oriental Medicine

915 Broadway, 2nd Floor

New York, NY 10010

New York
212.982.3456

226 West 26th Street

New York, NY 10001

New York
212.924.5900

Onondaga School of Therapeutic Massage

302 North Goodman St.

Rochester, NY 14607

Rochester
585.241.0070

Qi Gong Institute of Rochester

595 Blossom Rd. #307

Rochester, NY 14610

Rochester
877.346.4017

Onondaga School of Therapeutic Massage

719 East Genesee St.

Syracuse, NY 13210

Syracuse
315.424.1159

4701 Transit Road

Williamsville, NY 14221

Williamsville
716.633.0355
New York Continuing Education
36 CE Credits Triannually

Hours

Requirements & Limitations

List of Choices

Renew on State Approval Anniversary Date every Three Years
Direct Contact (Live) New York Board Approved

24

Required for Renewal

Live

Remaining 12 CE hours may be contact or noncontact - Must have Exam Competency and Certification
Professional Ethics, Boundaries, or Communication

4

Required for Renewal

Ethics Bench

Body Mechanics & Self-Care

Not Limited

Self-Care Guru

Business Practices

Not Limited

Business Mastery

Maximizing Profits

-

Not Allowed

Business Mastery

Adult CPR/ First Aid Instructor-Led

3

Minimum Allowed in each Subject - Direct Contact (Live)

Basic Training

Kinesiology, Anatomy, & Physiology of Human Body

Not Limited

Advanced Instruction Forum

Cultural Competency & Specialized Training

Not Limited

Special Population Techniques

Pathology of the Human Body

Not Limited

Advanced Instruction Forum

Self-Instructional: Books, DVD's, & Online coursework

12

Minimum Allowed - Documentation required - 6 hrs may be approved by other jurisdictions

Research Community & CE Catalog

Somatic Education

Not Limited

Advanced Instruction Forum

Massage Teacher Training

Not Listed

Instructor Headquarters

Massage Lecture or Teaching a CE Class

Not Listed

Live

Active Service on NY Massage Related Board, Task Force, Committee, or Attending Meetings

Not listed- 1 hour of CE for each hour- At Board's Discretion

Keep Record of Hours & Duties

*CE Subject Matter Must be NY Board Approved & Providers Approved by NCBTMB or NY Board

Excess Hours taken do NOT carry over to the next renewal period
No CE requirements for First Renewal- 1 CE hour/ month for adjusted registration periods
Keep Records of CE Hours

6 Years- Audit Selected at Random Annually
New York State Education Department
Office of Professions
Division of Professional Licensing Services
Massage Therapy
89 Washington Ave
Albany, NY 12234
Phone: 518-474-3817, ext# 150
Fax: 518.486.4846
Email: msthbd@mail.nysed.gov
* Board Approved Providers
National Certification Board for Therapeutic Massage and Bodywork (NCBTMB)
Council for Higher Education Accreditation- granting Postsecondary degrees
Massage Institution of higher learning and/or a University system
Course Approval Required by New York Board
*Board Approved Subject Matter
Subjects Fundamental to the practice and Profession of Massage & Bodywork
Clinical intervention/ Evidence Based Models
Use of Thermal Modalities, Topical Preparations, Mechanical Assistive- devices/appliances
Communication & Business planning and standards
Posture & Movement Assessmen

t

/ Evaluation

Massage & Bodywork Business Practices
Anatomy & Physiology of the Human Body
Kinesiology of the Human Body
Pathology, Myology, & Neurology of the Human Body
Professional Ethics, Boundaries, and Safe practices
Rx regimes
Cultural Competency
Somatic Education
Philosophy and Principles of Massage Therapy
CPR/ First Aid
* Courses Not Approved as Massage Therapy techniques (not limited to:)
Alexander Technique
Feldenkrais Method
Reiki
Maximizing Profit