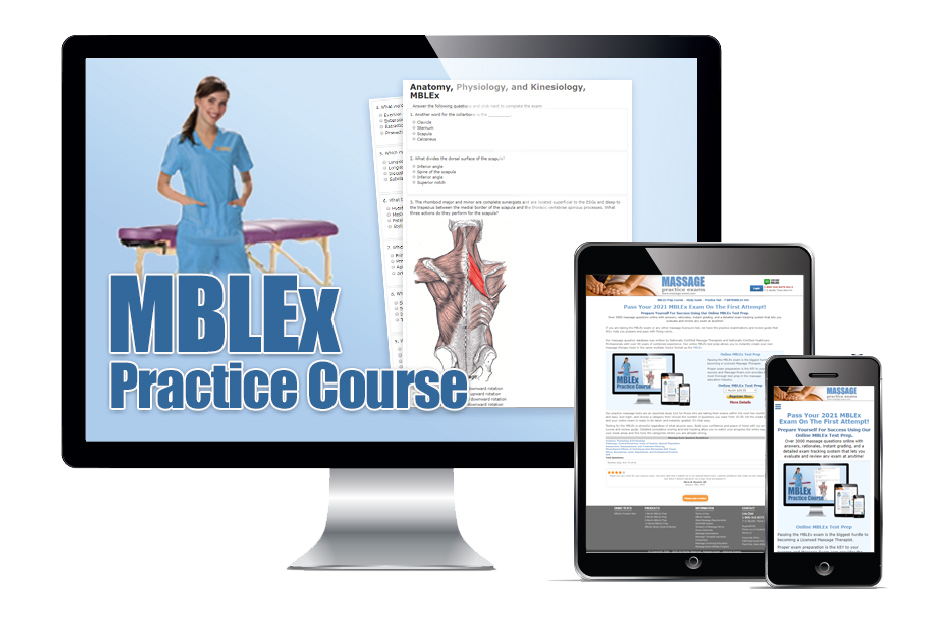 Online MBLEx Test Prep
Passing the MBLEx exam is the biggest hurdle to becoming a Licensed Massage Therapist.
Proper exam preparation is the KEY to your success and Massage-Exam.com provides the most thorough test prep in the massage education industry with over 3000 question, answers, and rationales.
North Dakota Board of Massage - View the website for rules and regulations regarding Massage Therapy in North Dakota. FAQs
Send this application and affidavit of compliance to the North Dakota Board along with the application fee of $150. Check License.
North Dakota Massage Schools - A list of massage schools in North Dakota
License Renewal Information- Renew Online -24 CE's/ 2 years
Renewal Application 43-25-09- Reciprocity Chapter 43-25-18
To apply for a license to practice Massage in the State of North Dakota, you must first obtain at least 750 hours from a school that has been approved by the North Dakota Board. You do not have to send in the results of the MBLEx with the initial application, but you can request, on your MBLEx application, for the FSMTB to send the results to the North Dakota state board. This can shorten the waiting time for your license approval.
When reviewing your curriculum for the MBLEx or the end of schooling exams, use our site to focus on the areas where you feel you could use more time to study. We have over 3500 questions regarding pathology, massage assessment, massage application, body systems, kinesiology, business standards, anatomy and physiology. With our site, you have the ability to concentrate on one category at a time or test at random. You choose to have your test contain 10 questions or 30 questions, which ever you prefer.
North Dakota Board of Massage -Contact
PO BOX 98
Mandan, ND 58554
Phone: 701-667-9378
Email: pb.lmt.nd@gmail.com
---
Massage Schools in North Dakota
627 NP Ave

Grand Forks, ND 58102

Fargo
701.235.9910

The Salon Professional Academy

4377 15th Ave SW

Grand Forks, ND 58103

Fargo
701.478.1772 ext. 101

2011 South Washington

Grand Forks, ND 58201

Grand Forks
701.772.2728

1410 University Ave.

Williston, ND 58801

Williston
701.774.4293
North Dakota Continuing Education
24 CE Credits Biennially

Hours

Requirements & Limitations

List of Choices

Renew on January 1st every 2 years from State Approval Anniversary Date
Direct Contact (Live) North Dakota Board Approved

15

Required for Renewal

Live

Remaining 9 hours may be contact or noncontact hours
Professional Ethics, Boundaries, or Communication

Not Limited

Ethics Bench

Body Mechanics & Self-Care

Not Limited

Self-Care Guru

Business Practices

Not Limited

Business Mastery

Adult CPR/ First Aid Instructor-Led

Direct Contact (Live) or Online

Basic Training

Kinesiology, Anatomy, & Physiology of Human Body

Not Limited

Advanced Instruction Forum

Cultural Competency & Specialized Training

Not Limited

Special Population Techniques

Pathology of the Human Body

Not Limited

Advanced Instruction Forum

Self-Study: Books, DVD's, Research Materials, Related Publications, & Publishing an Article

Research Community

Somatic Education

Not Limited

Advanced Instruction Forum

Teacher Training

Instructor Headquarters

Lecture or Teaching a CE Class

Live

Active Service on ND Massage Related Board, Task Force, Committee, or Attending Meetings

Keep Record of Hours & Duties

*CE Subject Matter and Providers Must be Board Approved
Excess Hours taken do NOT carry over to the next renewal period
Keep Records of CE Hours

6 Years- Audit Selected at Random Annually- Must list CE's on Renewal Form and Submit Copies (will not return) of Certification
North Dakota Board of Massage -Contact
PO BOX 98
Mandan, ND 58554
Phone: 701-667-9378
Email: pb.lmt.nd@gmail.com
* Board Approved